What's Common in the first 3 Blockbusters of Katrina Kaif?
Singh is Kinng, Ajab Prem Ki Ghazab Kahani and Namastey London – these three movies are the real blockbusters of Bollywood that helped Katrina Kaif to stay stable in the industry. Though she has been part of Bollywood hits like Sarkar and Meine Pyar Kyon Kiya, she rose to the list of A-grade actresses after the super success of Namastey London only. These three movies lead in box office collection, if we consider Katrina's career till 2010. They have been released in between 2005 and 2009. Am I not right? But have you ever noticed these three movies have a lot of striking similarities? Any wide guess? Think for a while before you further proceed.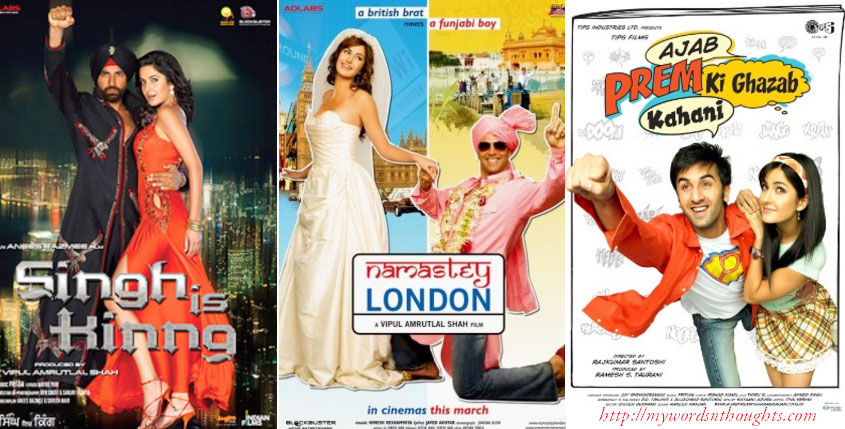 These three Katrina movies were developed from a single thread?
Ok, let me break the suspense. You might be thinking that Akshay Kumar is the common thing, not at all! Ranbeer Kapoor is the hero of Ajab Prem Ki Ghazab Kahani. Then what's it? Have you ever noticed these three scripts were developed from a single thread? Yes, there are many striking similarities in the stories of these 3 movies. First let me take Namastey London – the first blockbuster movie of Katrina. What's its story in 2 sentences? Akshay Kumar loves Katrina a lot and misinterpret that she loves him too. But Katrina loves someone else and she doesn't understand him till its climax. And what happens at its climax? On her wedding with her English lover, she flees from the church and goes to Akshay's arm. Isn't it the same story of Singh is Kinng and Ajab Prem Ki Ghazab Kahani? Yes, of course yes.
Let me explain in brief. First let us take 'Ajab Prem Ki Ghazab Kahani'. Ranbir Kapoor loves her a lot and he thinks that Katrina also loves him the same. Before he expresses his love, Katrina confesses that she is in deep love with Upen Patel. Then what happens? Ranbir Kapoor does whatever he can to bring two lovers together. But in the climax scene, Katrina Kaif understands that she loves Ranbir more than Upen and leaves him alone in the wedding ceremony and runs to Ranbir Kapoor's arms. Isn't it same story of Singh is Kingh? Only heroes are different, treat is different and heroine exactly the same!
Let us replace Ranbir Kapoor with Akshay Kumar and Upen Patel with Ranvir Shorey, though Sonu holds a few negative traits. Everything is exactly the same. Akshay Kumar loves Katrina Kaif very much. But she is in love with Ranvir Shorey and wants to marry him. Akshay doesn't reveal his love till the end, same as the case of Ranbir of Ajab Prem Ki Ghazab Kahani. Also, he does everything and make necessary arrangements for their marriage, as he wants to see her happy. But what happens in the climax scene of wedding? Though a bit different, Katrina loves to marry Akshay Kumar and it happens too!!!
Katrina's character's marriage happens in all these three films' climax, but not with her rich boyfriend
Strange, but surprisingly true. In all these three films Katrina's character has one rich boyfriend who she wants to marry, and the whole events turn around how her character struggles and finally succeeds to wear bride's cloth and reach 'Mandap'/wedding place. Everything works fine for her character till the end, and it's the lead hero who is in real love with her suffers pain. But in the climax everything happens in favour of him, though unexpected. Katrina's character runs off from her wedding place in Ajab Prem Ki Ghazab Kahani and Namastey London, and her marriage happens in Singh is Kinng, without her knowledge and she accepts him over her boyfriend.
There is one more Katrina film which she decides to quit marriage in climax 'Mandap' scene, and accepts her boyfriend. But this formula with slight difference from the rest three did not work at box office. But the hero is same – Akshay Kumar. You might be guessing which film is it. It's Humko Deewane Kar Gaye, and Anil Kapoor completed the triangle.
Conclusion
These three movies are enough to prove that Bollywood works on certain formulas and main actors are more significant than storyline. Same story and plot will definitely work if director see it through a different angle. Audiences are just fools without brains who go to theatres to have fun and enjoy themselves! But I should appreciate those film directors as well who attempted on the same stuff, casted the same heroine and succeeded to give entertaining blockbusters to movie buffs.
Please Note: This article is purely based on my personal observation and nothing personal to Katrina or someone else. Please share your valuable opinions if you really liked this article.
Read a few more miscellaneous posts on Bollywood stars of today
(Visited 335 times, 1 visits today)