Vimala B. Varma – One among the first playback singers of Malayalam cinema
Vimala B. Varma is the first playback singer of Malayalam cinema, along with P. Leela, T. K. Govinda Rao, Sarojini Menon, Girija and a few others. 2023 February marks 75 years in the recording of first playback song of Malayalam cinema. Her song belongs to 1948 release, Nirmala, where Vimala appeared as a child artist in a double role as well. Her sister Girija also sang for the movie.
"Ettan Varunna Diname…. Aruma Diname…." was the song recorded in Vimala's child voice in 1948, which entered the history books of Mollywood, along with the names of Govinda Rao & Sarojini Menon, who also recorded songs for same film. She recorded three songs for the movie. Vimala B. Varma, at the age of 87 when Malayalam cinema celebrates 75 years in playback singing is still active in singing, associated with non-filmy light music & devotional albums.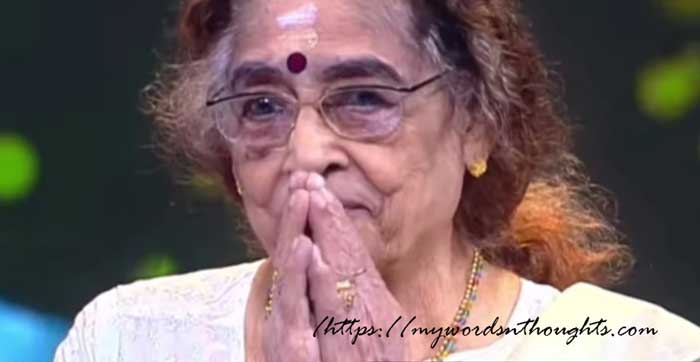 Nirmala was only the fourth sound film in the Malayalam language
Nirmala, the fourth sound film in Malayalam was produced by Artist P. J. Cheriyan. The movie had a theatre release in 1948 February. For the first three sound films released earlier, the actors themselves sang while acting, and it was an era of actors with good voice. Nirmala is the first Malayalam cinema, where playback voice was used and sound recording done later.
Vimala B. Varma was a 6th grade student while recording her first song
She studied at Fine Arts School in Trippunithura. Since those days she was active in cultural events, both singing and dancing. Her school gave a lot of importance to art forms, and taught students with singing, dancing, kolattam etc.
Vimala was studying in grade 6 (age around 10-11) in Trippunithura school when she recorded the first song. Her music teacher Sarojini Menon got opportunity to sing for Nirmala movie. When she reached Modern Theatres at Salem to record the first song of Malayalam, E. I. Warrier – the music director of the film, was in search of two child voices for recording of a few songs. Thus Sarojini took her students, Vimala and her sister Girija along with her.
The songs of the movie were written by the great G. Sankara Kurup. T. K. Govinda Rao recorded "Shubha Leela" song penned by Kurup. The sisters recorded "Karunakara Peethambara" composed by their teacher Sarojini Menon and two more songs for the film.
After successfully recording her first song, Vimala was offered the double role by the film's director P. V. Krishnayyar. She was casted as younger sister of lead heroine in the film. In the second half, she played the character Lalitha. Thus she played both the child characters in the film – the first double role characters of Malayalam screen. Vimala acted on screen for the songs, "Karunakara Peethambara" and "Ettan Varunna Diname" which she recorded in her voice. After that, Vimala has never been a part of any Malayalam film.
When the movie got released, Vimala became popular. She went through a voice test for Udaya Studios. But because of some disagreement in remuneration, her father rejected a singing offer for the film, Vellinakshatram composed by Chithambaranath. She was offered an acting role too. She was also offered the lead heroine role for the first film of Malabar Productions, which she rejected and it ended her film journey as well.
She worked with AIR since 1955
Apart from her guru Sarojini Menon, she learnt Carnatic music from Vathakaad Raghava Menon. Along with her elder sister Girija, they performed in music concerts in many occasions. Later she performed aside some of the leading names of the time like K. Raghavan, B. Chithambaranath etc.
She joined Akashvani, Kozhikode as a temporary artist (singer) in 1955, and over the years sang more than 500 songs belonging to light music genre. She became a permanent employee in 1962. Started her career as a singer with Akashvani, she later did different job roles like announcer, junior composer and presenter of various shows. She also gave her voice to numerous radio plays, apart from directing a few musical shows for radio.
She retired as Staff Announcer in the year 1993, and lives a peaceful life with her children. She took voluntary retirement from AIR, and continued teaching students. She lost her husband at a young age, and the couple had two children.
Vimala B. Varma – Some interesting and less-known facts
1. "Ettan Varunna Diname" is the single song Vimala recorded for any movie.
2. For the brief stint of the sisters with movies, their elder brother accompanied them in film sets. Their brother was 25 years senior to Vimala, and for that reason they were scared to communicate with him. Only things he took care of was their security and food, and never knew to pamper them.
3. While recording her first song, the teacher Sarojini Menon started singing, and the sisters were repeating the same lines to accompany her voice. It was a prayer song.
4. In the nearly 4 decades of association with Akashvani, she sang more than 500 light music songs.
5. Vimala and her sister Girija recorded songs for Nirmala.
6. No prints of her first recorded songs are currently available online except "Ettan Varunna Diname….".
7. Vimala B. Varma is the first double role artist of Malayalam cinema. She enacted two double role characters in Nirmala.
8. Nirmala marked the playback debut of Vimala, with P. Leela, T. K. Govinda Rao, Sarojini Menon, Girija, C. K. Raghavan and P. K. Vasudeva Kurup. Among all these voices, only P. Leela sustained in the industry as a playback singer, and went on to become one of the popular female voices of south Indian cinema.
9. When the movie Nirmala was released in theatres in Ernakulam and their hometown Thrippunithura, both the sisters received a lot of appreciation. In fact the movie was stopped in middle, and sisters were given golden medals.
10. While working with AIR, she was fully associated with the popular show, Vanithaavedi, where she did one-in-all roles like script correction, recording, editing, and giving the recording in tape for final telecast after all processes. Thus she owns different types of experience in this field.
11. She has served as judge for several competitions arranged by AIR.
(Visited 85 times, 1 visits today)