Vegetable Chicken Curry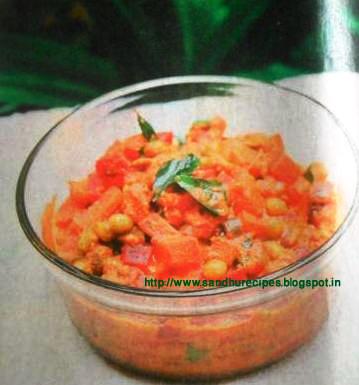 Ingredients for Vegetable Chicken Curry:
1. Carrot – 2
Cauli flower – 1 small sized
Green peas – 2 big spoons
4. Coriander powder – 2 small spoons
Chilli powder – 1 small spoon
Turmeric powder – 1/2 small spoon
Garam masala powder – 1 small spoon
9. Coconut oil – 2 small spoons
How to prepare Vegetable Chicken Curry?
Chop all vegetables of ingredients 1 to small square pieces and cook well.

Make a fine paste of ingredients 2

Heat pan and fry coconut till dark reddish colour.

When it's fried well add all powders of item 4 and stir well. Put the flame off. Keep stirring for a minute or two.

Allow it to cool and make a fine paste.

Heat coconut oil in the pan and sauté items-2 paste till it losses its bad smell. Then add onions and sauté again.

When onions are cooked, add tomatoes and cooked vegetables and saute for a few minutes.

Add salt and coconut paste.

When water is evaporated and curry becomes thick, add mint and curry leaves.

Read a few more chicken curry/side dish recipes. Here is the page link. Click on the images in the gallery to read.
(Visited 125 times, 1 visits today)