Idiyappam and Mutton Stew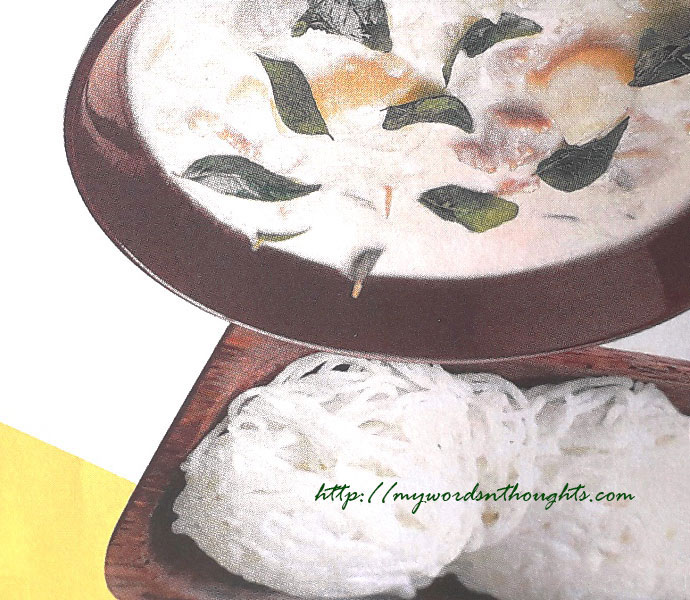 Ingredients for Idiyappam and Mutton Stew:
Idiyappam
1. Rice flour – 2 cups (200 gm)
2. Warm water and salt – As required
Mutton Stew
1. Mutton – 1 kg
2. Ginger – 10 gm, chopped
3. Onions – 225 gm
4. Green chillies – 20 gm, split into two
5. Curry leaves – 2 or 3 stems
6. Salt – For taste
7. Coconut – 1
8. Potato – 250 gm
9. Dhanya podi (flour for thickening gravy) – 1 tsp
10. Vinegar – 5 milli
11. Shallots – 1
12. Cinnamon – 1 piece
13. Cloves – 6
14. Pasteurized butter – 15 milli
How to prepare Idiyappam and Mutton Stew?
Idiyappam
1. Add salt and hot water to flour and prepare soft dough for Idiyappam.
2. Pour a few drops of oil in Idiyappam press and put a little dough inside.
3. Press it in round shapes into the greased moulds of an idli tray.
4. Steam cook for 10-15 minutes.
Mutton Stew
1. Clean mutton and chop into pieces.
2. Cut onions and potatoes into four parts.
3. Extract 1st, 2nd and 3rd milk from coconut.
4. Cook mutton, along with onions, ginger, green chillies, curry leaves, salt and sufficient water.
5. Add potato along with third extract of coconut milk.
6. When it's done, mix flour in a little coconut milk and add to curry along with second extract of coconut milk and vinegar.
7. Boil the contents till curry thickens and add first extract of coconut milk.
8. Allow the stew to boil well and put off the flame.
9. Heat butter and add chopped shallots, crushed cinnamon and cloves.
10. Fry it till its colour changes to grey and add to stew.
11. Stir the curry to mix the contents.
Archive: Vanitha Magazine December 15-31, 2019
Also read yet another Mutton stew recipe, prepared adding vegetables.
A few more appam and idiyappam recipes for you. Here is the page link. Click on the images in the gallery to read.