Vaal Vacha Gostam Temple – Linked to history of Travancore Kings
Vaal Vacha Gostam Temple, also pronounced as Vaal Vacha Kostam Temple is a Mahishasura Mardini temple of Kanya Kumari district, originally built in 12th century, and renovated 2-3 times later. The temple is situated in Kaattaathurai, 2 kms away from Swamiyarmadam, on National Highway 47 Thiruvananthapuram to Nagercoil. The place itself became famous and earned fame with this temple, and this centuries-old goddess temple is under the control of Kanya Kumari Devaswom at present.
How is Vaal Vacha Kostam Temple linked to history of Travancore?
It's believed that after bloodshed when Marthanda Varma decided to become Padmanabha Dasa, he washed his sword to clean the blood and placed it here. Another myth says it's Parasurama who cleaned the sword here to end bloodshed. Anyhow, Thanka Angi (silk cloth) offered by Marthanda Varma to goddess is still used during annual festival celebrations. On the 9th day of temple's annual celebrations, deity wears the clothes offered by King Marthanda Varma, and special pooja is also conducted along with it.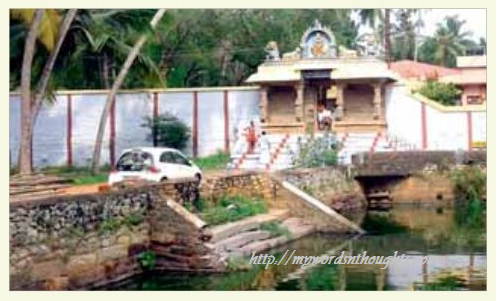 Anizham Thirunal Maharaja used to place his sword in front the deity and sought her blessings before he proceeds for any war. Travancore kings were the patrons of the temple, and there was once a tunnel connecting the temple and Padmanabhapuram palace. Before the coronation ceremony, the apparent heir visited the temple and sought the blessings too. Now also the royal family offers Pooja materials every month and during annual celebrations.
A small note on the construction of Mahishasura Mardini temple
As per historic records, the temple was built in three stages. Its presiding deity is Mahishasura Mardini and the main temple (Sree Kovil) is built in 12th or 13th century. Several inscriptions suggest that the temple was originally built by Aranya Nagayam in the year 1234 AD, and monetary help given by Veera Ravi Kerala Varma. Bali Mandapam and Kathir Mandapam were built in 16th century and a few more constructions in the 18th century. Mukhamandapam was built by Thiruvikraman Namboothiri in 1620 AD.
Sreekovil is 32 feet high. Devotees should take 12 steps to reach the front side of the temple; that's how construction is done. In the front end, there are 8 stone pillars in a row. The flag post (Kodimaram) is placed inside the mandapam at the front side of the temple.
Balikalpura, also known as Shilpa Mandapam filled with big and small stone carvings, tells the centuries-old stories of past. All the statues are lovely, with glorifying stories of past have brought fame to the temple. Rathi & Manmadhan, Arjunan with grown beard, Dancing Kali and Ram & Lakshman are some of the best architecture works. Kathir Mandapam and Namaskara Mandapam come after Balikalpura, and it's also filled with similar stone carvings.
Several inscriptions are also present in temple carvings written in Sanskrit, Tamil, Vattezhuthu and Granta language forms. Temple pond, Aarattu Pura and Oottupura are present within the temple premises.
7-feet tall stone statue of presiding deity
Sree Kovil (Main temple) is stone made, and Ottakkalmandapam (Mandapam built from a single stone) is filled with wonders of great artists of yesterdays who used their tools to carve magic in rocks. Ceiling made of wood is also filled by artists' talents. To circumvallate the presiding deity, there is a special Pradakshina Mandapam, supported by 20 pillars. Each and every pillar has sculptures, entirely different from one another, and has great significance.
The main deity Mahishasura Mardini has more than 7-feet height and is in the standing posture. Right leg is placed on the head of defeated Mahishasura. Goddess has four hands, wearing Shank and Chakra, and is in fierce bhaavam.
Apart from two Ganapati deities and Nagas, Yakshi is installed within the Nalambalam of the temple.
Myths are many
It's believed that before Parasurama started to Himalaya (after killing Kshatriyas), he dig a pond here, cleaned his Parasu and worshipped the goddess before he moved forward. There is a story linked with Travacore King Marthanda Varma saying he cleaned his sword here to end the bloodshed. Parasurama or Marthanda Varma, the temple's name is derived from it. Vaal Vacha Gostam – literally means place where the sword is placed. It's also said that Pandavas during exile, hid their secret weapons here.
There is also a story connecting Kalishankara Varyar who belonged to Ambalavaasi community. A tantric and an ardent devotee of goddess he served as an accountant at Edathara Potti. One late night while he was returning after work he met two ladies on the way. In the first sight itself he recognized that they are not normal ladies. He left them after giving a seat beneath nearby Marutha tree. He also assured them that he would build them a temple. They were Mahishasura Mardini and her friend Yakshi, and after consulting with Edathara Potti, he built a temple for them. Necessary help was provided by Venad King, who ruled the state then. Yakshi was given a place in the north-east part of the temple while Mahishasura Mardini was made the presiding deity.
Yakshi's deity was placed inside the nalambalam. Now also Yakshi gets offerings twice a year – during annual celebrations and Trikarthika day. The place where Varyar requested both to stay has been changed to a four-pillar mandapam called Maruda Mandapam.
Major temple rituals and customs
Annual celebrations are conducted every year, and there are special poojas for Trikarthika day as well. A girl below 12 years belonging to Ambalavaasi community has to fast (vritham) for 48 days. During the eve of Trikarthika, the goddess is escorted from the mandapam to temple by this girl. Several rituals conducted along with this include – Devi Aavahana Pooja, Nava Kalasa Pooja and Thulabhaaram. Thus the sanctity is being equally distributed between Sreekovil and Maruda Mandapam, a unique phenomenon.
Vaisakhi Visakham is also an auspicious occasion. Thiruvonam, Pongal and Navaratri celebrations are also conducted every year. Karthika Vilakk is so special, and the whole month, a special offering called Kalabha Charthu is given every day.
Temple timings
5.30 am to 10 am in the morning and 5 pm to 8 pm on usual days and during festival seasons timing may be slight different.
You can read a few more articles on Kerala temples, with detailed description of legends and celebrations associated with them. Click on the images in the gallery to read
(Visited 903 times, 1 visits today)