Top 10 Bollywood duets of Mohammed Rafi and Suman Kalyanpur combination
Suman Kalyanpur's voice is very often mistaken to be Lata Mangeshkar's, and as a contemporary singer to Lata in the 1960s who had almost the same voice during the decade, it's not possible for an average music fan to distinguish between the two. Unfortunately, though she shared a beautiful voice with matchless talent and quality in singing, as her voice was so close to Lata, she received comparatively less opportunities in Bollywood. A great miss to Bollywood fans indeed. Yet she owns many hit songs in Bollywood during 1950s-1970s, apart from several hit songs in Marathi and Bengali languages, where she groomed as a playback singer. Also Read: Top 20 Bollywood hits of Suman Kalyanpur
When there was a royalty issue between Rafi and Lata in the 1960s, they refused to sing together, and Suman got benefited by this. She recorded 140 duets with Rafi in this period of around 6 years in the golden era of Hindi music. Through this column, I shall list some of the best duets of Mohammed Rafi and Suman Kalyanpur combination. The 10 gems which I chose for this list are indeed unique. I am 100% sure, many of you readers might have mistaken at least a few of these to be Lata Mangeshkar's, before reading this post.
1. Aajkal Tere Mere from Brahmachari (1968)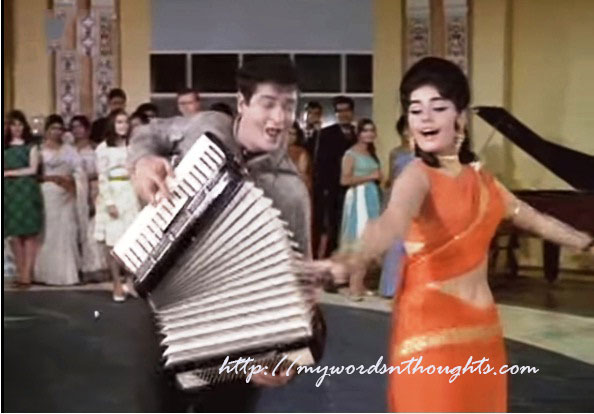 Every music fan would love to see this dancing number at the top of this list, and yes it is. Why not? Because it's the biggest chartbuster song of Suman Kalyanpur's career, and filmed on Shammi Kapoor and Mumtaz, the actress who was only a B-grade actress then. The song benefitted a lot in the careers of both Mumtaz and Suman. Music was composed by Shankar-Jaikishen who frequently worked with her, and lyrics were penned by Hasrat Jaipuri. The movie included a total of 6 tracks of which 5 were Rafi solos and the rest one is the duet, Aajkal Tere Mere; quite interesting. The tune was initially rejected, which was later approved by Shammi Kapoor, and it became the USP of the entire album.
2. Thehriye Hosh Mein Aa Loon from Mohabbat Isko Kahete Hain (1965)
Shashi Kapoor and Nanda were frequently paired in a series of movies in the 1960s which had some wonderful songs, and this song featuring both is very beautiful. Khayyam composed the song and Majrooh Sultanpuri wrote the lyrics.
3. Na Na Karte Pyar Tumhin Se Kar from Jab Jab Phool Khile (1965)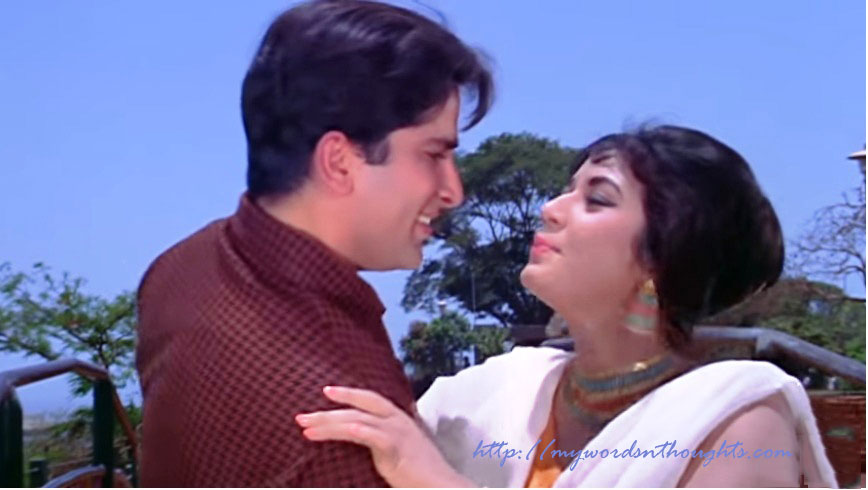 The extremely popular romantic song was filmed on Shashi Kapoor and Nanda, one of the leading pairs of 1960s. Music was composed by Kalyanji-Anandji and lyrics written by Anand Bakshi. The film too was a big blockbuster, establishing the career of Shashi Kapoor as a successful solo hero.
4. Parbaton Ke Pedon Par Shaam from Shagoon (1964)
The song had the real-life pair, Waheeda Rehman and Kamaljeet in one of their rare appearances together. Music was composed by Khayyam with lyrics by Sahir Ludhianvi.
5. Tumse O Haseena from Farz (1967)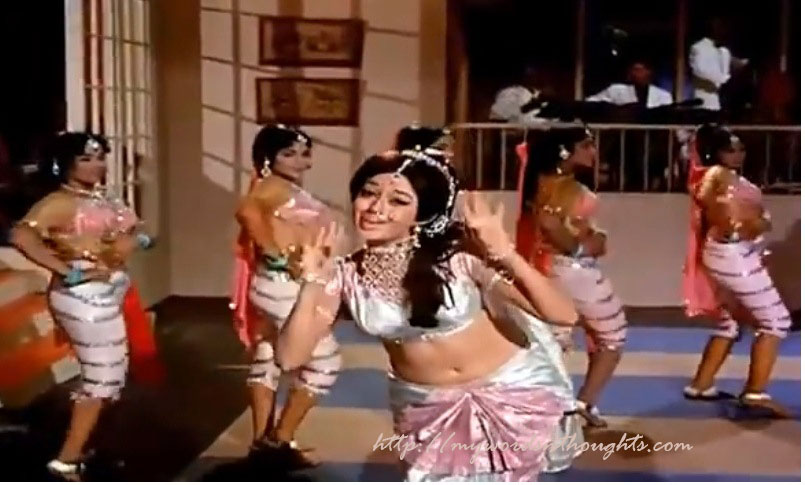 The film, its music and unique dance steps became a rag across the nation, when it got released. This dance sequence featuring Babita and Jeetendra was one of the top songs of the album. Laxmikant Pyarelal composed music and Anand Bakshi wrote the lines.
6. Ke Jaan Chali Jaaye from Anjaana (1969)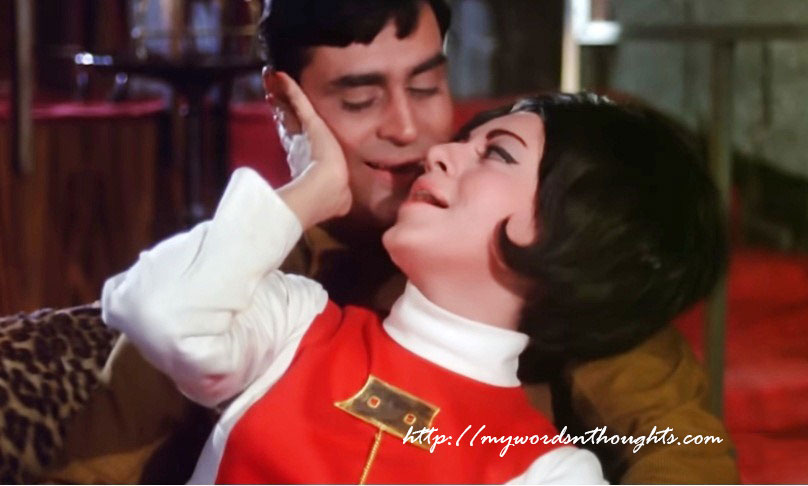 The song, once again was filmed on Babita, and she was paired with Rajendra Kumar for this romantic duet. Movie included an extremely popular duet of Rafi and Lata, Rhimjhim Ke Geet. Once again, Laxmikant Pyarelal composed its music while Anand Bakshi wrote the lyrics.
7. Itna Hai Tumse Pyaar Mujhe from Suraj (1966)
The duet featuring Rajendra Kumar and Vyjayanthimala was filmed in a beautiful park. Shankar Jaikishan won Filmfare award for best music composer. Hasrat Jaipuri also won best lyricist award, but for the iconic "Baharon Phool Barsao" song.
8. Tujhe Pyar Karte Hain from April Fool (1964)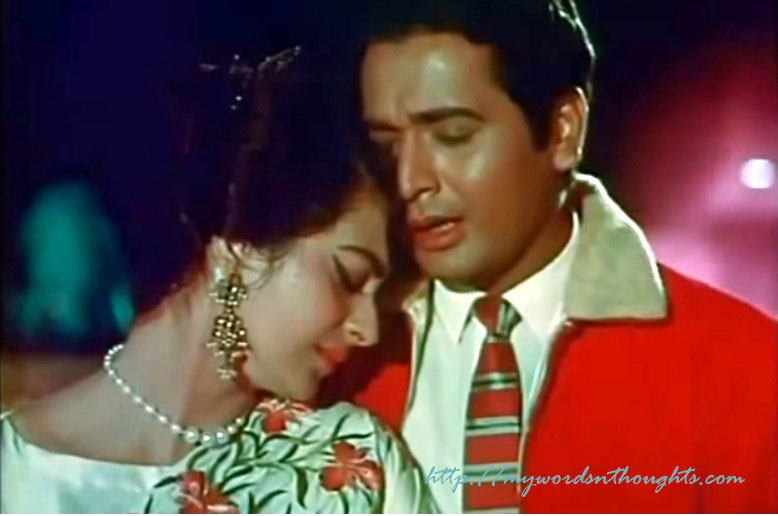 The popular duet was filmed on Biswajeet and Saira Banu, and they look cute on screen together. Music was composed by Shankar Jaikishen and lyrics were penned by Hasrat Jaipuri. The movie also included yet another popular duet of the duo, Kehdo Kehdo Jahan Se Kehdo and a Rafi solo, Aa gale Lag Jaa.
9. Tumne Pukara Aur from Rajkumar (1964)
The movie with Shankar-Jaikishen music is known for some of the finest tunes filmed on Shammi Kapoor and Sadhana. Tumne Pukara Aur is one of the popular duets of the album. Hasrat Jaipuri penned lyrics of this particular song. The movie had three Rafi duets, and Suman's single duet became more popular than the rest two with Asha Bhosle. Many people were mistaken it to be a Lata Mangeshkar song, because their talents and voices were quite matching for this song.
10. Raat Suhani Jaag Rahi Hai from Jigri Dost (1969)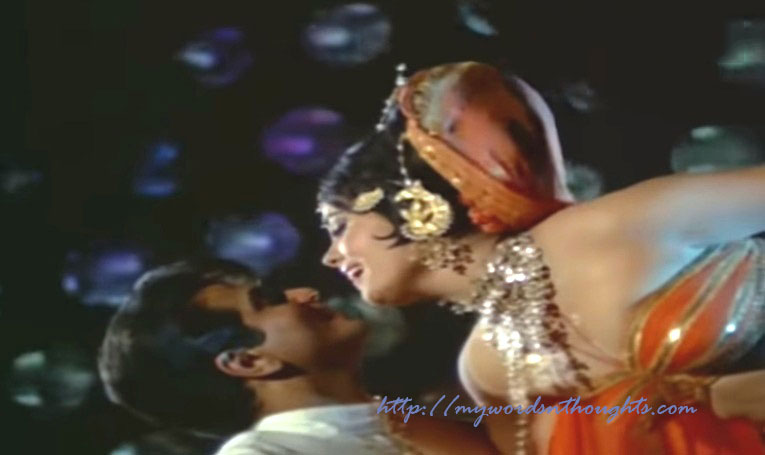 The extremely popular duet was filmed on Jeetendra and Mumtaz. The song penned by Anand Bakshi is indeed beautiful, and composed by Laxmikant-Pyarelal. Jeetendra played a dual role in the movie, and Mumtaz played lead heroine in the film aside less-known actress Poonam Sinha (future wife of Shatrughan Sinha and mother of Sonakshi Sinha, who was credited as Komal in the movie). "Phool Hai Baharon Ka" is a popular duet of the movie featuring the lead pairs. "Dil Mein Kya Hai" was filmed on Komal and Jeetendra.
Here I list a few more….
1. Title track of Dil Ek Mandir
2. Tujhe Dekha Tujhe Chaha from Choti Se Mulaqat
3. Mujhe Ye Phool Na De from Ghazal
4. Nashe Mein Hum Nashe Mein Tum from Black Cat
5. Ajhun Na Aye Balamwa from Sanjh Aur Savera
6. Hai Na Bolo Bolo from Andaz
7. Kehdo Kehdo Jahan Se Kehdo from April Fool
8. Rahen Na Rahen Hum from Mamta
9. Aise To Na Dekho from Bheegi Raat
10. Title track of Dil Ne Phir Yaad Kiya (not a duet), where Mukesh is the third artist
11. Tu Jungle Ki Morni Te Mai Bhaga Da Mor from Raja Saheb
12. Yeh Duniya Ke Badaltey Rishtey from Badaltey Rishtey where Kishore Kumar is the third artist
Please go through Suman Kalyanpur gallery to read a couple of posts. Here is the page link. Click on the images to read.
(Visited 2,104 times, 1 visits today)