The Famous Nalambala Darshanam of 'Cultural Capital of Kerala'
Karkidakam is widely regarded as a holy month among Hindus, and they give preference to pilgrimage and other devotional activities. No doubt, Nalambala Darshanam which literally means 'Visiting four temples' has gained popularity in the recent times. Reciting Ramayana during the holy month and visiting the temples of Rama and his siblings in a single day also form a part of the rituals followed by Hindus in Karkidakam. Nalambala Darshanam is an annual pilgrimage that can be done from the first day of Malayalam month Karkidakam, till any day of the month.
What is Nalambala Darshanam?
The divine power of Nalambala Darshanam is popular in Kerala, and it's widely accepted that visiting Rama and his younger brothers during the month of Karkidakam can help one to achieve Moksha, brings prosperity and also fulfill his wishes. It is customary to visit the four temples in the order Rama, followed by his Bharata, Lakshmana and Shatrughna, and later return to Rama.
Visiting Sree Rama provides mental peace and 'Dharma Bodham', while Lakshmana carries and fulfills the wishes and orders made by Lord Rama. Visiting Bharata temple gives 'Bharata Naipunya' while visit to Shatrughna temple aims at a prosperous life without enemies. Thus visiting the four temples gives easy ways to fulfill one's dreams without any obstacles.
Nalambala Darshanam of Thrissur is most popular
It starts off from Sri Rama temple at Thripayar. A pilgrim should visit the temple at Usha Pooja (Morning Pooja) at Thripayar, followed by Usha Pooja at Bharata temple of Koodal Manikyam, Irinjalikuda. Then he should attain Noon Pooja at Lakshmana temple of Moozhikkulam, and 'Attazha Pooja' (night pooja) at Payammal Sree Shathruknha Swaami Temple. Moozhikkulam temple belongs to Ernakulam district, while the rest three belongs to Thrissur district. Koodal Manikyam temple is 14 kms away from Thripayar. Moozhikkulam Sree Lakshmana Perumal Temple is 30 kms away from Koodal Manikyam, and the same distance from Koodal Manikyam to Payammal. Payammal is 7 kms away from Irinjalikuda.
Special arrangements made in Nalambalams during Ramayana month
Thriprayar Sree Rama Temple: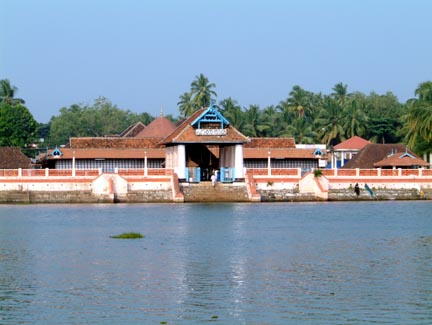 Avil and Meenoott are the main offerings of the temple. Reading Ramayana and Mura Japam are equally important. Special arrangements to accommodate 5000 people inside the temple walls are made. Tents will be made to protect pilgrims from rainfall, and while standing in the queue itself, they can draw tickets of offerings. Tents are made outside the temple wall also.
Darshan time

: Temple opens at sharp 3 am. The devotees are allowed to enter inside temple walls from 2.45 am onwards. Devotees are not allowed inside during Ethrith Pooja (5.15am – 6.15am) and Pantheeradi Pooja (6.45am – 7.15am). After that devotees can visit the temple till it is closed at 12 pm. In the evenings, the darshan time is 4.30pm – 8pm.
Koodalmanikyam Bharata Temple: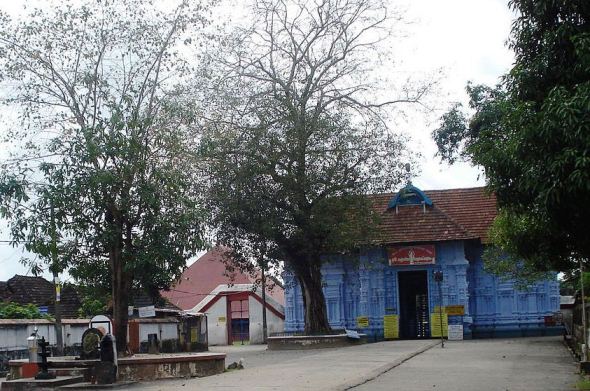 An exclusive queue complex in the East Nada of the temple, and tents are drawn in the temple premises also. Devotees should enter the temple through east nada, and exit the temple through west nada. Then he should circumvallate Kuleepini temple pond to reach east nada of the temple again. 'Prasad' will be distributed here. Lotus garland is the main offering of the temple. Devotees also offer lotus flowers, Ney Vilakk (Ghee for lighting lamps), Pushpanjali, Meenott, Para offering, Ghee Payasam, Brinjal, Aval, Thattu Nedyam etc.
Darshan time: Temple opens at 3 am. It closes at 7.20am for Ethrith Pooja, and re-opens at 8.20 am. Then it closes at sharp 11 am for noon pooja, and re-opens after half an hour. The temple then closes as per the visitors available. In the evening, darshan can be done between 5pm and 8.15pm.
Moozhikkulam Sree Lakshmana Perumal Temple:
Here provisions have been made to accommodate more than 4000 pilgrims. Easy route to temple starts from Mala, followed by Annama Nada, Poovathussery, Kurumassery and Moozhikkulam. Milk Payasam is the main offering of the temple. Ottayappam for Ganapati, Unniyappam, Aravana payasam, Avil Nivedyam, Elluthiri for Shastavu etc are other offerings. Devotees should enter the temple through East nada, and pray before Lakshmana first before visiting other deities, and circumvallate and reach before Lakshmana. Then he should pray before Shastav, Bhagavati and Gosala Krishnan, and reach before Lakshmana once again.
Darshan time: Monday to Friday, temple opens at 4.30 am in the morning. Then it remains open till 1 am. On Saturday and Sunday, temple closes at 2pm. Temple re-opens at 4.30 pm in the evening, and closes at 8.30pm.
Payammal Sree Shathrughna Temple:
In the east side of the temple, arrangements are made to accommodate more than 5000 devotees, and pilgrims should enter through East Nada (Kizhakke Nada). Sudarshana Pushpanjali to get rid of enemies is the main offering. Avil Nivedyam, Ganapathi Homam, Shankhabhishekam, Chandanam Charthal and placing Sudarshana Chakram as offering at temple are other offerings.
Darshan time: Temple opens to devotees at 5.30 am and closes at 2pm. For evening pooja, temple opens at 4.30pm and closes at 9 pm. Time schedule for closing may vary slightly, in accordance to the presence of visitors. At weekends, though the temple closes at 2 pm, it re-opens at 2.30 pm and closes at 9.30pm only.
Before I conclude, let me add Nalambalam Darshan at Ramapuram of Kottayam district is also popular. It's because the four temples are located within a radius of three kilometres, and it gives the shortest Naalambalam journey in Kerala. The temples are Sri Ramaswamy temple is situated at Ramapuram, Sri Bharathaswamy temple at Amanakara, Sri Lakshmanaswamy temple at Kudappulam and Sri Shathrughnaswamy temple at Methiri.
Karkidakom month has a lot of significance for Malayali Hindus, and if you do Nalambala Darshanam with commitment, belief and devotion, rather than a 'tourist' approach, it will definitely give positive results in your life.
Go through the gallery to read a few more unique articles on traditions followed during holy Karkidakam month by Keralites just before the commence of Onam season. Here is the page link. Click on the images to read.
(Visited 889 times, 1 visits today)