Experience the taste of Malabar – Unique dishes of Kasaragod which you have never heard before
When you enter a restaurant of Kasaragod for the first time, and if you belong to mid or south Kerala, you may not easily identify the dishes or the language used for communication. You may feel as if you have entered into a strange new world.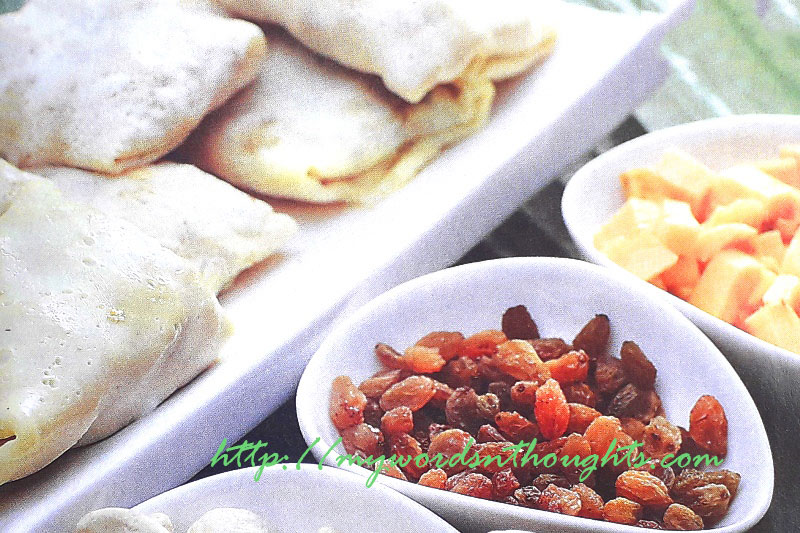 "Enthu Thindi Venenu?" means 'What dish you want to eat?' which is entirely different from normal Malayalam. It's a mix of Konkani language. If you go through the displayed food items, you may know only a few items. Neerali dosa, Ambata, Chattambate, Buns, Batata Badai, Sajji Ka Roti, Balahannupodi, Sancheera – Konkani dishes form a part of Malabar restaurants. Ottupola, Ambata, Kori Roti and the dessert Sanjeera are some of the common breakfast dishes available here.
Kasaragod – the land of union of 7 languages doesn't own a distinct language or culture. Same is the case of taste. Kasaragod cuisine is a mix up of several tastes. Malayalam, Kannada, Tulu, Marathi, Byaari, Konkani and Karaasa are the common languages used in Kasaragod for communication, and culture associated with all these languages and those who spoke them have given great influence on Kasaragod cuisine also. You can find countless tastes in the streets and junctions of Kasaragod. Kasaragod people usually use the word 'Appam' to address snacks and breakfast dishes.
Isabgol and Paneerpetti
You get different varieties of mutton dishes in the restaurants of Kasaragod. Special mutton fry is one such variety dish. It's dark in colour, because pepper is used to make it spicy and hot, and Pathiri is the best combo. Pathiri is manually spread instead of using rollers and later cooked in hot tawa. Kozhi Aanam is yet another trademark dish served alongside Pathiri. Chicken is cooked adding chillies and later coconut milk is added and thickened.
Bekkachi is a common snack, often made as an instant dish for an unexpected guest. Banana is cut into pieces and dipped in rice batter. Then it's fried in ghee and served. If banana is substituted with sweet potato, it becomes Kengachi. Paneerpetti is a very common Malabar dish. Read the recipe here. Eggs, banana and sweet filling is wrapped inside an egg pancake.
In lemon juice, Isabgol, Kadali banana and soaked black couscous are added to get Isabgol, and it is usually served during the fasting season of Ramzan. Isabgol is an instant powder added to this drink, usually prepared at home. It's good for digestion and relieves from tiredness.
Different Appams, Kori Roti and Punaar Puli
Best Koriroti is the trademark dish of Uppala, north of Kasaragod. Kori means 'Kozhi' or 'Chicken'. Roti's batter is prepared by taking equal proportion of raw rice and boiled rice and grinding it to a fine paste. Later pancakes are prepared from this batter. In the loose chicken gravy, you can dip roti and eat.
Well ripen Punarpuli (Garcinia indica) is used to prepare juice after removing seeds. It's good for digestion. Cashew nut fruit is also used to prepare juice, adding sugar. Appalam using jackfruit and Mambazha Thera using ripen mango are prepared during summer season by drying under sun. Using summer season, almost all homes will dry some kondattams to be used for next one year. They make some easy dishes during rainy season. Basala (a species of spinach) is used to prepare side dishes and curries.
To prepare ada and appam, different types of leaves are used. In south Kerala, bay leaves, banana leaves and Vattayila (large round leaves) and often palm leaves are used to prepare steam cooked ada dishes. But in Malabar they use leaves of Manjala, colocasia, teak, kurukutti etc. Each leaf gives distinct smell when rice flour is poured into it and when cooked in steam. When tender teak leaves are used, ada gets light red colour. Pathra vada is prepared using the leaves of colocasia and those leaves can also be consumed while eating ada.
Pathal, Korattipathal, Kadamb, Koyikadamb, Pitt, Nice Pathiri, Kalathappam etc are some of the common appams. Kalathappam is served with Manjathanni (thin gravy) of fish or chicken. This yellow gravy is prepared using dal also. Shallots and tomatoes are chopped first. Chillies and coriander seeds are grinded and chicken or fish is cooked adding these items, salt and sufficient water. Fish fry is called Meenkachi and is a common dish for lunch, along with Perukku prepared using cucumber salad or ivy gourd. Upperi and pappad are other common side dishes. Interestingly, Upperi means pickle in Kasaragod, while it's Thoran in mid-Kerala and deep fried dish of any kind in south Kerala.
Eethapazha Kaachu, Birni, Pulivaalan, Kaaykaachiyath, Chakka Nulliyittath etc are some of the common 4 O'clock snacks. For preparing Chakka Nulliyittath, soak rice first. Later it's grinded along with coconut, jackfruit and jaggery in a traditional grind stone. The batter is never grinded in mixer. Take batter as pinches and deep fried in hot oil. That's why it's known by the name, Chakka Nulliyittath. Pathiri and Neer Dosa are common for supper, along with dessert prepared grinding wheat and finger millet (ragi).
Kottigga and Menaskai dishes
Golibaaji is a common 4 O'clock snack. Add chilli powder, cumin powder and salt to maida and made into small balls. Then these balls are deep fried in hot oil. It tastes best with chutney. Bread fruit (called as Bilaathichakka in Kasaragod) are cut into small pieces, dipped in Pazhampori batter and deep fried in hot oil. This snack is called Jeejubba. Taking desserts after meals is quite common, and Kesari and Kasi Halwa are high in demand. White gourd is scrapped and cooked and completely strained. Later it is fried in ghee, along with sugar and cashews to prepare Kasi Halwa. They also have the habit to eat Upma and Aval Nanachath (soaked rice flakes) together. Rice flakes have slight chilly and sweet taste. This dish is called Sajjika Bajlu.
For auspicious occasions, Tulu Brahmins prepare Kottigga. 5 jackfruit leaves are thatched together to form a small pot like structure and idli batter (not too sour) is poured into it. Then it's cooked in steam. For Janmashtami celebrations, Kottigga is prepared using palm leaves. In this case small pockets are made to afford more. After pouring batter first, it's tied using a thread, poured batter again, tied again and continue the process till whole palm lead is used. Mango Menaskai is a perfect combo. Gravy is prepared by grinding together coconut, sesame seeds, fried chillies, coriander seeds and jaggery and mango is cooked adding this gravy and tempered with mustard seeds later.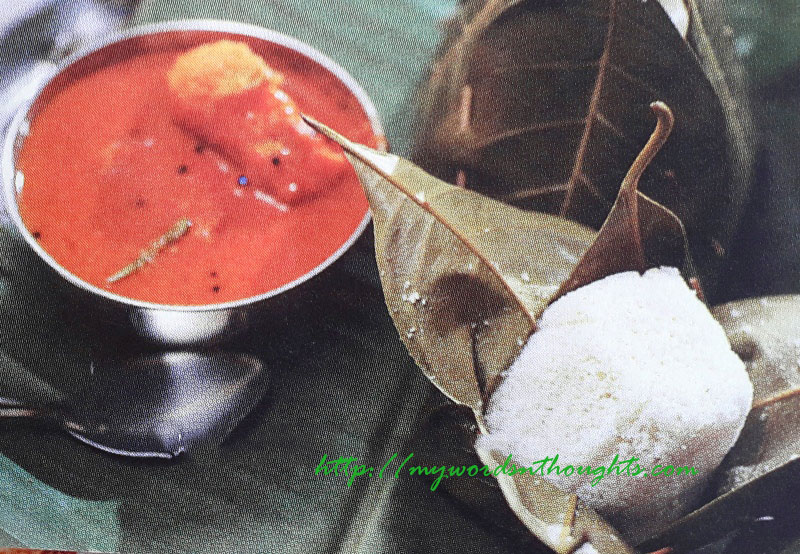 Special tea and other drinks
Kasaragod people enjoy tea a lot. There is one 60-year old hotel known for layer tea. They also prepare a special drink using mango pulp along with skin, and adding salt and sugar. For a theyyam named 'Vamberyayan', ada is given as offering. 2 nazhi (around 400 gm) of rice is soaked and grinded to a paste. This rice flour is spread on banana leaf and scrapped coconut and jaggery are used as filling. It's then steam cooked and given as offering. Chicken curry is also a must if there is Theyyam.
Chicken wrapped in mud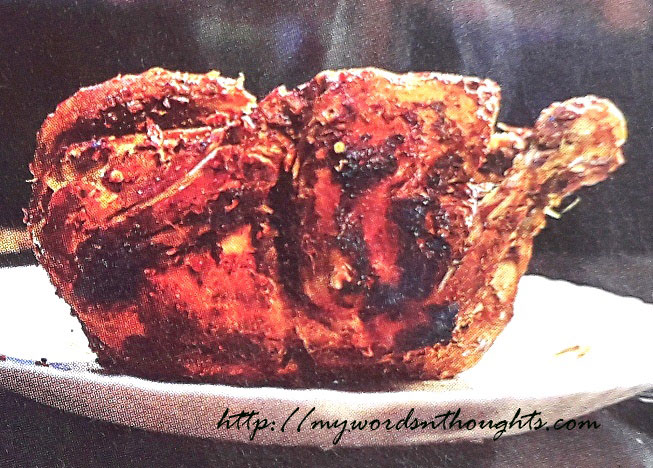 Herbal chicken of Anangoor is famous. Clean a chicken and keep it as whole for this preparation. It's marinated using special herbal masala and allowed to rest. Chicken is wrapped in banana leaf, fully covered in mud and put in glowing charcoal of normal hearth (just like preparing dum dishes or tandoori). Chicken is slowly cooked in this flame. Pleasant flavour and taste of banana leaf is also added to the dish and make it a perfect chicken fry. Its masala is a secret.
Kasaragod Kalathappam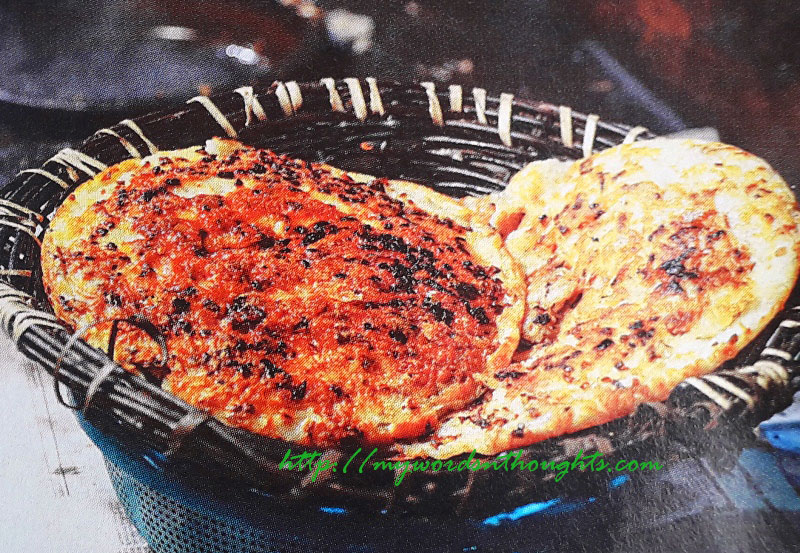 Kalathappam and fish curry is the best combo. Batter for appam is prepared by grinding together raw rice, silky pachari, salt, rice and coconut. Chopped onions and scrapped coconut are fried well in coconut oil. Pour batter to it. Fried onions and coconut float on the surface of batter. Close the lid and cook for a few minutes. Flip once and cook the other side too. Temperature is an important factor which determines the perfectness of Kalathappam.
Different fish dishes of Mayicha
Three lakes join at a single point at Mayicha near Neeleswaram. This place is known for good fresh water fish dishes. Velleri, Polavan, Kaduka and Chutta are some of common fish varieties, caught by local fishermen using net or angle. Salt, turmeric powder and chilli powder are used to fry these fish items. They also add buttermilk to certain fish dishes. Fish is a staple dish of coastal belt, and is served during death ceremonies (Adiyantharam) compulsorily.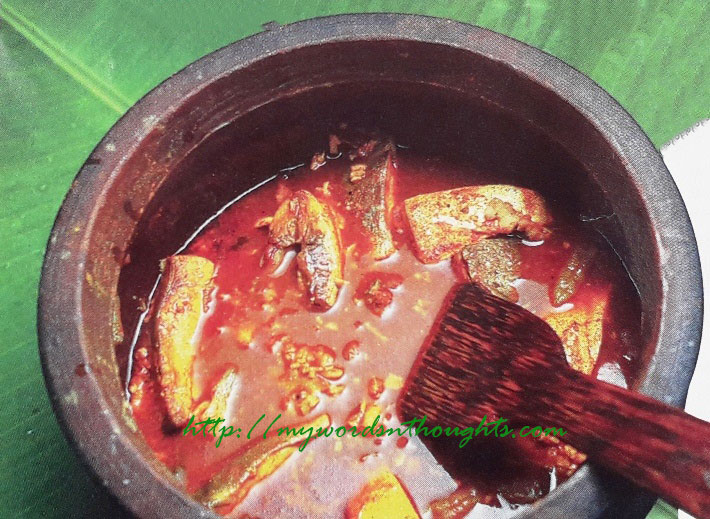 Chicken Sukka is a trademark dish of Kasaragod. After removing feathers of countryside chicken, it's placed on a wooden piece and cut into pieces. Interestingly for Kozhikode people, 'Kutta' is wooden piece, while it's 'basket' in normal Malayalam. Then it's washed well, and cooked in an earthen pot adding powders of countryside chilli, pepper and turmeric and table salt. Only wooden hearth is used to cook chicken, and it takes almost 40 minutes. Bone should separate from flesh. Add scrapped coconut to it along with a few fresh curry leaves. Chosen coconut should not be too tender or too ripen. Chicken Sukka tastes best with Orotti. Batter of Oratti is prepared by grinding together raw rice, salt, shallots and green chillies, and then prepared like normal dosa.
In the coastal belt, pork dishes are easily available. Dried fish is cooked adding tender cashews (Koratta in Kasaragod), chillies and turmeric. Once it's done, add coconut paste along with a little water and mix well. This dish tastes best with Chakka Puzhukk (boiled jackfruit).
Here I conclude this interesting post on Kasaragod cuisine. By this time, as a reader you would have already known that it's not easy to list all Kasaragod dishes or strange names associated with it. It can take a lot of time to have a complete note on it. I hope you have enjoyed this article.
Also read a few more posts related to Kerala cuisine. Here is the page link. Click on the images to read
(Visited 2,972 times, 1 visits today)