Tapioca – Prawns Cutlet (Kappa – Chemmeen Cutlet)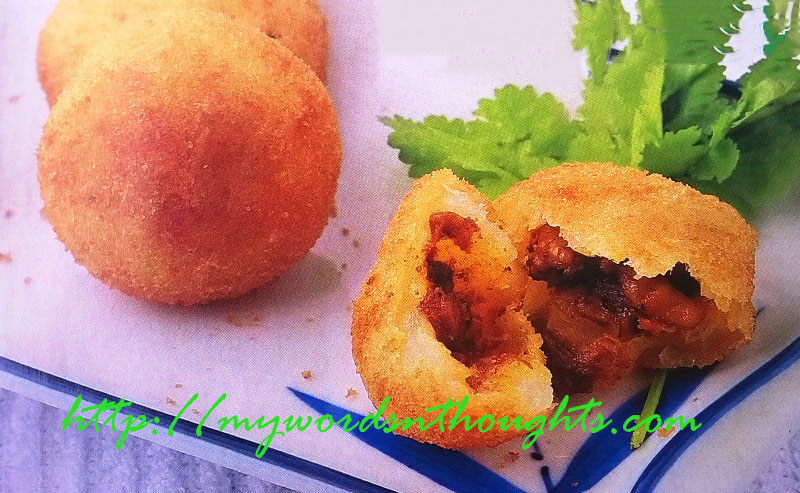 Ingredients for Tapioca – Prawns Cutlet (Kappa – Chemmeen Cutlet):
1. Oil – For preparation
2. Onions – 1, sliced
Garlic chopped fine – 1 small spoon
Ginger sliced thin – 1 small spoon
3. Chilli powder -1/2 big spoon
Coriander powder – 1 big spoon
Meat masala powder – 1 small spoon
Pepper powder – 1 small spoon
Turmeric powder – ½ small spoon
4. Medium sized prawns cleaned and cut into small pieces – 250 gm
Pot tamarind – 2 pieces
Salt – For taste
5. Tapioca – 1 kg
6. Eggs – 2
7. Bread crumbs – For wrapping cutlets
How to prepare Tapioca – Prawns Cutlet (Kappa – Chemmeen Cutlet)?
1. Heat oil and sauté ingredients no: 2.
2. When it's cooked well, add the powders listed as 3 and fry well.
3. Add ingredients no: 4 along with a little water and cook well.
4. Water content should be fully absorbed and dried.
5. Mix this prawn gravy and blend it well. It is used as filling for cutlet.
6. Wash tapioca, cut into small pieces and cook well adding sufficient salt and water.
7. When tapioca is cooked well, drain off excess water.
8. Before it cools off, smash tapioca using a spatula to make a fine paste.
9. Make lemon-sized balls from tapioca paste and make a hollow in the centre of the ball.
10. Place a little prawn-mixture as filling, cover it and press it once to get a cutlet shape.
11. Dip each ball in blended eggs, roll once in bread crumbs and deep fry in hot oil.
12. Drain excess oil and serve hot with chutney or sauce.
Courtesy: Vanitha Magazine October 15-31, 2016
Read a few more delicious cutlet, tikki and patties recipes. Here is the page link. Click on the images in the gallery to read.
(Visited 326 times, 1 visits today)