Stuffed Bun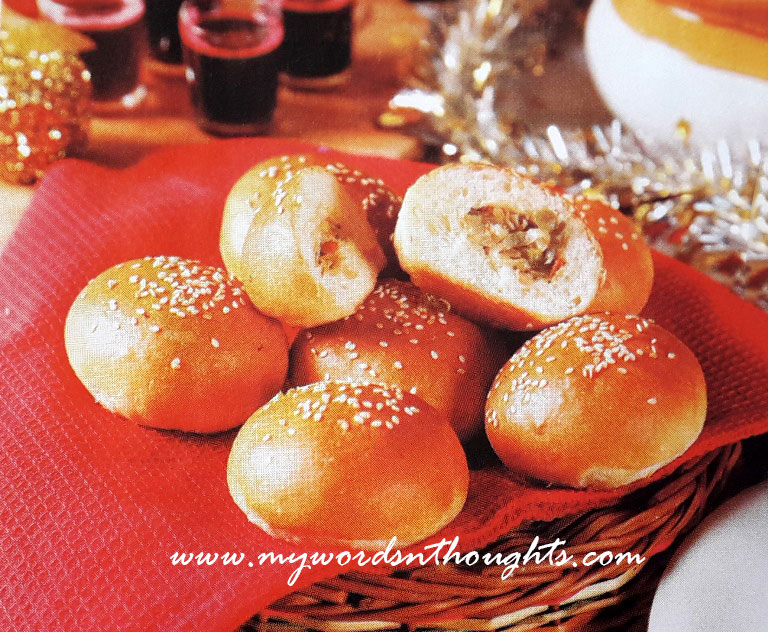 Ingredients for Stuffed Bun:
1. Yeast – 1 small spoon
Sugar – 1 small spoon
Salt – 1/2 small spoon
Lukewarm milk – ½ cup
2. Maida – 2 cups
Butter – 2 small spoons
3. Egg – 1
4. Oil – For frying
5. Onion – 1, chopped fine
Green chillies – 5, chopped
Ginger – 1 piece, sliced thin
Garlic – 5, chopped
6. Tomato – 1, chopped
7. Capsicum – 1, chopped
Celery chopped – 1 big spoon
Spring onion chopped – 1 big spoon
8. Chicken cooked and torn into pieces – 250 gm
Fish cooked and torn into pieces – 150 gm
9. Salt and pepper powder – As needed
How to prepare Stuffed Bun?
1. Pre-heat oven at 180 degree celsious.
2. Mix together ingredients no: 1 and keep aside.
3. Beat the egg and keep aside.
4. Mix together maida and butter, and add beaten egg and milk solution to it.
5. Mix it well to prepare the dough and allow to rest for a while. Close the container with a lid.
6. The batter rises up and doubles in volume after some time.
7. Heat oil in a pan and sauté ingredients no: 5.
8. Add tomato and continue sauting till oil clears.
9. Add ingredients no: 7 and sauté for 1 minute.
10. Add chicken, fish, salt and pepper and mix well.
11. Take it from flame. This is used as filling.
12. Make lemon sized balls from the batter.
13. Place a little filling at the centre and wrap once again to make a ball.
14. Place them in a greased tray in such a way that side wrapped with filling comes in direct contact with the lower side of the tray.
15. Place buns at a distance of 1.5 inch distance each. Cover them once again.
16. When buns rise up and increase in volume, brush them with egg wash (egg beaten with water).
17. In the preheated oven bake the buns till upper side turns brown.
Courtesy: Vanitha Magazine December 15-31, 2018
Read a few sausage recipes here. Here is the page link. Click on the images in the gallery to read.
(Visited 58 times, 1 visits today)