Sodhi Curry
It's one of the easiest, but tasty tomato curries that can be served with appam, rice, idiyappam, chappatti etc. There are many variants of Sodhi curry, both Indian and Sri Lankan, and one thing in common is addition of coconut milk. It's a dish similar to vegetable stew, and sodhi curry can be made using different vegetables such as carrot, drumstick, green peas, potato etc. Here I present one of the simplest variety using tomatoes and cumin seeds.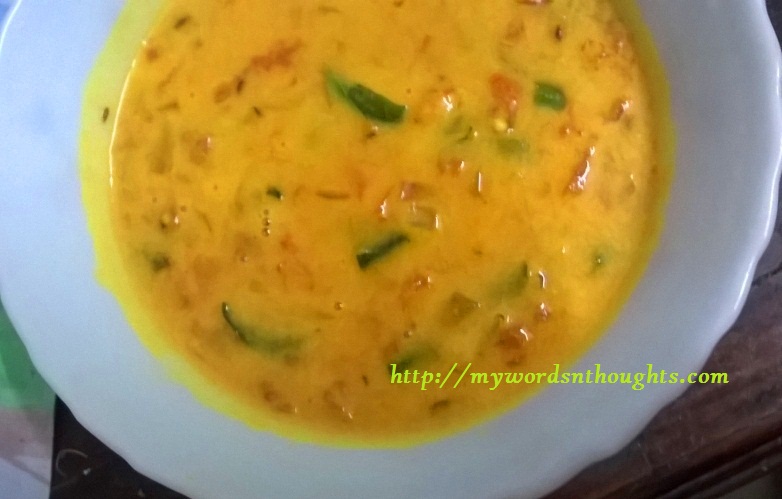 Ingredients for Sodhi Curry:
1. Tomato well ripen finely chopped – 2
2. Green chillies – 2 or 3
3. Turmeric powder – 1/4 tsp
4. Cumin seeds – 3/4 tsp
5. Onion finely chopped – 1 big sized
6. Coconut milk – 1 cup
7. Curry leaves – A stalk
8. Salt – As per taste
9. Oil – 2 tsp
How to prepare Sodhi Curry?
1. Heat oil in pan and add cumin seeds. Allow it to sputter.
2. Simmer to low flame and add ¼ tsp turmeric powder.
3. Add a stalk of curry leaves and sauté it continuously.
4. Add green chillies and onion and sauté it till it turns light brown.
5. Add tomato, salt and cook it for 2-3 minutes. Smash it if possible.
6. Add coconut milk and a little more curry leaves.
7. Boil the curry for 2- 3 minutes and put the flame off.
8. Serve hot with rice or chappatti.
(Visited 365 times, 1 visits today)