Padavalanga – Cherupayar Paripp Thoran (Snakegourd Green Gram Thoran)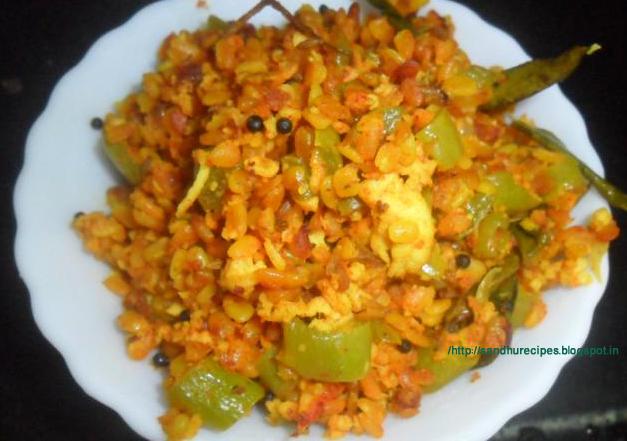 Ingredients for Padavalanga – Cherupayar paripp thoran:
Snake gourd (Padavalanga) – 1 cup

Green gram split (cherupayar parippu) – ½ cup

Green chillies – 2

Shallots – ½ cup

Curry leaves – a handful

Cumin seeds – 1/4 tsp

Garlic – 5 cloves

Salt – as needed

Coconut oil – 2-3 tsp

Mustard seeds – ½ tsp

Red chillies whole – 3

Turmeric powder – ¼ – ½

tsp

Chilli powder – ½ tsp

Coconut scrapped – 1 cup
How to prepare Padavalanga – Cherupayar paripp thoran?
Wash daal and soak in ½ cup water for 10-15 minutes.

Blend once coconut, turmeric powder, garlic, cumin seeds, chilli powder and 3 curry leaves. It's just to crush coconut and ingredients to blend well.

Cut snake guard to small pieces. Chop shallots as well. Split green chillies to 4.

Heat oil in a pan and add mustard seeds and red chillies. When mustard seeds splutter, add curry leaves.

Add dal along with soaked water, snake guard, green chillies, shallots and salt. Stir well and close the lid to cook in low flame.

Occasionally open the lid and stir contents. If water needed, you can add little more.

When it's cooked and water completely absorbed, add coconut paste, cover it completely with a little daal-snake gourd mixture so that coconut gravy will be heated in the steam.

Close the lid and open after 3-4 minutes. You will feel the nice aroma of thoran.

Now mix the contents well and close the lid again for a few minutes.

Open the lid and stir the contents well for a few more moments and put the flame off.
Also read a few more thoran recipes:
(Visited 1,230 times, 1 visits today)