Smiley Sirus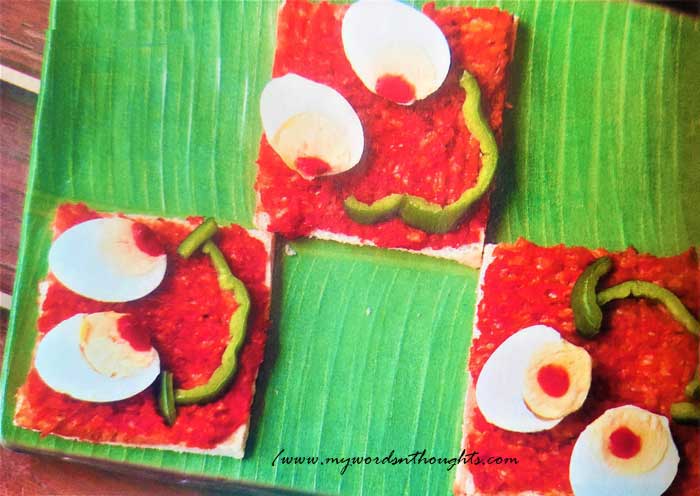 Ingredients for Smiley Sirus:
1. Butter – 2 small spoons
2. Onion chopped fine – 2
3. Tomato chopped fine – 2
4. Chilli powder – 1 small spoon
Salt – For taste
5. Grated cheese – 1 cube
6. Bread – 4 slices
7. Boiled eggs – 2
Sliced capsicum pieces – To decorate
How to prepare Smiley Sirus?
1. Pre-heat oven in 180 degree Celsius.
2. Heat ghee and sauté onions, followed by tomato.
3. Add chilli powder and salt at final stage and put off the flame.
4. Allow the masala to cool, & then grind it to a smooth paste in a mixer.
5. Add cheese to it, and mix well.
6. Apply this masala paste on the top of bread slices as a thin layer.
7. Bake them in pre-heated oven in 10 minutes.
8. Decorate each piece with sliced eggs, like eyes. Use tooth picks to fix the eggs.
9. Fix sliced capsicum pieces like mouth, to complete smiling face.
Note: Instead of baking, you can toast bread slices in tawa after applying butter and then apply tomato paste on one side, followed by decorating with eggs and capsicum slices.
Courtesy: Vanitha Magazine June 1-14, 2010
Also read a few bread toasts and sandwich dishes. Click on the images in the gallery to read.
(Visited 16 times, 1 visits today)