Skin care with strawberry – A few tips
Beautiful strawberries – Do you know you can include these fruits in your skin care? Through this column I shall explain how strawberries are beneficial for your skin.
Strawberries are abundant in Vitamin C, which can help you to reduce pimples. As they contain salicylic acid, they are effective in cleaning skin pores and also protects your skin from infection and pimples.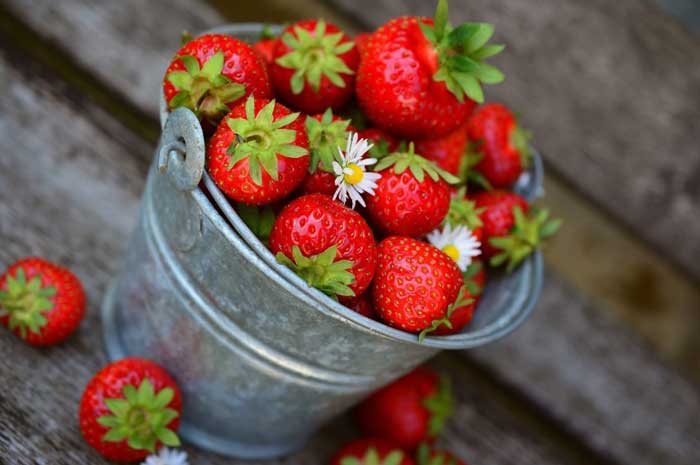 Here is a strawberry face mask for pimples
Take 3 or 4 non-coated aspirin tablets and grind them. Add lemon juice extracted from one lemon and one smashed strawberry and mix the ingredients together. Using cotton, apply this pack on your face and wash it off after 10 minutes. It removes pimples and make your skin glow.
How to use strawberry to remove glumness & paleness of face?
As strawberry is rich in antioxidants, tarn and paleness due to overexposure to sun can be removed if they are used effectively. When your skin is over exposed to sunlight, it breaks collagen fibres causing early wrinkles. Strawberry massage is effective in this case. It also reduces paleness.
A mixture of curd and strawberry gives a medicinal effect to skin. Bundle curd in a cotton cloth till water content is fully removed. Add it a mixture jar along with strawberry and make a creamy paste. Apply it on face and gently massage it after 5 minutes. After 10 minutes, wash it off using cold water.
Strawberries can be used to remove darkness around eyes
To remove darkness, swelling and paleness around eyes and eye lids, strawberry is very effective. It gives a refreshing effect too. Strawberry can function as an astringent and that's why. Strawberry also contains ellagic acid which retains youthfulness.
Chill a little aloe vera gel and some strawberry; take both in equal quantities. Make a fine paste and apply around eyes and eye lids. You can store this paste as ice cubes in freezer and take them out whenever needed. Gently massage on your face.
Strawberries improve colour of lips
Lip balms are available in market with strawberry flavour. Strawberries can make your lips soft and glowing. Make a fine paste of some strawberries adding a little honey. Scrub it on your lips using soft baby toothbrush. Dryness of skin can be removed this way, and lips turn shiny and bright. If you do it on a regular basis, colour of lips also improves.
Strawberries provide softness to skin
Not only face, strawberries are effective for skin care too. Use this strawberry scrub before you bath. Smash 4 strawberries and add ½ cup powdered brown sugar and ¼ cup almond oil. Mix it well and apply as scrub throughout the body. Bath in lukewarm water.
Image source: Pixabay