Rain – Poetry and Quotes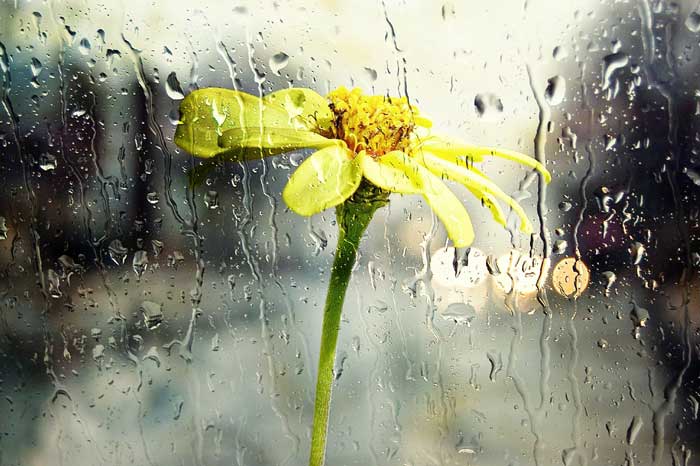 "White cloud is beautiful⛅️
But she can't comfort others by pouring as raindrops.
Raining cloud is black in colour
Thunder & lightening are her accompanies⛈️🌬️
But her heart is full of melting raindrops.💧💧
When she dissolves as rain, losing her shape & beauty ⛈️⛈️
White cloud is checking her beauty in sky mirror.

When poet describes white cloud as the best friend of blue sky
And black cloud as dark shadows of sorrows & misery

We forget the virtue of dark cloud
And treat her bad, keeping distance
Poet sings about white clouds
But only dark clouds can rain #Truth
"Very often our eyes fail to see the truth & go with the visuals and thoughts we already processed in mind. Also our addiction towards beauty & white colour!
I just tried to think differently 🔥
Still a student, trying to learn what different elements of universe are teaching us💫"
"Some rains pour in monsoons
Some come a little bit early
While some others very late
Yes, rains may not wait for right season💕💕"
"Night rain is shaking her bangles loud while raining.
After crying in loud voice along with her,
Night is also returning back to his beloved, sleep.
Each teardrop fallen on earth
Has dissolved in memories forever
And everything flowing into deep silence now💕🌦️🤗"
"Some rains come, pour and go, in your presence
"In the every non-ending raindrop pouring from my eyes
I have started adding shades of your rainbow, one by one🌈✨"
"Soaking myself in my mind rain"
"

To feel someone in rain music without any words

🎶🎶"
"Rain cloud pours as tears
When she tries to touch sun with her fingers
She gently looks at him and sobs,
As another rain cloud🌧️💕💕"
"Is it because rain pours intense in intervals,
It holds a wild beauty??💕💕"
"Listening to your voice in the raindrops I hear"
"Silent clouds and the raindrops which they hide
How many rains are coming and going –
Without letting anyone know.
They take birth in eye corners👀🌧️"
A few rained, a few didn't
Now the sky is filled with white clouds,
"Among all seasons of heart,
And shows rainbows too, infinite🌈"
"Still in search of new words and lines
Searching in drizzling drops of this night rain
Sliding in through my window bars,
Searching a new rhythm for those lines,
Listening to the falling drops
Which can match the heartbeats of mine"
"What if rainbow can pour as colourful rain☔️
Shedding all its seven colours as such!!!🌈🌈"
"All pouring rains don't have raindrops"
"Dark clouds are like human minds without tears.
They burn themselves without raining,
Even give dark shades to all those close to them☁️🌪️"
When you have someone to listen to your heart"
"Now what pouring outside in the veranda are my tears which I have kept along with me to keep myself happy, to keep someone else happy"
"Some tunes are like first rain
Never lose the freshness🎶🎶"
"In the rain forest of heart
A lonely butterfly is wandering"
"In the evening, sky was fully dark
And earth was waiting for his rain
It seems someone has lured –
And took that rain cloud away🌥️☁️😃"
Rain clouds and rain drops
Now they are creating silent music –
With those remaining rain drops
In the beauty of rainbow,
Till the next rain comes to pour in🌈🌈"
"Dark clouds bring someone's memories alive" #Krishna
"Many minds are like this gloomy Karkidakam month
Full of dark clouds, without thunder and storms,
But raining occasionally⛈️🌬️
But when rays of hope reach like Chingam month
All the dark clouds slowly dissolve and disappear 🌤️🌞"
"

Let this monsoon take tear drops from my eyes
And rain in my beloved's place" #Guddi #Translation
"Is it because I was born in the beginning day of monsoon
I am madly in love with this rain?💕💕💃😁"
Why can't you stop authoring more puzzles
There is time left for monsoon.
This dried greenery and fallen buds 🌦️🌪️🤗💫"
"White clouds are born with luxuries
They have never gone through
Transformations to pour as rain.
The hidden tears of dark cloud,
Which it carry wherever it's moving
In hope to rain some day somewhere🌪️🌨️"
"I want to fall in love as many times as raindrops fall in love with earth while dropping❣️❣️"
"When earth started receiving the rhythms of pouring rain,
Slowly, sky changed its gloomy mood to pleasant
The wind took away the last rain drop
And the broken rain also went away, along with it🌥️🌧️"
"When dark clouds spread in the skies till horizon
And start dancing just before rains
My mind also fills with thousands of poems
Nowadays one more name added.
Though I can't transfer everything to paper
I hope you will read them
When you see those dark clouds dancing"
"Rain poured all of a sudden in excitement and suddenly stopped.
She might be thinking, it was not necessary"
"My love rains in different forms
Sometimes I rain as monsoon
Only a single tune, intense or slow
Sometimes I turn October rain
Accompanied by thunder and lightening
Sometimes I appear as white clouds
Sometimes I show my gloomy face
Sometimes I turn summer rain
To pour as consoling friend
I can drench you the way I feel
If I start pouring as rain,
I will drench you completely in my craziness
Come close thinking twice
And even during nightfalls
My craziness has no limitations
Some days I may drizzle only
Some days I turn white cloud
But always reserve moist drops in my heart
To transfer myself to the raining dark cloud☁️🌧️🌪️💫💕🌈"
"Sometimes she may pour heavy,
Accumulating water the next rain
She belongs to the sky only,
& He should never leave her alone
Sometimes she expresses as raindrops
In hope, he reads her mind"
"In what shade do you want me to pour?💕🌈
As a chilling summer drizzle,
Or accompanied by thunder & lightening?⛈️
Sometimes I can go fully silent
Showing myself through lightening only😂
Just tell me, which shade you like most🤗😝💫💥"
"Rain may not carry water drops always
It can carry both words & silences
Rain has infinite stories to tell♾💫"
"Rain pouring on Thrikkarthika night✨💫🪔🪔"
(Visited 93 times, 1 visits today)