Pulikali – Celebrating Kerala's Thiruvonam in a wild way
Can anyone imagine wild animals to celebrate a harvest festival in their own way, dancing to tunes and walk through streets in the midst of people? Definitely not! But if you come to Thrissur – the cultural capital of Kerala on the last day of Onam celebrations, you can definitely witness this colourful celebration in the main streets of the town.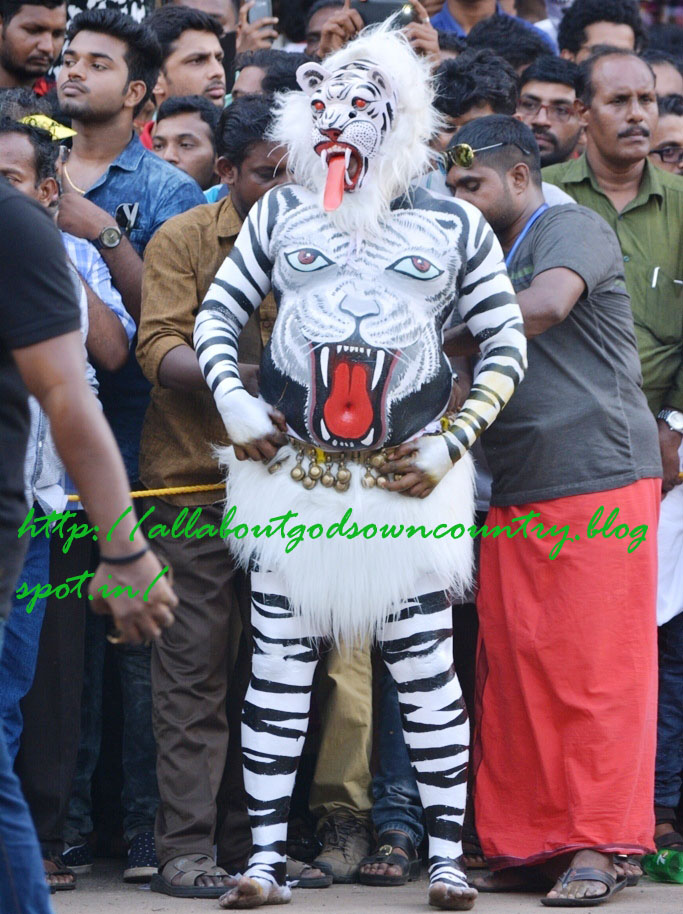 You might be wondering how it is possible. When hundreds of men disguised in the form of tigers and leopards applying colourful paints all over the body and wearing tiger masks, as procession walk to Thekumkad Maidan of Thrissur, where the world famous Thrissur pooram is held, it's nothing short of amusement, fun and entertainment. With minor help given by Thrissur Corporation and help provided by local people, participants do enough 'tiger' decorations spending lots of money to celebrate the ending day of Onam celebration in a wild and vibrant manner.
This Onam play, popularly known as 'Kaduva kali' (tiger play) or 'Puli kali' (leopard play) is the central nerve of Thrissur's Onam Celebration. It's conducted in the afternoon of fourth Onam – Chathayam star where people belonging to four desams from four directions of Thrissur reach the heart of the town – Vadakkumnatha temple, dancing to the tunes played using thakil, udukk and chenda melam. We can see hunters among the crowd, running after tigers with guns; tigers are hunting goats too!
Now, a small note on tiger makeup. It takes four to five hours for artists to imprint their colours of creativity in the body of performers. Enamel, varnish and tempera powder are used to draw strips of white, yellow, black and red colours. Earlier tiger face was drawn, but now readymade masks are used. This art form was started by the then ruler of Kochi Shakthan Thampuran who desired to celebrate Onam in a wild way, including wild life and tribal people. Kaduvakali has stories to tell of past 200 years and throughout the years it has seen a lot of reformations. Earlier it was the time for muscle men, now it's the era of belly dancers. It's really funny to watch tigers with big bellies and tied bells around their waists, dancing to the tunes of Chenda melam.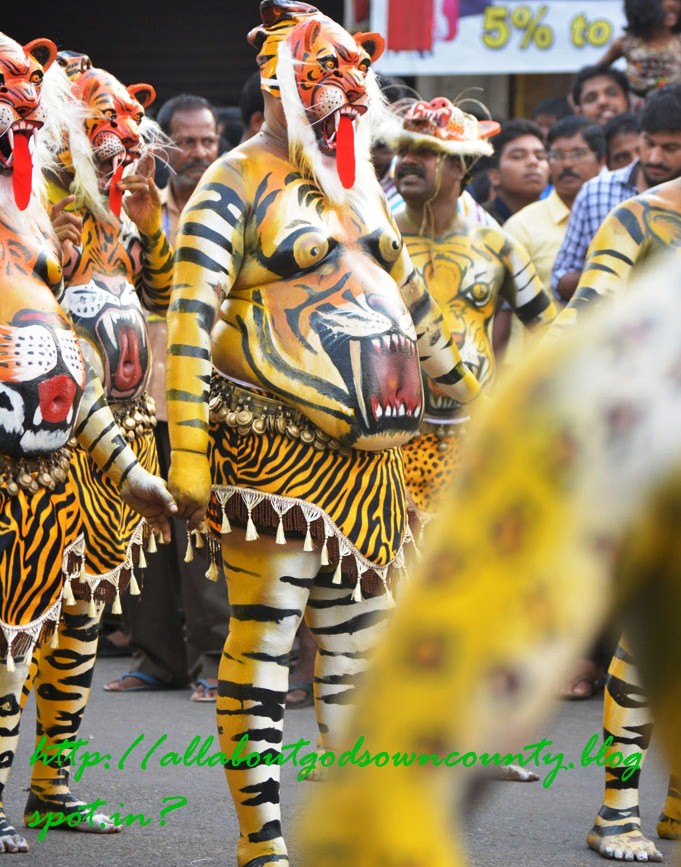 Though prizes are distributed for best team, best hunter and most disciplined tiger, people see it as a form of entertainment than competition. There lies the true essence of this wild celebration.
Read more: Kaduvakali – A vibrant way to celebrate Onam
Go through the gallery to read a few more interesting articles on fun, recreation, myths and traditions associated with Onam season. Here is the page link. Click on the images to read.
(Visited 414 times, 1 visits today)