Fill your interior with fragrance to get a positive mood
When we enter certain homes, our minds fill with freshness. To improve the beauty of interiors many solutions are available. Colours, textures, wood work, magic in flooring, decorative and unique designs in furniture of some homes attractive us often. But now, perfumed interior is another trick, currently trending. Through different oils, perfumes and sprays it's possible to give fragrance to interior atmosphere. Also read: How can we fill our home with perfumes?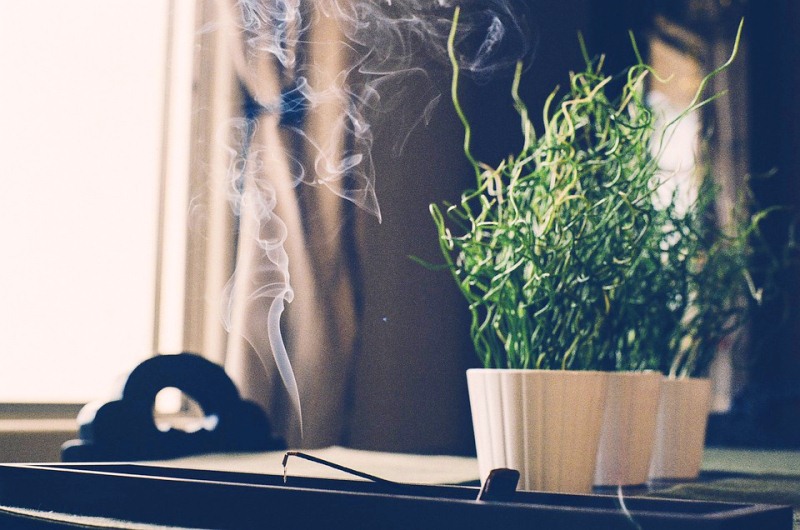 The idea of fragrance
Sweet adours are similar to attractive colours. Through fragrance it's possible to fill a room with freshness, joy and positive energy; it gives a spacious appeal to your interior too. Nice odours can influence our thoughts, moods and emotions. This principle is behind the idea of interiors filled with fragrance. It improves our job efficiency as well as freshness to our daily activities, even if they are repetitive.
The history of perfumes
The word perfume was derived from Latin word 'per fumus', meaning 'through smoke'. It's believed that this word was derived from religious activities of smoking perfumed substances like plants and frankincense. Till 17th century perfume was not used as a makeup item. Gloves with perfume became a fashion in France at that time. Official residence of Louis XV was called 'le cour parfumee' meaning 'the court of perfume'. It was called so because perfume was used in every object of the residence including clothes and furniture.
Perfumes start from incense sticks
From incense sticks, the sweet fragrance journey of perfumes has reached high-tech perfumed interiors. Either living room or dining hall, worship room or study area, fragrance that suits a particular space of home is available in market as ready-made packets. Now different products flow through the market in the forms of sweet scents, deodorants, diffuser, vapourizer, air freshener, perfume, perfumed oils, aerosol, potpourri and incense sticks in different flavours – fruits, flowers and many more. How many reforms can we expect to witness in coming years or so!
Sweet scents of perfumes
Flowers, incense sticks, frankincense – these three things have been used from ancient times to fill rooms with freshness and perfumes. When we reached a hi-tech world, it was industrialized giving a new face and new look, adding new variants. One such reformation that has recently witnessed by interiors is air conditioner. For air conditioned rooms, a room freshener is more effective than natural methods of flowers and frankincense. Also read: Can we make natural room fresheners at home?
Artificial perfumes available now
Floral – When we think about fragrance of flowers, the flowers that come first to our thoughts are rose, lavender, jasmine and lilac. These flavours are most popular among all people of different tastes. Though these flavours are of feminine nature, people use them in bedrooms as well as bathrooms.
Fruity – Citrus flavours give us freshness and refreshment. Orange blossom, lemon, lime and lemon grass belong to citrus group. Fruity flavours are used in those spaces that need refreshment during early mornings, office cabins and cars.
Green – Green means peace and fragrance that gives us peace of mind are included in this category. Rose Mary and eucalyptus are common examples. If you want a shower to give freshness to mind and body, you can choose any one of these flavours.
Spicy – They are penetrating and strong odours like ginger and cinnamon. These artificial perfumes are used in cold countries to spray in the atmosphere.
Earthy – Intense shades belong to earthy group. Strong flavours of sandal wood, rose wood and wild turmeric (Kasthuri in Indian names) belong to this intense group.
In addition to these varieties and thousands of flavours available in market, spa/sen, fantasy and kitchen flavours need special mention. Incense sticks with spa perfume are popular in interiors nowadays. Some strange odours like smell of new cloth, rain and sea storm are also available. These odours close to nature belong to fantasy type. Vanilla, coffee, pumpkin and brown sugar are common among kitchen flavours. Choose any type you desire. After all choices are many!
No doubt, fragrance of a sweet flower or perfume can make us forget our worries at least for a little while. So, fill your interior with fragrance so that only positive thoughts rule your mind!
Image source: Pixabay
Read a few more articles on air fresheners & fresh air tips . Here is the page link. Click on the images in the gallery to read
(Visited 211 times, 1 visits today)