Priyamvada Krishnan – Malayalam film actress of 'Rorschach' fame
Priyamvada Krishnan is an upcoming actress of Malayalam film industry, who shot to fame with the release of 'Rorschach' – a neo-noir psychological thriller starring Mammootty in lead role. Her character name is Ammu in Rorschach. She has earlier worked in movies like Thottappan (2019) and Station 5 (2022). For her debut film, Thottappan she earned special jury mention at the prestigious Kerala state film awards, and also nomination for Best Debutant (Female) at the 2019 SIIMA awards. In the last 2 years, she did four movies. She was a ramp model, and owns a successful modelling career before joining films.
Priyamvada Krishnan is half-Bengali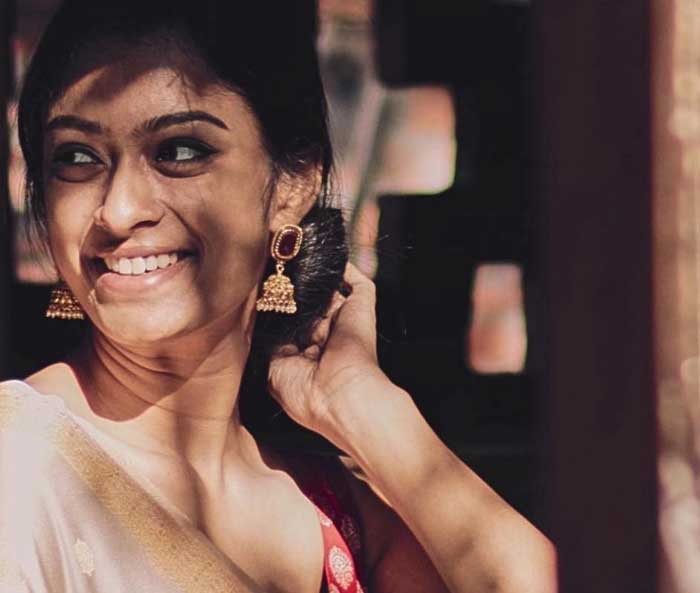 She was born on 21st February 1998. Priyamvada belongs to an art family. Her mom Pallavi Krishnan is a dancer and her father K. K. Gopalakrishnan is a writer. Her mother, originally a native of West Bengal reached Kerala to learn Kerala's classical dance form, Mohiniyattom. Her father is from Kannur, and the family is residing in Kerala for 27 years. The family is now settled in Thrissur. She is a single child to her parents. She completed her graduation in visual communication from SRM University before joining films.
Thottappan was Priyamvada Krishnan's first release
Thottappan in 2019 gave her first break into acting. It was her father who informed her about the audition of the film, and she attended it just to get some experience. She got the lead role of Sarah in the film, and depicts the affection between a girl and her godparent. The movie got mixed reviews. Yet it went unnoticed. Soon after that, covid pandemic hit the country and she concentrated to cooking. She also discovered her love for self-portrait photography during this time, which she used to post in Instagram feed. She has once admitted in one of her interviews that she is an Instagram addict, who loves to post pics and selfies a lot.
'Rorschach' gave her the first commercial success outing
Her second film, Station 5 (2022) also went unnoticed. Roshan Mathew's 'Rorschach' is her third release, through which she gained popularity and fame. Thattasheri Koottam, sharing screen space with Arjun Ashokan is her fourth release, and her next release is Vilayath Buddha, sharing screen space with Prithviraj. Projects like – Divorce and Aparna IPS are in pipeline.
Priyamvada Krishnan – Some interesting and less-known facts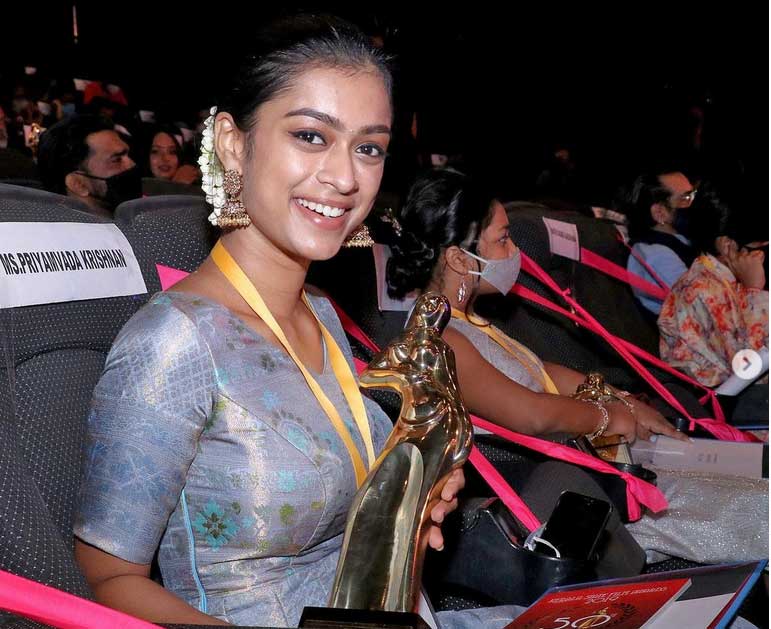 1. During her childhood days, her dreams used to change like rainbow. Her dream job included – teacher, doctor, designer, acting etc as she went through different phases of her growing age. It was during her high school days, she left all her dreams and fully switched to pursuing acting.
2. She has been associated with dancing since young, as her mother is a trained dancer. She trained classical dance from her mother. In fact she has performed along with her mother on stage.
3. Her mother is her biggest inspiration. It's through her mom Priyamvada learnt, a woman can pursue her passion along with gaining financial stability, pursuing what she dreams and succeed in both.
4. She has been into modelling soon after completing plus-two and has also represented India at Miss Reina Intercontinental competition, winning Miss Reina Intercontinental-India 2019 title. She has also been a ramp model.
5. She has a secret habit of writing poems which she prefers to keep to herself.
6. For the small yet important role she played in 'Rorschach', she did shooting for just 6 days, and most of the scenes were sharing screen space with Mammootty.
7. For her debut role as Sarah in Thottappan, a role completely opposite of her real character, she lived in Fort Kochi for 4 months, to learn more about the place, people and Kochi culture. She also attended rehearsal camp before the movie shooting began. Her hard work paid off and she received special jury mention at the prestigious Kerala state film awards for enacting 'Sara Koch'.
8. She has passion towards cooking and also loves hanging with friends, and to have food from outside. Afghani chicken is her main item.
9. She watched her debut film in theatres, along with her close relatives who came from Bengal. For her, it's an unforgettable experience, where she received a lot of love, encouragement and live feedback from Bengali relatives.
(Visited 111 times, 1 visits today)