Prem Adib – The real Ram of Hindi big screen
Prem Adib (1917 – 1959) was a Bollywood actor of early talkies known for portraying Rama and other mythological characters. Among all characters he played on screen, he excelled as Lord Rama. It's widely accepted that Prem Adib was the best actor to play Rama on screen in Hindi cinema. Bharat Milap (1942) was his first famous movie where he played Ram, followed by Ram Rajya (1946), Ram Baan (1948) etc. Shobhana Samarth (mother of Nutan and Tanuja and maternal grandmother of Kajol) played Sita's role in both these movies, and their pairing was well appreciated. He died at a comparatively young age of 42. His last film – Angulimaal was released posthumously in 1960, where he played a supporting role.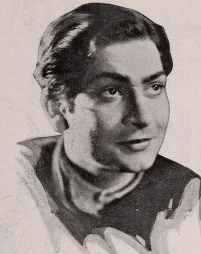 He marked his screen debut with Romantic India in 1936
Prem Adib was born as Shiv Prasad Dhar in Sultanpur, Uttar Pradesh. His ancestors are from Kashmir who migrated to Faizabad Uttar Pradesh during the rule of Nawab Wajid Ali Shah. Later his father, a lawyer by profession got settled in Sultanpur where Shiv Prasad was born. Many of his family members were literals. Since young he was drawn towards movies, and reached Kolkata with dreams to become an actor. The silent movie – Anaarbala influenced him a lot to pursue a career in this field. He then travelled to Lahore, and then Mumbai, where he gained recognition in this field. He marked his screen debut with Romantic India in 1936. Nirala Hindustan in 1938 was his first lead role after playing a few character roles.
Shobhana Samarth was his first female lead
Director Mohan Sinha casted him in the lead role in Nirala Hindustan (also known as Industrial India) and Shobhana Samarth played the female lead. Later they went on to become a popular screen pair through their roles as Rama and Sita in the 1940s. In a career span of 25 years, he appeared in 67 movies. He was one of the most sought heroes of 1940s, when Hindu mythological films fully dominated the scene.
He shifted to other roles when the trend of mythological movies start to change in the 1950s
Many actors like Trilok Kapoor, Shahu Modak, Mahipal, Abhi Bhattacharya, Anant Kumar, Baalakraam, Manhar Desai, Chandrakan etc have enacted mythological character Rama on screen. Yet among all the actors, Prem Adib nailed it with perfection, and gave a great impression among cine goers. After attending a party with his wife on the Christmas day of 1959, he suffered an attack of brain hemorrhage due to high blood pressure, and his wife fell unconscious after witnessing it. His rituals were later done by his close relatives.
Prem Adib – Some interesting and less-known facts
1. Station Master, Chand, Darshan and Anokhi Ada are among his silver jubilee hits before he established as screen Ram.
2. His movie Ram Rajya (1946) is one among the two films watched by Mahatma Gandhi in his life time, though he hated this medium. Mission to Moscow (1943) was the other one. He was on rest in Mumbai while he watched the film. His doctor gave him permission to watch the film for only 40 minutes, and asked to stop it after that. However Gandhi watched the movie full.
3. His famous movie Ram Rajya ran for 108 weeks.
4. His real surname is Dhar. His father changed the surname to Adib, which Prem used too.
5. He matriculated from Jodhpur in 1932, and studied for 2 years in college. But he discontinued studies to join films.
6. He was given the first break to films by director Mohan Sinha, grandfather of actress Vidya Sinha. He also gave him the first lead role through Industrial India.
7. His real name was Shiv Prasad Dhar, and he was rechristened as Prem Adib by director Mohan Sinha, who gave him the first film role as well as first lead role.
8. He essayed the role of Lord Ram in around 8 films which include – Bharat Milap (1942), Ram Rajya (1943), Ram Baan (1948), Ram Vivah (1949), Ram Navami (1956), Ram Hanuman Yudha (1957), Ram Lakshman (1957) and Ram Bhakt Vibhishan (1958).
9. He had a legal battle with a less-known actress Raj Rani for breach of contract, and he won the case.
10. He produced a few films in the 1940s – Dehaati, Kasam and Ram Vivaah. His production venture – Vikramaditya suffered huge loss.
11. Initially he was reluctant to accept the role of Ram in the movie titled Bharat Milap, as he felt that it's second lead role. However Marathi author Vishnupant Aundhkar convinced him to accept the role, and after the release he shot to stardom.
12. During the filming of Ram Rajya, he kept away from cigarettes and non-vegetarian food.
13. After the release of Bharat Milap and Ram Rajya, people started worshipping him. That was the deep impact he made in the hearts of believers. The actor used to advise his fans not to do so, as it is a big insult to Lord Ram.
14. In a village near Udaipur, when a Ram temple was built, they made the idol of Ram look like the actor in Ram Rajya. People used to worship his pictures on vehicles and posters of Ram Rajya and shower it with gifts.
15. He married Rai Saheb Rajeshwarnath Kaul's daughter Krishnakumari in Lahore in year 1943.
16. Prakash Pictures Company compiled three of his films (produced by them) in Rama's role and released as Ramayan in 1954.
(Visited 391 times, 1 visits today)