Pazhavangadi Ganapathy Temple of Thiruvananthapuram is famous for coconut offerings
Situated in the heart of East fort, Thiruvananthapuram city, in close proximity to the Sri Padmanabhaswamy temple, Pazhavangadi Ganapathy is a wonder for believers of Hinduism. For residents of the capital city and neighbouring places, they can't start a new project, or conduct important ceremonies in their homes before breaking coconut before Lord Ganesha at Pazhavangadi. In fact, for last many centuries, it has become a part of the culture of the residents of Thiruvanathapuram. It's the only one temple of Kerala, still governed by Indian army.
1, 101, 1001, 10001 or 1000001, breaking coconuts remains the most important offerings to Pazhavangadi Ganapathy. Some people do it to fulfil wishes, while few others after their prayers got answered. The idol of this world-famous temple, known by the name Maha Ganapati is just 4.5 inches. Temple is situated in a very small space, but is the signature of East Fort. Yet how much influences the residents of Thiruvananthapuram, let's together read the story.
The idol of Maha Ganapati is just 4.5 inches
Maha Ganapati is in seated posture with right leg folded, facing East. Even if you are busy in the busy streets of East Fort, known as Kizhakke Kotta (in Malayalam), when you pass in front of Pazhavangadi Ganapathi, you just can't take a glance at Him & fold your hands. Some are moving towards East fort bus stand for city buses, while a few others to Thampanur KSRTC bus stand or railway station. In fact Thampanur & East fort are the busiest hubs of the city, which forms the heart, connected to other parts through networks & transport. Even if you don't get enough time to enter temple, just praying him from outside gives energy to wave green signal for all auspicious events to happen soon. That's the power of Maha Ganapathi, the lord who likes Modakam, removes all obstacles & blesses his devotees.
The temple in black shade, has been renovated a couple of years ago. Though it's situated in a very small space, near to Lord Padmanabha, it has never affected the devotees who come to pray before Lord & break coconuts. Ganesha mantra written in Malayalam "Om Harisree Ganapataye Namah", on the front side of gopuram of the temple makes anyone remember the first letters 'Harisree' written on rice on the auspicious Vijayadasami to begin learning. On Vijayadasami day, thousands of kids reach here to write 'Harisree'.
Sree Vazhum Pazhavangadiyile Ganapathy Bhagavane……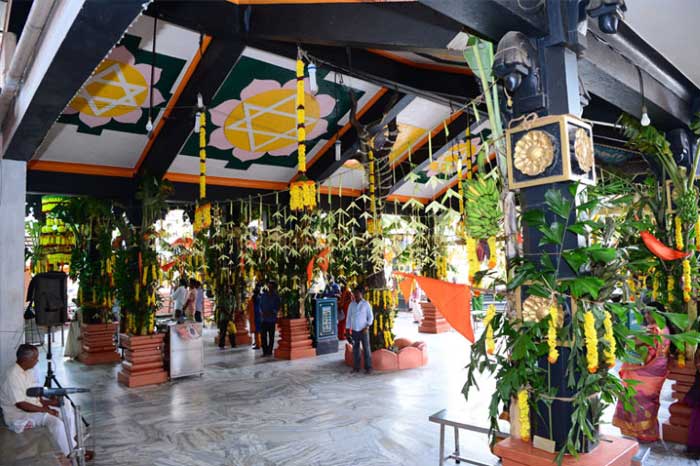 The devotional songs – Sree Vazhum Pazhavangadiyile Ganapathy Bhagavane sung by Jayachandran & Ganapathi Bhagavane sung by Yesudas have become an integral part of prayers to Ganapathi, for the people of Kerala. There is a stone plate near to flag post inside the temple, where devotees stand in queue to break coconuts, irrespective of age and gender. Beginning from early morning, the sound of breaking coconuts continues till late night & it has become an integral part of the heart of the city since long. It's believed that, with the breaking of coconut into pieces, our grieves will also be freed & obstacles removed.
The temple faces south and it welcomes devotees with a unique fragrance. Appam & Ada, given to devotees are prepared in Thidapally, situated in the south-east corner, inside the temple. Its present aroma also fills the atmosphere. Dharmasasta, Goddess Durga and Nagaraja are also worshipped in the temple, and temple sculptures include 32 different forms of Lord Ganesha. Devotees offer turmeric to snake god.
An important chapter from the old kingdom of Travancore is linked to Mahaganapathy
Year 1795. The time when annual temple festival celebrations were going in nearby Padmanabha temple, and the final ceremony of Arattu (dipping idol in temple pond) was to happen. Unusual rain changed the whole rhythm of celebrations. On the Arattu day too, the sky was filled with dark clouds, and the temple authorities were in worry, how to complete the final ceremony without any obstacles. Thus it reached the king too. It was the king who found a solution to tell their agonies to Mahaganapathy at Pazhavangadi.
The king accompanied by a group of people reached Pazhavangadi, broke coconut and prayed to Lord to remove all obstacles. To everyone's surprise, it didn't rain that day, and the annual Arattu ceremony was conducted as usual. It became big news and more devotees start coming to the temple to break coconuts. The fame of Ganapathi slowly crossed borders of Travancore kingdom. It's now more than 250 years since this incident happened, and number of devotees who reach this place has only increased over years.
Before Thiruvananthapuram turned a big city, East Fort & its premises were vast paddy fields, starting with Putharikandam Maidan. Those days, this temple stood as a Thilak in the north-east corner of East fort, during the days of Travancore kings. As time passed by, Thiruvananthapuram turned a busy city, with big buildings, business complexes and processions. Yet Maha Ganapathi still stands the same.
During king's reign, a committee was organized under the control of Nair Brigade, the army of the erstwhile kingdom of Travancore. It was named 'Thiruvathira Committee' still now, known by this name. General of Madras Regiment serves as its chairman. The temple came under the direct governance of Indian Army during the reign of Venad kings, long back & there is a story behind it. It's still under the governance of Indian Army.
One of the rare temples in India under the governance of Indian Army
The temple is maintained by Madras regiment, Indian Army. Regiment centre which comes under Madras regiment governs the temple. The information is scripted on plates in temple too; also the old black & white picture of temple, picture of young Chithira Thirunal Maharaja, and a journey through history. Indian army never interfere into matters related to rituals and festivals. But they directly control things related to temple administration.
The 4.5-inch idol given by a river
Before Maharaja Marthanda Varma expanded Travancore kingdom (Venad), Padmanabhapuram of Kanya Kumari district was the capital. Army of Travancore, then known as Nair Brigade protected the city and fort then. It included 10,000 permanent soldiers and 20,000 temporary ones.
Safety of Padmanabhapuram palace was directly under the control of Nair Brigade then. The old Padmanabhapuram included places like Kalliyankadu, Thamraparni, Thikkurussi, Kanya Kumari, Thirparappu and Suchindram. Nanchinadu filled with lotus ponds, paddy fields, folk tales and a lot of ghost stories too. Folk tales were glorified with Yakshi, Gandharva, Pala trees, Goddesses etc. Among all those ghost tales, Kalliyankadu Neeli (Neeli of Kalliyankadu) was most popular. Neeli's stories have not faded even now. As per tales, presence of Neeli was felt by many people who guarded the palace and premises at night. Many brave and strong soldiers fell unconscious in the premises of palace & Padmanabhapuram. Neeli, who loves Pala tree, its flowers & fragrance coloured many stories which include killing healthy men and leaving behind only nails, hair, dress and weapons. It created fears among subjects as well as those who guarded the palace and boundaries.
One night a miracle happened in Padmanabhapuram. A soldier, who was assigned to guard Kalliyankadu at night, went to Valliyur river near to Thamraparni to take a bath. Something got stuck in his leg, he sank in river and found a rare idol of Ganapathy. That night, he went to duty taking this idol. He placed it near to him and guarded Kalliyankadu whole night. Nothing unusual happened that night. Seeing the soldier harmless next day morning, others enquired the reason. Initially he was reluctant to reveal the reason, yet later told the super power of the idol.
The news spread like wildfire among soldiers. In fact they never faced any kind of problems from Neeli at night, after they got that idol. No soldier was found unconscious in the paths, in early morning too. People who touched the idol and prayed, started feeling that obstacles are passing by.
Slowly the fame of this 4.5-inch idol spread in whole Padmanabhapuram. People claimed him as soldiers' saviour. Later in the capital of Nair Brigade, they constructed a small temple and the idol installed there. Though the temple was under the control of the army, everyone was allowed to enter. It was around 1750 AD and Lord Ganapathy became a war-God of the Nair Brigade.
Later Mahaganapathy shifted to Pazhavangadi in 1760 AD
Less is known about the origin of this idol. People belonging to older generation say, it's a Swayambu (self-revealed) idol seen in the hands of an Avadhuta saint who came to Padmanabhapuram, and later disposed it in the river. Later a soldier, a devotee of Ganesha retrieved from river.
When capital of Venad was shifted from Padmanabhapuram to Thiruvananthapuram, the military brought that idol too. At first it was installed beneath banyan tree of temple at Sreekandeshwaram. Later with the request of army, it was reinstalled in Pazhavangadi of East Fort. A little space in the north-east corner was also allotted for the temple, and it happened during the reign of Dharmaraja. In fact the first person to break coconut in front of Pazhavangadi Ganapathi was Dharmaraja, and since then people are coming from neighbouring districts too, to break coconuts and pray to lord to remove obstacles.
The presiding deity is Adi Ganapathy, who is also known by the name, Prapancha Ganapathy. 4.5-inches is the height of the idol, which can be placed inside palm. The temple built during the reign of Dharmaraja was later renovated by Ayilyam Thirunal Balavarma. The installation of sub-deities (Upadevata) was done during this time. The newly installed deities of Vettaikkoru Makan ("a son from a hunt" – Son of Lord Shiva & Parvathi) and Durga gave energy for fighting soldiers.
Soldiers who go to war used to follow some customs those days. In one of the vehicles which go in row, there will be no soldiers. It's used to carry idols for worship, and believers used to carry separate idols. All those idols were placed in a single vehicle. People who don't believe in idol worship imagine their own gods. Historians say, the idol of Mahaganapathy could have been taken many times to war fields.
Most recently the temple was renovated in 2018. The temple situated in a congested place was expanded, giving it a new look, and temples for different idols were also enlarged. It was made in Krishna rock. There is one centuries-old bael tree inside temple premises. It was not cut during temple renovation, as suggested in Devaprashnam (Astrology). Second condition provided in Devaprashnam was not to re-install the peedam separate from the idol.
Lakhs of coconuts broken every day
Some days the count of broken coconuts may cross 1 lakh. People may offer 100, 1000 or 10,000 coconuts as offerings. Special employees have been appointed to break coconuts. Every day, breaking of coconuts begins at 4.30 am, starting with Ganapathy Homam. It continues till 11 am, and restarts at 5 pm and continues till 8 pm. Though it's the darshan time of temple, people can break coconuts even when temple is closed also.
People have their own wishes and oblations to break coconut such as functions taking place in home, buying new vehicle, starting a new project, joining a job, writing exams, party meetings, cricket, celebrations…. Literally anything.
Idol of Vettakoru Makan is installed in south-west corner, facing east. Ghee abhishekam, Ada, Sesame Payasam, Sesame wick etc are the main offerings. After praying before Dharma Shastha, the devotee can move towards north-west corner to reach goddess Durga. During Navratri celebrations, special poojas are conducted here.
Ethamidal (Placing hands on ears in cross position and bowing before Lord ganesha) is a common sight here. For Ethamidal also, counts are fixed, 3-5-7-12-15-21. Devotee can choose the count he wants.
(Visited 42 times, 1 visits today)