A brief note on Vettakkorumakan – The hunter god of Hinduism
Vettakkorumakan – a Hindu deity worshiped in Tamil Nadu & Kerala, especially northern regions. The name literally translates as "a son from a hunt". As per myths he is the son of Shiva & Parvati , and worshiped as deity for hunting in both these states. Vettakkarumakan is the exact name, but now pronounced as Vettakkorumakan.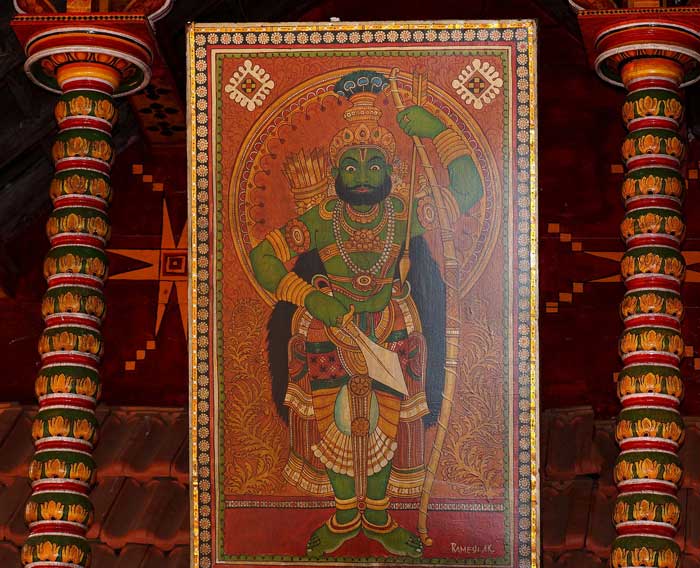 As per myths he was born to Shiva & Parvati, who took the form of hunters while delivering Pasupata weapon to Arjuna. Most worshiped in Malabar region (North Kerala), he is a common character in Theyyam traditional dance forms too. There are many temples dedicated to him in Malabar & Tamil Nadu, & some royal families consider him as their family deity too. When Shiva took Kirata form to give Pasupata to Arjuna, Parvati accompanied him as a huntress. They wandered in forests in this form for a period, & Vettakkoru Makan was born during this time. The boy was very mischievous, indulged in hunting, killed asuras & even troubled Devas & sages. They first approached Brahma. As he is Shiva's child, HE couldn't do anything.
When they approached Shiva, he dismissed him saying he is a kid, only mischievous. Later they approached Vishnu. He took the form of an old hunter & went to the boy, showed him Churika, a double-edged sword. The boy got attracted to it & asked him. Vishnu agreed to give him the weapon on the condition he will never harm people, instead protect them. He took Churika, moved from Kailasa to Kerala. The first place he reached is Balussery Fort of Malabar & his most famous temple is also situated here. Churika is also worshiped as Vettakkorumakan's weapon in Malabar.
As per myths, he travelled in many places. Later temples were built here. In Pazhavangadi Ganapati temple at capital city of Kerala, he is a sub-deity. He is worshiped mostly in North-Western areas of Tamil Nadu, sharing borders with Kerala. Ramanthali, Nileshwar, Kottakkal, Nilambur, Karaparamba etc are some of the places where temples have been built for him.
To add, Lord Ayyappa is also known as Vettakkoru Makan, as he took hunter's form to get tiger's milk for his ailing foster mother. He is the son of Lord Shiva & Vishnu, in female form. Vettakkorumakan Pattu, similar to Ayyappan Thiyyattu is a special ritual performed to please Vettakkorumakan.
(Visited 108 times, 1 visits today)