A short tip to Njarakkal Fish Farm to enjoy the taste of fish dishes
Splendid beauty of backwaters and seas; Cool breezy air that fills the atmosphere always; Tasty meals with variety of fish dishes and Shady places for fishing for a while. An enjoyable boat service through the backwaters, and rest in bamboo huts. A unique experience to walk through mangroves and coconut trees on the bund, and above all, Njarakkal beach is just near to it. Njarakkal Matsyafed Farm of Ernakulam gives you a great enjoyable outing and lovely experience for you and your family.
The farm is spread to an area of 45 acres, and visitors can experience a pollution-free experience inside Vembanad lake. To facilitate aqua tourism, the farm has been renovated in the recent times. Its aim is to change this location to one of the best water tourism spots in Kerala.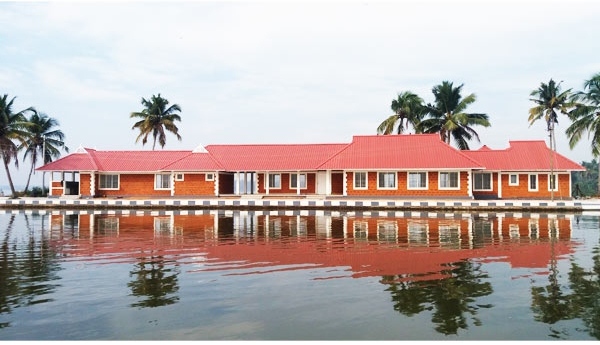 Bamboo hut in the midst of waters
On the western side of this farm, many arrangements have been made to attract the tourists. In the middle of backwaters, there is a bamboo hut. Works of two more huts are still in process. It's an amazing rest place for every person who loves to sleep in the lap of Mother Nature. Almost everything including walls, benches and tables are built using bamboo. The roof is thatched with coconut leaves. Visitors will be taken to the bamboo hut in boats. Food is also supplied in huts.
Lakeview from the hut is splendid and beautiful. If you are interested, you can take fishing net with you. Bamboo hut is mainly meant for families, and each person will be allotted maximum 3 hours with Rs.100 per head.
A fun ride through backwaters
A traveller can row a boat or kuttavanji ((bowl boat / coracle boat)) through the backwaters. As of now, 5 bowl boats have been brought from Karnataka. Though water is not so deep, for safety measures the travellers are given jackets before send for water ride.
A grand feast with fish dishes
You can taste several local varieties of fishes and fish dishes from Njarakkal farm. The catering service is run by 8 ladies belonging to Sauparnika Swayamsahaya Sankham (a local organization). People repeatedly reach here to taste fish dishes, and has made this event a great success. This organization has received district level awards three years continuously for their excellence in running their activities. Other employees in the farm too are always willing to help the tourists with all sorts of needs, including safety precautions.
Fishing from lakes
Travellers can take a walk through dwarf coconut trees filled with coconuts and also mangroves, and it gives an amazing experience too. Several huts have been arranged here as a sort of rest place. Tourists can also experience swing rides here. Though provisions are made for fishing, tourists can do fishing wherever they feel to do so. A safe swimming area and a kite flying area are also available.
Poomeen and Thirutha – For which Njarakkal is famous for
North end lake side of the farm is exclusively reserved for fish farming. Milk fish (Poomeen) and Grey Mullet (Thirutha) are the most common varieties, apart from crabs. Now the authorities have determined to fully make use of the firm for fish farming and explore tourism in a grand manner. Dr. Lawrence Harold who currently serves as the Managing director of Matlsya Fed is known for promoting positive ideas and supports such activities always. In the renovation of Njarakkal farm in the recent times too, he played a significant role.
Normal fees for a day at farm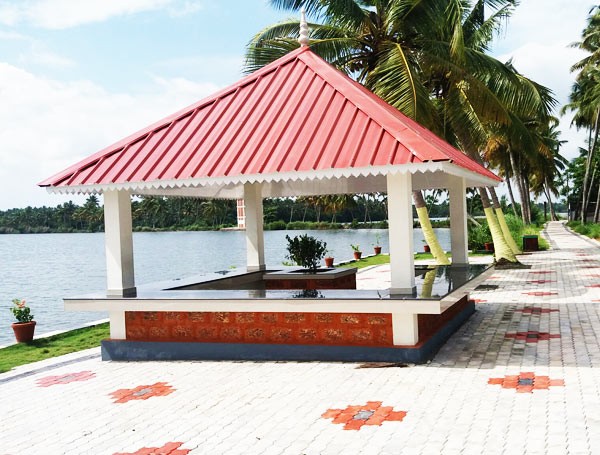 Entry to farm is restricted on Thiruvonam day. You can inform your arrival to the firm earlier. Rs. 200 for adults and Rs. 100 for children is the entry fee. The visitors get a welcome drink as soon as they reach the farm. Then splendid meals with fish dishes. Boating, ride in bowl boat, the walk through bund, fishing and rest in the huts – everything is included in this fee for every person. You can take your own time and spend in farm as long as you desire. But you need to give extra 100 rupees if you want to rest in bamboo hut built in backwaters.
Food and drinks from outside are not allowed inside. Normal food is always available. If you want special food, you can inform earlier. If you are to visit the farm as a folk, you can inform them earlier. It helps the authorities to arrange everything better. If the group consists of 10 people, fees of one person will be exempted. You can contact the farm authorities using the contact numbers – 9526041209 and 9497031280.
How to reach Njarakkal Farm?
If you travel from Ernakulam, reach Vypin through Goshree Bridge, and then Njarakkal Aasupathripadi (hospital) bus stop. Then travel northwards 1 km through Arattuvazhi beach road to reach the farm.
Images courtesy: www.aquatourismbymatsyafed.com
You can read a few more articles on some of the major tourist spots of Kerala here. Here is the page link. Click on the images in the gallery to read