Asif Ali- Popular Malayalam actor with a bunch of hit films to his credit
Asif Ali is a very popular actor from Malayalam cinema, who owns numerous hits to his credit. He has mostly played lead hero roles, apart from a few parallel lead, supporting and negative roles. In the past one decade career, some of his other memorable roles include – Salt N' Pepper, Apoorvaragam, Sapthamashree Thaskaraha, B Tech, Ordinary, Honey Bee, Sunday Holiday, Anuraga karikkin Vellam, Apothecary, Bicycle Thieves, Ozhimuri, Traffic, Amar Akbar Antony, Nirnayakam, Mosayile Kuthira Meenukal etc. 2019 proved to be the most successful year of Asif Ali's career. Apart from his positive roles in Vijay Superum Pournamiyum, Mera Naam Shaji, and Virus, he played an antagonist in Uyare and a grey-shaded role in Kakshi Ammini Pillai. In both these films Asif played the lead hero. He nailed it perfectly with one more hit film a row, Kettyolaanu Ente Malakha released the same year. The movie also had his very few grey shades, though he played an innocent villager role.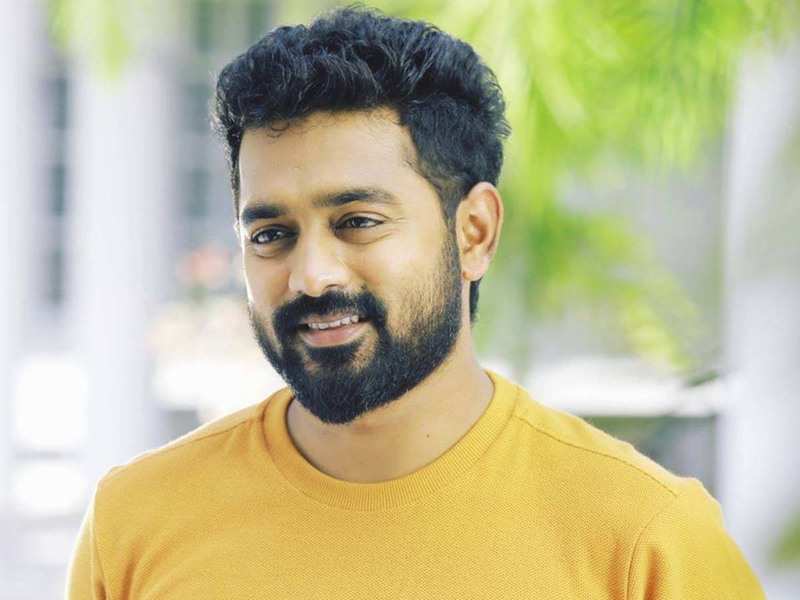 His second release – Kadha Thudarunnu earned him a fan base
As an actor his parallel lead role in his debut movie, Ritu got appreciated (2009), followed by his brief supporting role in his next release – Kadha Thudarunnu. After the movie release, he had a huge fan following crowd. Afterwards his films have received mixed responses, with a few hits. After a few setbacks, he returned in a bang with a series of hits (without any flops in the year) through Vijay Superum Pournamiyum, Mera Naam Shaji, Uyare, Virus and Kakshi Ammini Pillai all released in 2019.
Asif Ali – Childhood and early days
Asif Ali hails from Thodupuzha, Idukki, and was born in 1986. He doesn't own any film or acting background. During his graduation days in Business Administration, he started his modelling career and also worked as a video jockey for a TV channel, following his failure in BBA. He got his first break to films through acclaimed director Shyamaprasad's Ritu released in 2008. This coming of age film was a box office hit and following the box office hit of his second film, Katha Thudarunnu, Asif was flooded with offers.
A career of mixed success and failures till 2019 started
Asif has tasted both the success and failures over the years. Initially the success-failure ratio was almost equal, while later on, he faced failures most. Salt N' Pepper, Traffic, Anuraga Karikkin Vellam and Sapthamashree Thaskaraha are among his box office hits till 2018. His roles in Nirnayakam, Ozhimuri and Apothecary also earned him praises. In 2019 he rose to fame after a series of hits. In 2015 he turned a producer with Kohinoor, later produced Honey B – Two and Kavi Udheshichathu and he starred in all these films. He owns a film production company – Adam's World of Imagination. More than serious roles, Asif Ali mostly handles light-hearted films, and in most cases in the role of a romantic boy or a carefree man.
He has a huge fan base across Kerala. He had a handful of releases post pandemic, such as Kooman, Kaapa, Kunjeldo, Innale Vare, Rorschach (where he played a cameo role), Kotthu, Mahaveeryar, Ellam Shariyaakum, Kuttavum Shikshayum etc. Majority of them received critics' appreciation.
Asif Ali – Some less-known and interesting facts
1. While acting before camera, he insists on pin-drop silence to fully concentrate on his work.
2. He played cameo roles in hit movies such as Indian Rupee, Vellimoonga, Mallu Singh, Rorschach and Ustad Hotel, and also flop film – Doctor Love.
3. For 2022 hit Mammootty starrer Rorschach, he played a cameo role. Most interesting fact is that only his eyes were shown throughout the film. It was a negative role too.
4. He has a habit of not attending phone calls. For the same reason he has missed chance to work in many hit films.
5. He reduced 12 kgs for his 2018 film, Iblis. It took 3 months of strict diet plan to achieve the target. However the movie fared below expectations.
6. Initially he mostly received romantic roles rejected by Kunchakko Boban, Prithviraj, Jayasurya etc who mostly did romantic roles then.
7. During his childhood days his father owned a petrol pump, and when Asif sits bored there, his father sends him along with an accompany to nearby theatre to watch movies. He got interested to Kamal Hassan films, and became his die-hard fan. He used to stand up during fight scenes.
8. He was not a brilliant student in studies. Just like his character in B. Tech, he was not interested in studies and took 4.5 years to take BBA. He had to clear 22 supplements to receive the degree. When he became year-out, he moved to Ernakulam in the pretend of project, and worked in a channel.
9. Now he has ventured into restaurant business, along with film production. After a failed coffee shop attempt at Panampilly Nagar, Ernakulam, he succeeded in 'Kozhikode Adaminte Chayakada'. Along with his friends he owns two shops, one in Ernakulam, Kerala and second one in Dubai.
10. He is married to Zama Mazreen and has two kids.
(Visited 608 times, 1 visits today)