Papri Chaat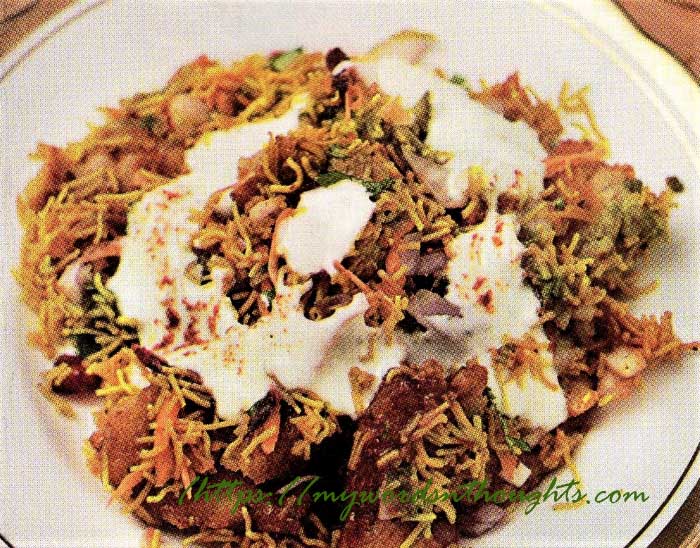 Ingredients for Papri Chaat:
1. Maida – ½ kg
Ajwain – ½ small spoon
Salt – A little
Oil – 2 big spoons
2. Hot water – For kneading dough
3. Oil – For frying
4. Potato -3, boiled and smashed
Green chillies – 3, chopped
Tomato -2, chopped fine
5. Coriander leaves chopped – To decorate
Sev – ½ cup
Chaat masala – 1 big spoon
6. Sweetened yogurt – As required
7. Green chutney, Tamarind chutney – As required
How to prepare Papri Chaat?
1. Mix ingredients no: 1 together and add sufficient warm water.
2. Knead the dough and make small balls from it.
3. Spread into 2-inch round shapes and deep fry in hot oil. This is Papdi/papri.
4. Take Papri in a big bowl and crush them using hands.
5. Add ingredients no: 4 and mix well.
6. Transfer it into serving bowls.
7. Mix ingredients no: 5 and spread them on the top of crushed papri.
8. Pour sweetened curd on top.
9. Serve with Green chutney and Tamarind chutney.
To prepare green chutney: Make a fine paste of green chillies, mint leaves and coriander leaves. Add salt also.
To prepare tamarind chutney: Make a fine paste of tamarind, sugar, Kashmiri chilli, ginger and salt.
Courtesy: Vanitha Magazine January 21 – February 3, 2023
Read a few more potato recipes. Visit my page.
(Visited 12 times, 1 visits today)