Orange-Coconut Biscuit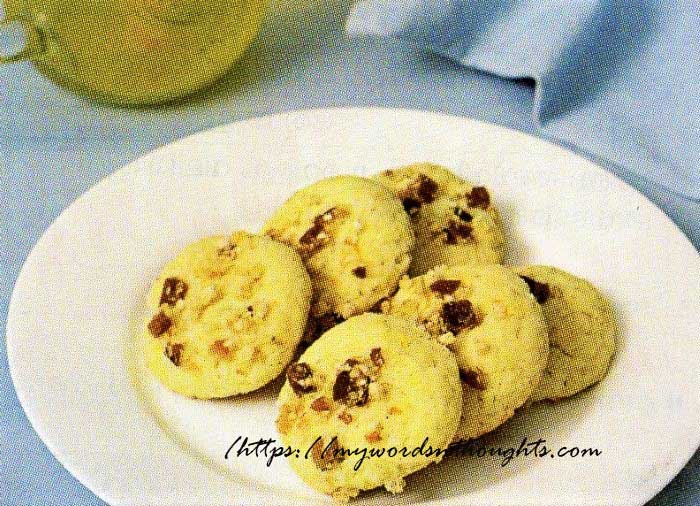 Ingredients for Orange-Coconut Biscuit:
1. Butter – 125 gm
Sugar – 1 cup
2. Egg – 1
3. Coconut scrapped – 1 cup
Orange skin peeled – 2 small spoons
4. Maida – 2 cups
Baking powder – 2.5 small spoons
Salt – A pinch
5. Orange juice – 2 big spoons
6. Mixed peel – ½ cup
How to prepare Orange-Coconut Biscuit?
1. Pre-heat oven in 180 degree Celsius.
2. Beat ingredients no: 1 in a bowl till they turn soft.
3. Add egg and beat again.
4. Add ingredients no: 3 and mix again.
5. Blend maida with salt and baking powder and add to above mixture.
6. Finally add orange juice and make gooseberry size balls.
7. Dip one side of each biscuit in mixed peel, and place them in greased baking dish in such a way that this side turns upwards.
8. Bake your biscuits in pre-heated oven for 10-12 minutes. Biscuits should turn golden brown.
9. Take them out of oven and allow them to cool.
Courtesy: Vanitha Magazine January 7-20, 2023
Note: Mixed peel is basically candied lemon and orange peel. You can substitute mixed peel with some citrus zest and a little additional sugar, honey or syrup. Orange marmalade can also be used as substitute, though not intensely flavoured.
Also visit Biscuits & Cookies page, where you can find more recipes.
(Visited 7 times, 1 visits today)