Nilja K. Baby – Malayalam film actress of 'Malayankunju' fame
Nilja K. Baby is a Malayalam actress, known for her work in Chuzhal (2021), Theru (2023) and Malayankunju (2022). She played female lead in these films. She is best known for playing Fahadh Fasil's heroine in survival drama, Malayankunju. Her role was brief in the movie. She started with character roles before moving to lead ones.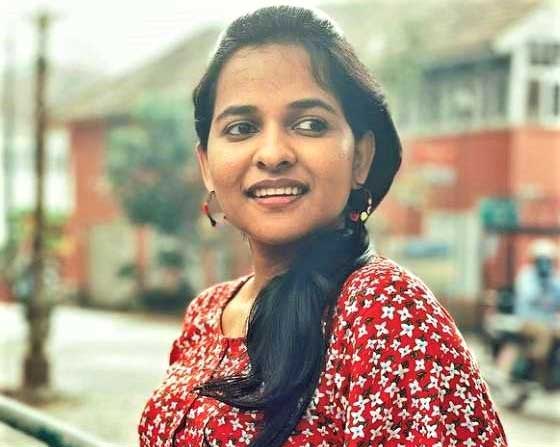 Nilja K. Baby hails from Kottayam
Nilja's family originally hails from Kottayam. Years back the family moved to Payyanur of Kannur district. She was born on 14 April 1990. She is the youngest of three sisters. Since school days she was active in cultural events, and mono-act and kathaprasangam were her favourites. Her father, who encouraged her a lot in acting, retired from government service at Kakkanad. But he passed away soon after the shooting of Malayankunju was completed, and he couldn't watch the film. She got full support from her other family members too. Nilja K. Baby is married to her college senior, Tarun James. It's a love marriage, and they got married around 5 years before the release of Malayankunju. The couple is now settled in Kakkanad.
Nilja -An RJ turned actress
Nilja gained recognition for the first time after becoming the finalist of the reality show, Midukki, aired on Mazhavil Manorama. After that she turned a radio jockey. While working as an RJ, she got her first offer from films, Captain, where she did a brief role. She got more screen space in the film, Kapola.
After doing supporting roles in Freedom Fight, Saras and Makal, she got her first lead role through Chuzhal in 2021. The film opened to mixed reviews and was screened at many film festivals, and can be categorized as an experimental film. However the film went unnoticed in box office. Later she worked in Saudi Vellakka, 1744 White Alto, Theru, Veda etc.
Nilja K. Baby – Some interesting and less-known facts
1. During her childhood, she has helped her family in rubber plantation. She used to extract rubber milk from tress and thus helped father. Later her father taps them.
2. On the release day of Malayankunju, she watched the movie twice.
3. She appeared on the red carpet of Vanitha Film Awards a few years back.
4. During her stint as RJ, she has interviewed CM Oommen Chandy, actors Mammootty, Vinay Fortt etc.
5. She dreams to work with Mammootty and Kunchakko Boban.
(Visited 7 times, 1 visits today)