Muttapathil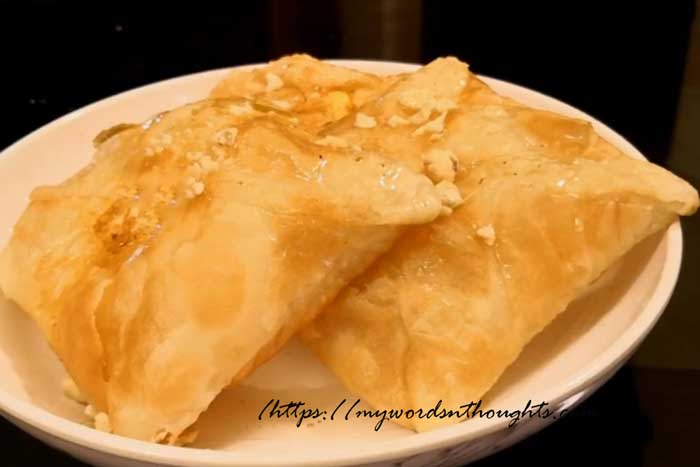 Ingredients for Muttapathil:
1. Maida – 1 cup
Salt – As per taste
Ghee – 1 small spoon
Water – As needed
2. Oil – As needed
3. Onions – 5, chopped fine
Green chillies – 3, chopped
Curry leaves – A little
Ginger-garlic crushed – 1 small spoon
4. Turmeric powder – ¼ small spoon
Chilli powder – 1 small spoon
Garam masala powder – ¼ small spoon
5. Cooked chicken (adding salt, turmeric powder and chilli powder and cut into small pieces) – 2 cups
Coriander leaves chopped – As needed
6. Eggs – 3, boiled and cut into halves
How to prepare Muttapathil?
1. Mix ingredients no: 1 together and prepare dough similar to chapati.
2. Close it and allow to rest for a while.
3. To prepare filling, heat oil in a pan first and sauté ingredients no: 3.
4. When raw smell goes out, add the powders and sauté again.
5. Add chicken and coriander leaves. This is the filling.
6. Make 6-8 balls from dough and spread chapatis.
7. Place a little filling in the middle portion of chapati followed by half egg.
8. Fold it once to get a semi-circle shape and using a fork, press the edges.
9. Do the process with remaining chapatis and fillings.
10. Deep fry them in hot oil. They should turn golden brown.
Courtesy: Vanitha Magazine, March 18-31, 2023
Read a few more egg snack recipes. Visit my page.