Poornima – Top 15 Bollywood Songs
Poornima, also known as Sushma Shrestha remained one of the top female voices of 1990s. Though she has been mostly associated with raunchy numbers, quite common in the era, she has always been noticed for her mesmerizing and beautiful voice. Poornima didn't start her career in the late 1980s or early 1990s. In fact she started her career in the late 1960s, recording her first song with legendary singers Mohd Rafi and Lata Mangeshkar, for one song composed by all-time greats Shankar-Jaikishen. She was only 9 when she recorded the popular song 'Hai Na Bolo' for 'Andaz' . She was then known by her original name Sushma Shrestha.
Her songs for R. D. Burman's Aa Gale Lag Jaa earned her the record of youngest nominee at Filmfare awards in the female singer category. She earned her second nomination for yet another R. D. song from the film, Hum Kisise Kum Naheen. In fact she sang for only three movies in the 1970s as a child artist, and she got noticed for all these three songs. She lost her father when she was only 11, and she later pursued music as her profession.
Though she sang for several films in the 1980s, her career was revived only when she changed her name to Poornima, and began everything from the starting point. Her singing voice was well promoted by Tips Music Company in the early 1990s, and she sang several chartbusters for Tips, mostly associated with David Dhawan. Songs of Maa and Bol Radha Bol provided her big break, which she was waiting for. She regularly sang for Karishma Kapoor in the 1990s, followed by Juhi Chawla, Raveena Tandon, Kajol, Madhuri Dixit etc.
In fact, Poornima owns a legacy, of working with Bollywood greats since the golden era of Hindi cinema, and also owns a lengthy career belonging to two or three generations of Hindi cinema. It's definitely a unique and rare achievement among Bollywood singers of present day generation. So, in this list, I would like to mention top of her 15 songs which I feel the best. It's to be noticed that her voice was mostly used by music directors to sing sizzling and sexy tracks, and as a melodious voice, her voice was rarely explored. That's my personal opinion. In fact many forgotten melodies of 1990s belong to her.
1. Tera Mujhse Hai of Aa Gale Lag Jaa – I would like to start the list with her popular songs as a child artist. After her magical debut with Andaz which released in 1971, she remained in limelight for a while with her magical voice of Tera Mujhse Hai, composed by R. D. Burman and lyrics penned by Sahir Ludhianvi. She sang this duet with Kishore Kumar. The song also had another popular duet version sung by Lata Mangeshkar and Kishore Kumar. 'Hai Na Bolo' for 'Andaz' aside Rafi and Lata, and 'Kya Hua Tera Wada' for Hum Kisise Kum Nahin aside Rafi also need mention.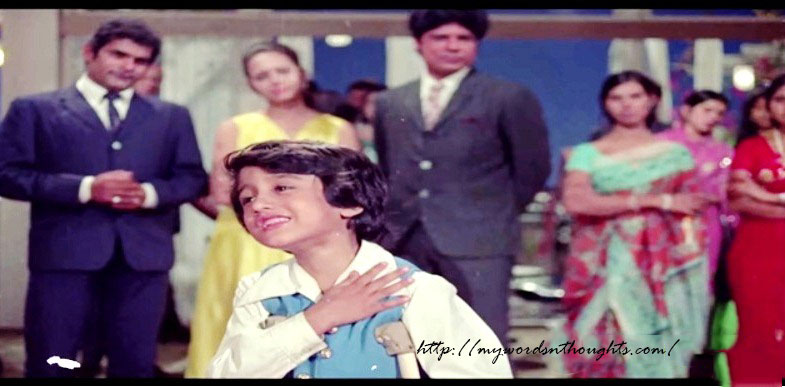 2. Barsat Mein Jab Aega of Maa – This dance sequence featuring Jayapradha gave Poornima a big break to Bollywood. By that time, she had already changed her name to Poornima. Music was composed by Anu Malik, and lyrics of the movie were penned by Dev Kohli, Hasrat Jaipuri and Rani Malik.
3. Tu Tu Tu of Bol Radha Bol – The song gave her the real break she was seeking for. It started her successful association with Anand-Milind in the early 1990s, with whom she sang the majority of her hit songs. The movie had 5 duets. Poornima sang the best three of them, and the rest two were sung by Kavita Krishnamurty and Alka Yagnik each. Sameer penned the lyrics. This particular duet was sung by Poornima aside Kumar Sanu, featuring Juhi Chawla and Rishi Kapoor.
4. Main Hoon Gaon Ki Gori of Bol Radha Bol – Yet another popular duet in Kumar Sanu – Poornima combination from the same film. The duo owns several popular raunchy numbers of 1990s, featuring various leading artists of the era. Poornima also sang the title track of the film aside Suresh Wadkar.
5. Sona Kitna Sona of Hero No: 1 – Apart from Anand-Milind, Poornima is also known for her successful association with David Dhawan in the 1990s. Definitely, Sona Kitna Sona of Hero No: 1 is the most successful song of this collaboration, and the top song of the album. She sang this duet with Udit Narayan, featuring Karishma Kapoor and Govinda. Sameer penned the song lyrics. Poornima sang one more popular duet of the film aside Vinod Rathod – Maine Paidal Se Ja Raha Thi.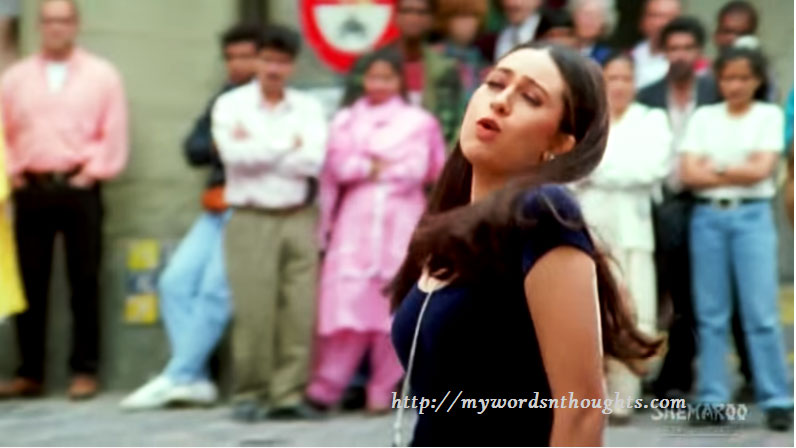 6. Channe Ke Khet Main of Anjaam – It's definitely among her top 5 songs of the era after she re-defined the singing career. It's dancing number featuring Madhuri Dixit, and Shah Rukh Khan was also seen in the song. Music was once again composed by Anand-Milind, and lyrics penned by Sameer.
7. Tan Tana Tan Tan Tan Tara of Judwa – Judwa composed by Anu Malik owned some of the popular dance tracks of the year. Dev Kohli and Nitin Raikwar penned lyrics for the film. She sang three duets for the movie, and all the three were chartbusters. Her voice was used for both the lead heroines of the film, Karishma Kapoor and Rambha. In fact she has sung many popular songs for Karishma Kapoor in the 1990s, mostly in association with Tips, and movies directed by David Dhawan. Oonchi Hai Building and Tu Mere Dil Mein Basja are next two popular duets sung by Poornima for Judwa.
8. Dil Tera Deewana of Raghuveer – This particular track is quite different from her sizzling tracks. It's a pure romantic song featuring Suniel Shetty and Shilpa Shirodkar. Dilip Sen and Sameer Sen composed film's music, and lyrics penned by Samir. Poornima sang this popular duet with Kumar Sanu.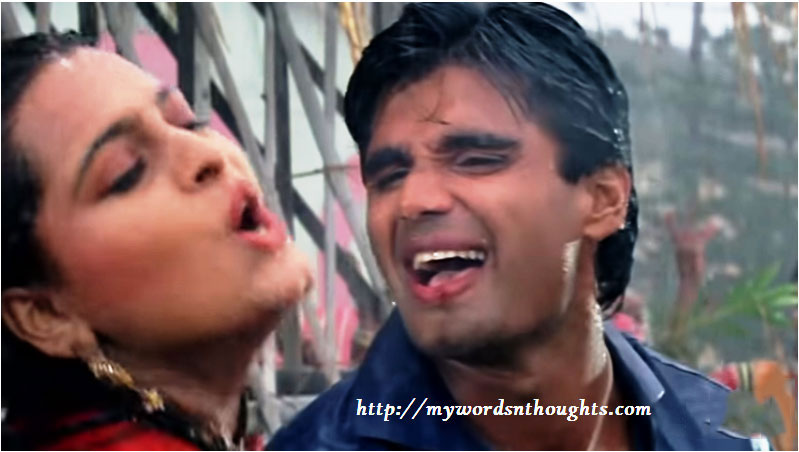 9. Dil Mein Hai Tu of Daava – The movie was a huge flop. However the romantic tracks composed by Jatin-Lalit got noticed. Poornima has sung less number of hit songs for this popular music duo of 1990s. The song featuring Raveena Tandon and Akshay Kumar was the top song of the album. Israr Ansari, Mahendra Chand Vinod and Rani Malik wrote lyrics for the film. Kumar Sanu was the co-singer for this sizzling romantic track.
10. Title track of Biwi No: 1 – It's one among the last hits of Poornima in association with David Dhawan and this particular song featured Karishma Kapoor and Salman Khan. Lyrics were penned by Samir. She sang this popular duet with Abhijeet.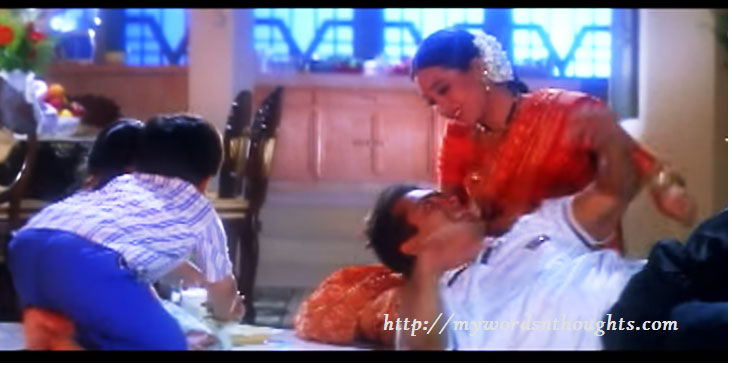 11. Haye Hukku Haye Hukku Haaye Haaye of Gopi Kishen – Her voice was used for 4 out of 6 tracks of the album. Whenever Poornima got opportunity to sing for Karishma Kapoor, she has sizzled always with her cute voice. Poornima sang this most popular track of the album aside Kumar Sanu and Alka Yagnik, one of the rare occasions when the trio has come together for a single song. Anand-Milind and Sameer teamed up for the movie released in 1995, she has been associated with this trio multiple number of times. She also sang the popular sizzling track, Chhatri Na Khol Barsaat Mein featuring Suniel Shetty and Shilpa Shirodkar, a sizzling solo track – Bati Na Bujhao where Karishma Kapoor tries to seduce Suniel Shetty and yet another dancing track, Mera Mehboob Aayega featuring Karishma and Shetty in double roles.
12. Shaam Hai Dhuaan Dhuaan of Diljale – Madoo looks extremely gorgeous in this song, where she tries to seduce Ajay Devgan, and Poornima's voice is just perfect for this song. Music was composed by Anu Malik and song penned by Javed Akhtar.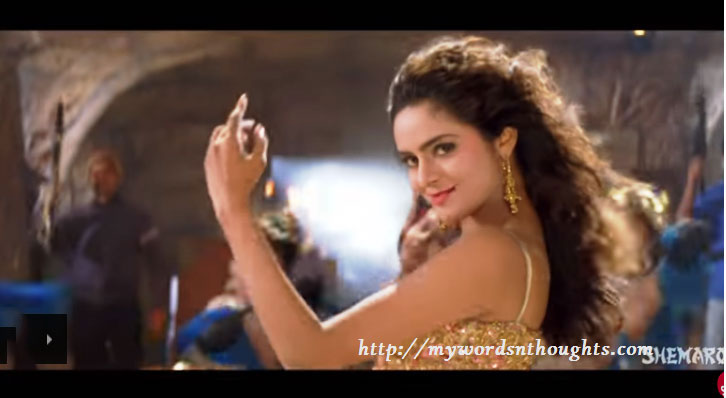 13. Uy Amma Uy Amma of Raja Babu – This popular solo featured Karishma Kapoor, Govinda and Shakti Kapoor. Music of this David Dhawan movie was composed by Anand-Milind. All the songs were penned by Sameer. Her voice was also used for the female solos – Mera Dil Na Todo and Aiya Aiya Aiya Masti Chha Gayi, and duet with Kumar Sanu, Sarkaiye Lo Khatiya.
14. Mr. Lova of Ishq – This dance number composed by Anu Malik had a row of singers. Poornima was one among them. Udit Narayan, Abhijeet, Sudesh Bhosle and Kavita Krishnamurthy were her co-singers. Rahat Indori, Anu Malik, Javed Akhtar & Dev Kohli wrote lyrics for the film. The song featured all its lead actors – Aamir Khan, Ajay Devgan, Juhi Chawla and Kajol.
15. Samosa Mein Aaloo of Mr & Mrs. Khiladi – I would like to end my list with this extremely popular peppy number featuring Akshay Kumar and Juhi Chawla. Her voice was also used by its music director Anu Malik for the songs – "Mujhe Hero Ban Jaane De", "Jara Parde Peh Ane De" and "Jumme Ke Jumme". Samosa's catchy lyrics were written by Dev Kohli, and Abhijit sang the duet aside her.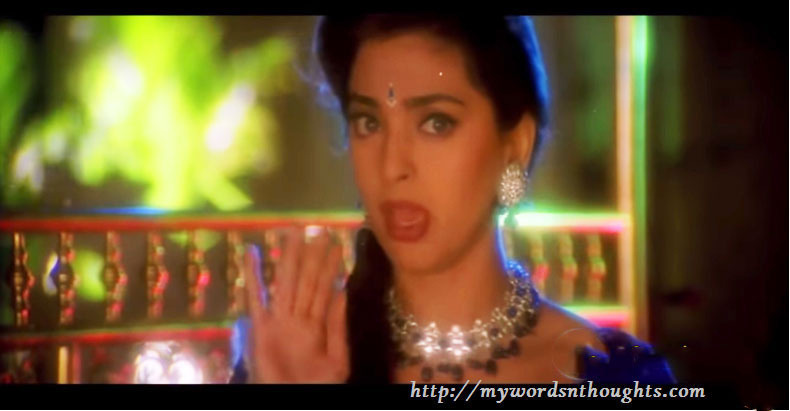 Conclusion:
Poornima's songs are always tagged as hot and sizzling songs of 1990s, an era when a raunchy number was mandatory in almost every Bollywood movie released. With the next decade, with a steep cut down in such songs demand of Poornima's double meaning songs also dropped suddenly. Before I conclude I would like to mention a few more popular songs of Poornima not mentioned above. Aaj Kal Ki Ladkiyan of Chal Mere Bhai, Hun Huna Re Hun Huna of Taaqat, Suno Suno Pyar Hua of Angrakshak, Suno Miya Suno Miya of Kyo Kii… Main Jhuth Nahin Bolta, Kuch Kuch Kuch ho raha hai of Loafer, Hungama Ho Gaya of Deewana Mastana and Dekhon Jo Palat of Zameer too belong to Poornima.
Poornima holds the rare record at Filmfare awards for being nominated as a child artist twice in singing category. She shares the record with Master Vignesh from male category for being the youngest nominee at the age of 11. Though she managed to receive two nominations, she never won it. She has never received a Filmfare nomination as an adult singer, though she owns many chartbuster hits of 1990s. Same is the case of Mahalakshmi Iyer, one of the leading voices of present day times who has never been nominated in Filmfare. Read her top 10 chartbuster tracks.
Also read

a few topics on new era Bollywood music on miscellaneous topics
(Visited 3,198 times, 1 visits today)