Major places to visit in Thrissur main town
There are many nice places in Thrissur town for short visits. It takes only a little time, yet you can spend some amazing moments here. The social and cultural life of Thrissur people is deeply linked with Swaraj round, Thekkinkadu Maidan and the roads and streets leading towards the famous Vadakkumnatha temple. It forms the heart of Thrissur. What else can we see in the main town and nearby places? Have a look.
Vadakkumnatha temple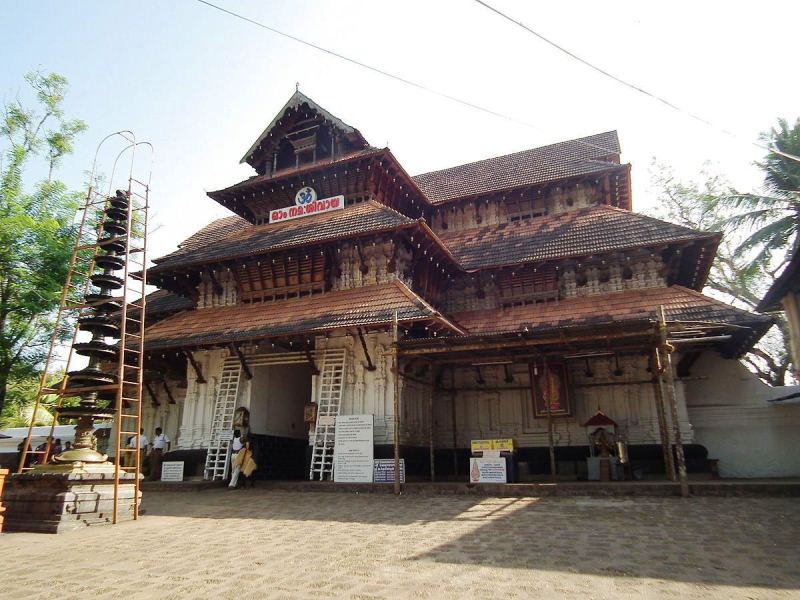 A classic example of the architectural style of Kerala, the temple was included in the list of UNESCO World Heritage Sites. The temple and its premises witness Thrissur Pooram, the major annual temple event of Kerala. Apart from Thrissur Pooram and local festivals, the temple and Thekkinkadu Maidanalso witness major events of the cultural capital of India. The Siva temple is believed to be at least a few millenniums years old. Gopurams, temple complexes, shrines situated inside the temple, prayer halls, wall paintings and statues exhibit Kerala's ancient architectural style with perfection. The constructions were done using traditional limestone, which owns centuries-old history.
As per legends, the installation of Lord Siva was done by Parasurama. If so, the temple is 5000-year old. The temple and maidan is spread in the vast area of 64 acres.
Paramekkavu Bhagavathy Temple
The temple is situated just opposite to Vadakkumnatha Temple. Once this temple was located inside Vadakkumnatha temple in the ancient days. Paramekkavu Bhagavathy temple, along with Thiruvambady Krishna temple participates in the biggest temple festival of Kerala, Thrissur Pooram and Vadakkumnathan is a spectator.
Thiruvambadi Sree Krishna Temple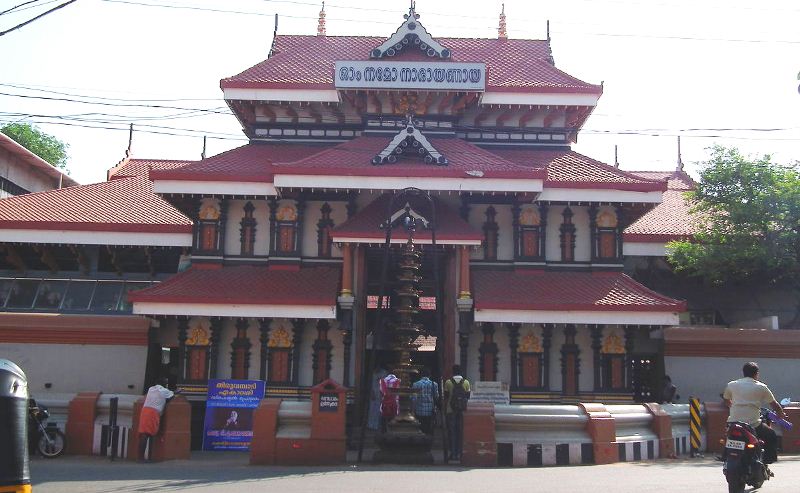 This Sree Krishna temple is one of the major temples of Thrissur, and one of the two rival groups which participates in the famous Thrissur Pooram. Sree Krishna is the presiding deity. The straight road opposite the temple leads to Patturaikal (a hub connecting the major roads of Thrissur) and Poonkunnam Railway station.
Puthenpally and central tower (Bible Gopuram)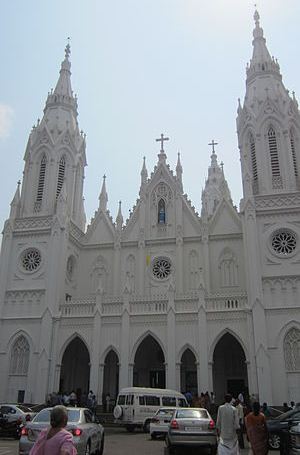 Asia's biggest central tower (Bible Gopuram) is owned by Puthenpally church, the third tallest church in Asia, also known by the name, Basilica of Our Lady of Dolours. Bible Gopuram includes the history of church since 1940. The church with 25000 square feet area was constructed in Gothic style. Central tower is 260 feet high, apart from two more with 140 feet height.
Kerala Sahitya Academy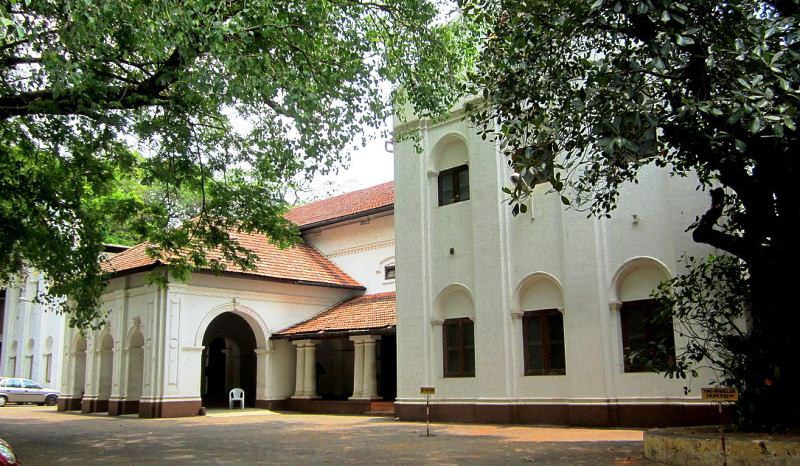 An autonomous body established to promote Malayalam language and literature; it's located in the central town. Akademi owns one of the best libraries in Kerala, apart from a portrait gallery of literals and cassette library which voice records of many eminent people.
Lalitha Kala Academy
It's a world of pictures, lines, colours and sculptures, and is situated near to Sangeeta Nadaka Academy. It was established in the year 1962, M. Ramavarma Raja, son of Raja Ravi Varma was its first chairman. The academy was established to promote art forms like painting, architecture, photography, graphics, cartoon etc.
Kerala Sangeeta Nadaka Academy
It was established to promote theater, dance forms, traditional art forms and music. It is situated near to Kerala Sahitya Academy. It was inaugurated on April 26, 1958.
Shankaracharya Madams
Shankaracharya Madams, also known as Shankara Madams are best known for Vedic traditions and spirituality. 'Madathil varavu' custom associated with the famous Thrissur Pooram is associated with one among them. Vadakke Madam, also known as Brahmaswom Madam, Thekke Madam and Naduvil Madam are the three Madams, which own traditions more than a 1000-year old. These Madams were installed by disciples of Sankaracharya. 'Madathil varavu' Panchavadyam starts in front of Brahmaswom Madam during Thrissur Pooram.
Thrissur Zoo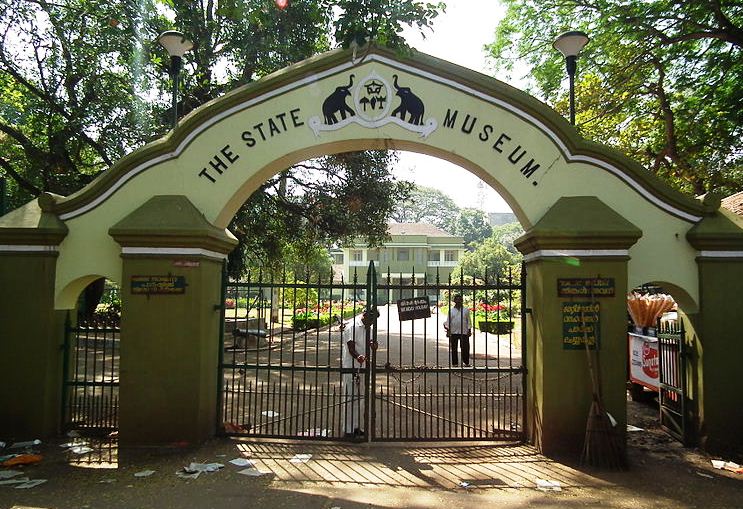 It's situated near to Sahitya Academy and Sangeeta-Nadaka Academy, and is spread in 13.5 acres of land. It's one of the oldest zoos in India. Entry time to zoo is 10 am to 6.30 pm.
Appan Thampuran Smarakam
The memorial of Rama Varma Appan Thampuran is situated in Ayyanthole. It was built in the year 1976, and currently under the control of Sahitya Academy. A huge collection of dailies and magazines are available here. Royal dress used by Appan Thampuran, chair, diaries, writing equipment, sketches to make Malayalam film from the novel Bhootarayar etc are preserved in this memorial.
Rama Nilayam
An emotion for Thrissur people, Rama Nilayam is a guest house owned by the Government of Kerala. Constructed during British Raj period, it was once the residence for Political officers of UK, which was later converted to a guest house for government officials of Kerala. Rama Nilayam witnessed several political changes, discussions, debates and many more, and during the political journey of K. Karunakaran, it owns significant importance, and has several glorious tales to tell.
Perhaps no other government guest house might have earned so much popularity, in association with a social worker or political icon. That's the relation between Karunakaran and Rama Nilayam. He has been associated with this government building since he served as defense minister in 1971. He stayed at room no: 1 then. He was active here till year 2000, and Rama Nilayam was filled in news columns till then. Karunakaran used to visit Guruvayur temple on the 1st day of every Malayalam month, and he used to stay at room no: 1 before he visits the temple. During his glorious years of political life, long queues were seen in front of Rama Nilayam. As time traversed by, he used room no: 4 of old block during his last years, as he was not able to reach his favourite room.
Ramanilayam has witnessed many major events in the political history of Kerala. It was once the outhouse of Sakthan Thampuram Kovilakom, which was later changed to a rest place of British.
You can read a few more articles on Thrissur – The Cultural Capital of Kerala. Here is the page link. Click on the images in the gallery to read
(Visited 435 times, 1 visits today)