A brief note on Velakavu of Anthimahakalan Kavu at Chelakkara, Thrissur
Kali-Dharika debate is the most important ritual of Anthimahakalan Kavu, followed by Kalavela, and both are conducted in the early morning during annual festival season. Temple Komaram, who is possessed with the divinity of goddess welcomes the Vela (procession) to reach the temple. As Kali and Dharika are not allowed to touch the soil of temple premises, they are carried on a chariot for circumvallating the Kavu temple.
Among the three circumvallations, the third one is 'Otta Pradikshanam' on a chariot. Soon after the custom is completed, goddess will be seated in Kalikandam, the place outside the temple which is reserved for this purpose. Devotees seek the blessings of goddess at this place. Again Kali and Dharika enter chariot and start fierce fights once again. The custom symbolizing the death of Dharika in Kali's hands is conducted after that. Kala Vela is conducted after the killing of Dharika.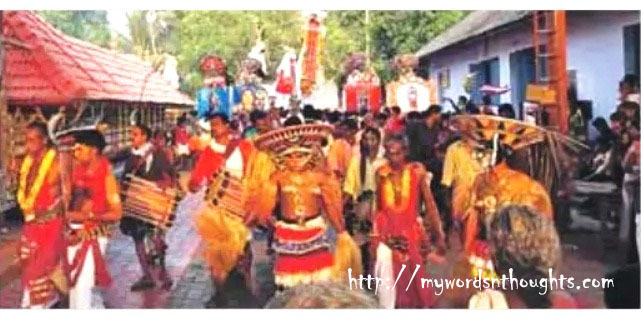 What's Kaalavela?
The oxe figures reach the temple premises one day before, and soon after Kali-Dharika debate and battle are over, Kalavela is conducted in the early morning. 'Kavu theendal' done by 'oxen' is known as Kalavela, accompanied by traditional music. Kalapattu – songs dedicated to oxen will also be sung at this occasion and the oxen figures are lifted and brought down in unique rhythm and procession is celebrated with cheers and joy. Then the group circumvallates the kavu and prays before Thattakathappan before return.
There are a few characteristics of their return journey. The oxen which return after Kaalavela should never turn back. The face is made in the posture of bowing before Anthimahakalan, and they are returned to the same place in same posture. The whole event is witnessed by devotees of all age groups and genders.
Brief note on Anthimahakalan Kavu at Chelakkara
It's a famous Siva temple of Thrissur district, quite famous for Velapooram. Lord Shiva in the form of 'Anthimahakalan' is the main deity. Sub-temples of Kodungallur Bhagavathy and Lord Ganesh are also present in the temple premises. Though usually Kavu is dedicated to goddess, this temple belongs to Lord Anthimahakalan. Pushpanjali, Archana and Dhara are given as offerings in this temple. Apart from Anthimahakalan Vela, Navratri, Bhagavata Sapthaham and Velamahothsavam are other major events associated with Kavu. Kalam Pattu is conducted here.
The famous Vela Pooram includes the figures of Kali, Darikan, and Koyma. Kali disfigures and erases the figures drawn as Kalamezhuthu to mark the event. The whole celebrations are conducted by residents of 5 desams, and fireworks display is also conducted.
Image source: Mathrubhumi e-paper
You can read a few more articles related to temple rituals, offerings, customs and celebrations, mostly associated with temples across across Kerala. Here is the page link. Click on the images in the gallery to read