How to enjoy Thrissur Pooram? Here I present the order of events with time schedule
Thrissur Pooram gives different illusions to spectators of different tastes, it gives 'sight feast' as well 'story feast', presenting some of the glorious tales of yesterdays, apart from adding new ones. It's like a grand feast with different tastes of unique elements, and each 'dish' may appeal the spectator in different way. When Panchavadyam is heard at one end, Melam conquers some other portion. A few others may be interested to watch caparisoned elephants. Sights are many and the celebration is one. A spectator might be confused to see which one, and avoid which elements, though he wants to enjoy all, like a tasty Kerala sadya.
Thrissur Pooram is associated with so many rituals and customs, and many temples are associated it. Many events are conducted simultaneously at the same time, and the spectator may be forced to make choices between two or more events. It's sure, it's not possible to view all functions associated with Thrissur Pooram in a single season. You may need to watch it at least a few times to acknowledge with all the major events associated with this grand elephant festival.
If you are able to know the correct time of each ritual, you can enjoy maximum events with perfection. For the rest events, you can visit the place next Pooram season. Here I present some of the major events and estimated time for each. Please note, it's only an estimated time schedule, and may subject to change.
Thiruvambady's preparations start at 6 am in the morning
On the Pooram day morning, the procession of Thiruvambady Bhagavathi from Sree Krishna temple (Irakkam) is a spectacular sight to watch. The elephant which carries Thidamb is decorated beautifully in a royal way before goddess sits on him. She starts off from the temple at 7.30 am.
Melaperuma of Kanimangalam at around 7.30 am
As soon as Thiruvambady Bhagavathi leaves from Sree Krishna temple, she should reach beneath Ilanji tree of Vadakkumnathan. Kanimangalam Shasta would have already reached the place, accompanied by Melam. Pandimelam displayed at that time is indeed famous and of brilliant quality.
Panchavadyam at Kizhakke Nada (East side at around 7.45 am)
Before Pandimelam reaches high note beneath Ilanji tree (Ilanjichott), Panchavadyam starts off at east side of Vadakkumnatha temple. Panchavadyam which accompanies Chembukavu Bhagavati is displayed at that time.
First Melam of Peruvanam (Around 8.30 am)
Senior most person of Elanjithara, Peruvanam Kuttan Marar (at present) starts off first for Karamukku Bhagavathi. When Bhagavati accompanied by 9 elephants reaches Pooram Maidan from Paramekavu Panthal, Kuttan Marar starts off. This Melam ends at Sreemoola Sthanam, and 150 artists participate in this grand feast.
Akambadi Melam of Choorakottukavu Amma (around 9.30 am)
When Melam of Peruvanam reaches its climax with rigour rhythms, and reaches Panthal of Naduvilaal, you can hear Akambadi Melam of Choorakottukavu Amma. This melam is performed to accompany Choorakottu Kavilamma for the pooram event. This Pooram includes 14 caparisoned elephants, and Melam ends at Sree Moolasthanam.
Madathil Varavu (around 11.30 am)
When Melam of Choorakottukavu Amma reaches the final stage, it's time of famous Madathil Varavu, best known for Panchavadyam held beneath the banyan tree of Brahmasvom Madam. When Kolam – the structure with enclosed Thidamb is exchanged to other elephant (Thiruvambady Siva Sundar right now), Panchavadyam starts off. This Panchavadyam is witnessed by thousands of spectators and indeed very famous.
Chembada of Paramekkavu (around 12.30 am)
Before Madathil Varavu reaches Swaraj round, you should reach in front of Paramekkav Bhagavathy temple. Then only you get the opportunity to watch the very famous and lengthy Chembada of Peruvanam. Chembada is inaugurated in front of Paramekavu Bhagavathi. A small replica of Kudamattam is also conducted here. It's followed by Pandi Melam, which ends beneath Ilanji tree (Ilanjichott).
The spectacular Melam of Ilanjithara (around 2 pm)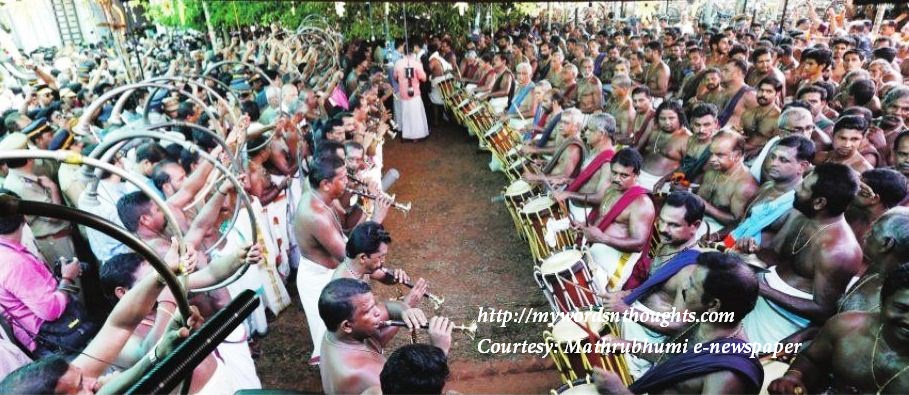 Ilanjithara Melam is one of the biggest events associated with Thrissur Pooram, and if you want to witness it in front of your eyes, you should reach there before 2 pm. The whole place will be filled with thousands of spectators. A grand feast of 250 artists under the leadership of Peruvanam Kuttan Marar can be witnessed here. It lasts for around 2.5 hours.
Thiruvambadi Melam (around 3 pm)
Almost at the same, Thiruvambadi Melam also starts off, and it competes with Ilanjithara Melam in quality in all terms. It's not possible to enjoy both Melams together. At Naikanal Panthal, soon after panchavadyam, Pandimelam kicks off. When spectators of Ilanjithara Melam leaves the place, they could reach only the climax point of Thiruvambadi Melam.
Kudamattam (at 5.30 pm)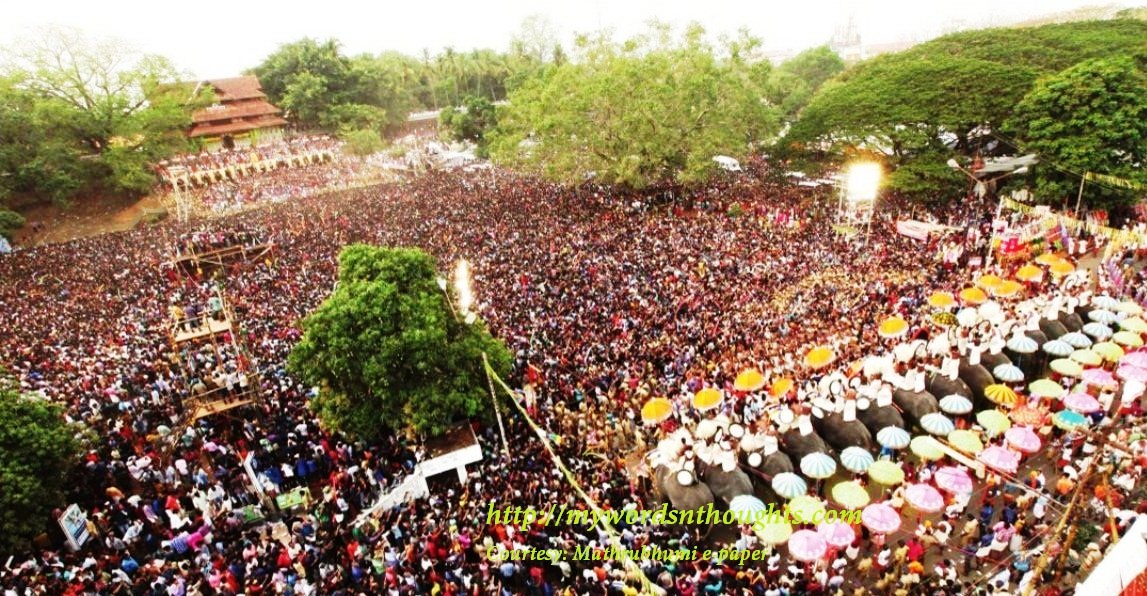 When Melam is almost over, Thekke Nada (east side) and the roads leading to the temple will be filled with a huge crowd to watch the most important event of Thrissur Pooram – Kudamattam. When each umbrella is raised in the air, it's accompanied by whistles and loud shouts of crowd who support Kudamattom with whole heart. Arch rivals – Thiruvambadi and Paramekkavu competes to present new varieties of umbrellas every time. When the spectacular event given by colourful umbrellas come to a close, it's almost late evening. The goddesses leave the place.
A little bit rest
After Kudamattom, Pooram spectators get a little time to take rest. Yet only a few people prefer to leave the maidan. There are many special sights waiting there. You can watch at distance, preparations of fireworks, and many more 'Poorakaazhchakal' (Pooram Sights). You can also closely watch elephants who fully dominate the temple maidan, and many more.
Night Panchavadyam at around 10.30 pm
You can take a short visit to the nearby places. But you should reach before Paramekavu before 10.30 pm. Panchavadyam for the night procession is one of the major events of Thrissur Pooram. At night you can enjoy it fully, as the place is not so crowded now. At around 2.30 am, the group reaches the panthal of Paramekkavu before signing off.
Fireworks display at 3 pm
After the main events of musical displays and elephant processions are over, the next major event is fireworks in the early morning. It normally starts at 3 am, but its preparations start days before. As Swaraj round will be isolated for safety measures, spectators move towards roads leading towards the temple, while a few watch fireworks display from residential flats and private offices. Human carpets will conquer the full areas of M. G. Road, Kuruppam Road and Shornur Road. It's a competition between Thiruvambady and Paramekkavu groups, and both the groups excel in display of fireworks. After that spectators can take a complete rest.
Upacharam – To say good bye with tears
The next day morning around 8 am (usually Pooram day on Malayalam calendar, and occassionally Uthram), elephants fill the maidan for Pakal Pooram. As Pooram star starts off in the late midnight, usually Thrissur Pooram is conducted one day earlier on Makam star. If so, Pakal Pooram arrives on Pooram day as per Malayalam calendar. It may differ occasionally. From Thiruvambady Naikanal and Paramekkavu Manikandanal, elephants start moving towards Sree Moola Sthanam. Melam reaches its high note, and Kudamattom will be conducted followed by Upacharam.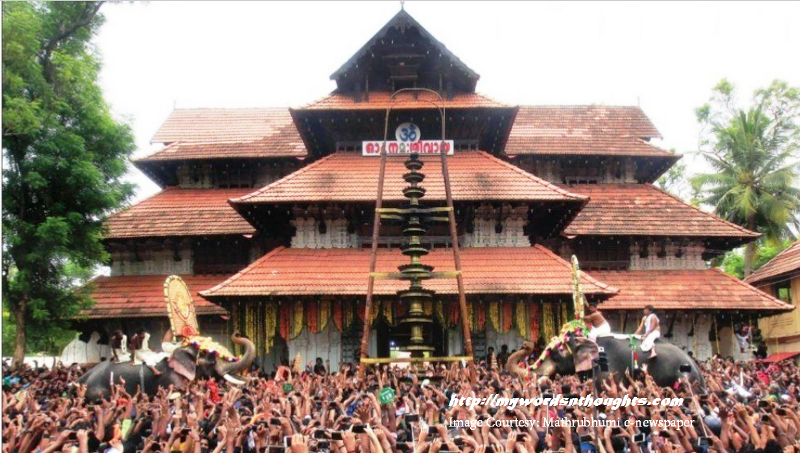 When the goddesses from both ends say goodbye and leave, the whole events come to an end. Poora Kanji (special rice porridge) is given to devotees both at Paramekavu and Thiruvambady. Once you have special Poora Kanji, you will get the complete satisfaction of watching the whole events associated with Thrissur pooram. Then you can have a long wait for next Medam, to watch some more unseen sights and listen to some unheard rhythms, which you were not able to watch or listen this Pooram season. Till then good bye.
You can read a few more articles related to Thrissur Pooram celebrations commenced in the month of Medam, the biggest temple festival of Kerala. Here is the page link. Click on the images in the gallery to read