Top 30 Music Albums of Kalyanji Anandji – My Choice
The sibling music composers from Gujarat – Kalyanji Virji Shah and Anandji Virji Shah together known as Kalyanji Anandji had a long and durable innings in Bollywood. Made their film debut in the mid-1950s, they stayed there still mid-1990s. The duo parted with the death of elder brother in 2000. They contributed some amazing melodies and dancing numbers to Bollywood and 1970s can be said to be their glorious era when Bollywood greats like Jaikishan of S-J, S. D. Burman and Madan Mohan left unfilled voids in Bollywood music. Kalyanji Anandji contributed some of the best disco songs of the era, 1970s – 1980s.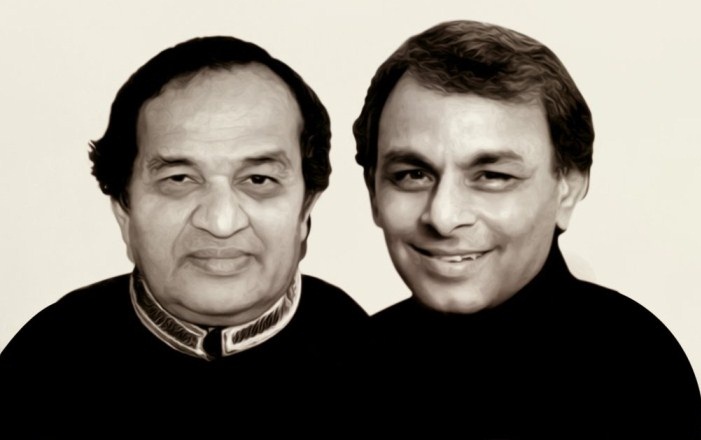 Though Kalyanji Anandji started off with melodious soft numbers during the 1950s, with Amitabh era which started in the mid-1970s, they drifted with time, and gave equal importance to fast and slow tracks. For the same reason, they remained extremely popular throughout 1970s and 1980s too. In fact the duo composed music to several blockbuster hits of Amitabh Bachchan like Zanjeer, Don, Laawaris, Muqadar Ka Sikander etc, mostly in association with singer Kishore Kumar and lyricist Anjaan. Read: Top Rafi songs composed by Kalyanji-Anandji and Top 20 Bollywood Songs of Kalyanji-Anandji & Kishore Kumar Combination.
Though they stayed in Bollywood for a long time, their work has been steady though they never enjoyed no: 1 position at any point of their career. Among the singers, he gave almost equal chances to all the three leading male voices of the industry, apart from Mangeshkar singers. Mahendra Kapoor also rendered his voice for a few popular songs of this duo, mostly of patriotic shades. Manna Dey also recorded a couple of his career best songs for this duo. Also read: Top Rafi songs composed by them. Apart from Shankar-Jaikishen duo, Kalyanji Anandji composed some top songs of Mukesh's career.
It's not an easy task to list 20 or 30 most popular songs of Kalyanji Anandji. In fact most of their film albums contained at least two or three extremely popular songs. That's the reason why I decided to list top albums and mention the most popular songs. Yet I had to exclude a few of his chartbuster hit albums. It's enough to prove how talented the duo was. And here goes my list. Hope it will somewhat match with your choices too. Also read:
Top 5 Celebrated Music Composer Duos of Bollywood
.
1. Blackmail – I would like to begin the list with the most popular and romantic track composed by the duo. Pal Pal Dil Ke Paas is definitely an evergreen romantic song sung by Kishore Kumar and still loved by millions of music fans. The movie also included Lata Mangeshkar's solo – Naina Mere Rang Bhare Sapne and the sizzling, Mile Mile Do Badan pictured on Dharmendra and Rakhee. Sharbati Teri Aankhon Mein sung by Kishore Kumar is yet another popular song featuring Rakhee and Shatrughan Sinha.
2. Muqaddar Ka Sikandar – My personal vote for Kalyanji Anandji's best album goes to Muqaddar Ka Sikandar. The touching song – O Saati Re sung by Kishore Kumar is my personal favourite. The title track, Dil To Hai Dil, Salaam-e-Ishq Meri Jaan and Pyar Zindagi Hai are other tracks of the movie, and it's a difficult task to make a choice between Dil To Hai Dil and Salaam-e-Ishq Meri Jaan to choose the second best song of the movie.
3. Saraswatichandra – The duo received their single National award for composing the songs of Saraswatichandra. Chandan Sa Badan had two versions in Lata and Mukesh's voice. Phool Tumhe Bheja Hai Khat Mein and Chod De Saari Duniya are the next two extremely popular songs of the movie, sung by Lata Mangeshkar. The movie also included a wedding song – Main To Bhool Chali Babul.
4. Chhalia – During the glorious era of Raj Kapoor movies, most of his film songs were composed by Shankar-Jaikishen. Chhalia is one of the rarest occasions of the era when music of a Raj Kapoor movie was composed by a composer other than SJ. When Chhalia was released in 1960, Kalyanji Anandji duo was only a less known composer then, and the success of Chhalia gave them a major breakthrough. They used the voice of Mukesh to record the songs of Raj Kapoor. The title track – Chalia Mera Naam and Dum Dum Diga Diga were huge chartbusters. Qamar Jalalabadi wrote the lyrics.
5. Johny Mera Naam – Definitely a milestone movie of Kalyanji Anandji's career. All the songs were huge chartbusters, and featured Dev Anand and Hema Malini. Pal Bhar Ke Liye, O Mere Raja and O Babul Pyare are the top songs of the movie. Nafrat Karne Walon Ke, the cabaret – Husn Ke Lakhon Rang and Chup Chup Meera Roye also got noticed.
6. Kora Kaagaz – The single work which earned the duo a Filmfare award. The title track – Mera Jeevan Kora Kaagaz topped the Binaca Geetmala annual list 1974. Movie had only three tracks and the rest two tracks sung by Lata Mangeshkar – Mera Padhne Mein Nahin Lage Dil and Roote Roote Piya are also simply the best. Mera Padhne Mein Nahin Lage Dil earned Lata Mangeshkar National award for best female playback singer.
7. Jab Jab Phool Khile – The movie proved to be a landmark in the music journey of Kalyanji Anandji. The movie starring Shashi Kapoor and Nanda too was a golden jubilee hit, which later inspired to script 'Raja Hindustani' where Shashi Kapoor's grandniece played the female lead. Pardesiyon Se Na – was the top song of the movie, followed by Yeh Sama. The music of Himalay Ki God Mein and Jab Jab Phool Khile in 1965 established their position in Bollywood. Na Na Karte Pyar, Hum Ko Tum Pe Pyar Aya and Ek Tha Gul Aur Ek Thi Bulbul are next popular songs of the album.
8. Himalay Ki Godmein – As described above year 1965 established Kalyanji Anandji as one of the leading composers of Bollywood. All the songs of the movie got noticed. Chand Si Mehbooba Ho Meri sung by Mukesh pictured on Manoj Kumar was one of the top romantic tracks of the year. Ek Tu Jo Mila/ Ek Tu Na Mila sung by Lata and Main To Ek Khwab Hoon sung by Mukesh are other top tracks. Kankaria Maar Ke Jagaya, Unche Himalaye Ke Neeche and Tu Raat Khadi Thi Chhat Pe are other tracks included in the film.
9. Ghar Ghar Ke Kahani
– The movie included the extremely popular solo song sung by Kishore Kumar, Sama Hai Suhana Suhana. Other songs went unnoticed. This movie is still remembered for this evergreen romantic solo sung by Kishore Kumar. We can watch Jalal Agha sync-lip to Kishore's voice with a guitar in hand. Though Jalal had a brief career with less significant roles in Bollywood, he definitely owns some of the nice songs with Sama Hai Suhana Suhana one such instance. 'Mehbooba Oh Mehbooba' is yet another popular song featuring Jalal, though composed by R. D. Burman.
10. Dil Bhi Tera Hum Bhi Tere – Mujhko Is Raat Ki Tanhai Mein is regarded as one of the finest renditions of Mukesh for Dharmendra, who marked his acting debut with this film. It's one of the earliest chartbuster songs of this duo too. The song also had a female rendition by Lata Mangeshkar. Yeh Waada Kare and Aakhon Mein are also included in the film.
11. Raaz – The introduced Rajesh Khanna and Babita to silver screen. The haunting melody with two versions – Akele Hain Chale Aao became extremely popular. It's one of rarest Rafi songs for Rajesh Khanna. Read more. Sochta Hoon Ke Maine Tumhen and Aeji Zara Sunna also got noticed. Yet the movie is best identified by the song, Akele Hain Chale Aao.
12. Haseena Maan Jayegi – Since the songs of Jab Jab Phool Khile got noticed, Kalyanji-Anandji composed music for a few more Shashi Kapoor movies where he played a romantic role. They frequently used Mohd Rafi's voice to record Shashi Kapoor songs in the 1960s. The duet – Bekhudi Mein Sanam was extremely popular. Dilbar Dilbar Kehte Kehte, O Dilbar Janiye and Chale The Saath Milkar are other popular songs.
13. Aamne Samne
– As told above Kalyanji Anandji recorded some amazing songs of Shashi Kapoor in Mohd. Rafi's voice. Kabhi Raat Din Hum Door The is a beautiful duet sung by Rafi and Lata. Mere Bechain Dil Ko Chain, Aajkal Hamse Roothe Hue Hai Sanam and Nain Mila Kar Chain Churana are other popular solos sung by Rafi.
14. Geet – The songs of the movie are extremely melodious. Jiske Sapne Humen Roz Aate Hai sung by Mahendra Kapoor and Lata Mangeshkar is the top song of the album. Its title track sung by Rafi and Lata – Oh Mere Mitwa is yet another popular track. The movie also included a sad solo of Lata – Tere Naina Kyon Bhar Aaye.
15. Upkaar – The movie is marked as a trendsetter of patriotic movies in Bollywood, and Manoj Kumar came to be known as 'Bharat Kumar' after the huge success of the movie. All the songs of the movie starring Manoj Kumar became extremely popular. Mahendra Kapoor received National award for the high-octave song "Mere Desh Ki Dharti". Kasme Wade pictured on Pran sung by Manna Dey is also a melodious tune.

16. Purnima – Kalyanji Anandji used Mukesh's voice to record Dharmendra movies during his early years. After the huge success of Mujhko Is Raat Ki Tanhai Mein song, Humsafar Mere Humsafar is one such. This duet by Lata and Mukesh featured Meena Kumari and Dharmendra. Also read about their offscreen relationship.
17. Purab Aur Paschim – The duo composers mostly preferred the voices of Mukesh and Mahendra Kapoor for rendering songs for Manoj Kumar. While Mahendra Kapoor's voice was used for patriotic songs such as Hai Preet Jahan Ki, Dulhan Chale and Purva Suhani Aayi Re, Mukesh's voice was used for the sad solo – Koi Jab Tumhara Hriday Tod De.
18. Mere Humsafar – Mukesh and Lata Mangeshkar's voices were used to record the title track – Kisi Rah Mein Kisi Mod Par. Mera Pardesi Na Aaya sung by Lata Mangeshkar is yet another popular solo track.
19. Sachaa Jhutha – Movie starring Rajesh Khanna and Mumtaz was a blockbuster, and so was its music too. The duet – Yunhi Tum Mujhse Baat Karti Ho is the highlight of the movie. The movie also included the iconic wedding song – Meri Pyari Behaniya which used to be played in wedding functions frequently and still popular. While Kalyanji-Anandji used Rafi and Mukesh's voice to record songs for Rajesh Khanna in his debut film, Raaz, he used trademark Kishore Kumar's voice to all Khanna songs of the movie released in 1970. Rajesh Khanna was already a brand then. The solos of Kishore Kumar – Dil Ko Dekho and Dil Sachaa Aur Chehra Jhutha are still popular. Another popular track is Karle Pyar Karle sung by Asha Bhosle.
20. Mahal – Songs of Dev Anand starrer are extremely melodious. The duo used the voices of Kishore Kumar and Asha Bhosle to record the most popular duets of the movie – Yeh Duniyawale Poochhenge and Ankhon Ankhon Mein. Sizzling track – Aaiye Aapka Tha Humen Intezar featuring Farida Jalal and Dev Anand also got noticed.
21. Safar – Another top movie of Rajesh Khanna's career, all songs were extremely popular. The composers chose Kishore Kumar's voice to record songs featuring Rajesh Khanna and Mukesh's voice for Feroz Khan. Zindagi Ka Safar is one of the finest compositions of duo's career, and adorable song of Kishore Kumar too. "Jeevan Se Bhari" is yet another popular Kishore track featuring Rajesh Khanna. The movie also included the popular Mukesh solo – "Jo Tumko Ho Pasand". Hum The Jinke Sahare and Nadiya Chale Chale Yeh Dhara (Tujhe Chalna Hoga) are other tracks. All the 5 songs were hits. Its highly philosophic lyrics were written by Indeevar.
22. Haat Ki Safai
–

Waada Karle Saathiya sung by Rafi and Lata featuring Vinod Khanna and Simi Garewal was one of the top songs of the year 1974. Hum Ko Mohabbat Ho Gai Hai and Tu Kya Jane O Bewafa too were top tracks of the movie.
23. Don – The blockbuster movie had 5 fast tracks and all of them were chartbusters. Cabaret number featuring Helen and sung by Asha Bhosle – Yeh Mera Dil is the top track of the movie. The rest four tracks are Jiska Mujhe Tha Intezar, Mein Hoon Don, Pan Banaraswala and Yeh Hai Bombay Nagaria. Kishore Kumar and Asha Bhosle received Filmfare awards. The composers also received a Filmfare nomination for its music. The songs were reused for 2006 remake of Don starring Shah Rukh Khan.
24. Zanjeer – The movie played a major role in establishing Amitabh Bachchan as the second superstar of Bollywood. All the songs were chartbusters, especially the friendship song – Yaari Hai Imaan Mera featuring Pran. The song was sung by Manna Dey. Kalyaniji Anandji had earlier recorded the popular Pran song – Kasme Wade in Manna Dey's voice. Deewane Hai Deewanon Ko and Bana Ke Kyon Bigada Re are the next two popular tracks of the movie.

25. Laawaris – Yet another work for an Amitabh Bachchan starrer, all the peppy numbers got noticed. Mere Angane Mein in Amitabh's voice became the highlight of the movie. The song (lyrics and music) was copied from a popular folk song of UP. The song was titled, "Mere angane mein" from Miss Sheela, released in 1883. Kab Ke Bichhde Hue is the top romantic track of the movie. Jiska Koi Nahin, Apni To Jaise Taise and Kahe Paise Pe are other hit songs.
26. Qurbani – The movie was a trendsetter of fast pop tracks of Bollywood in the year 1980. Except the chartbuster track, 'Aap Jaisa Koi', all the songs were composed by the duo. Laila Mein Laila sung by Amit Kumar and Kanchan too received the status equal to 'Aap Jaisa Koi'. This song was originally composed for 'Kasak' which got shelved. Both these dance numbers featured Zeenat Aman who played female lead in the movie. All the 5 tracks of the movie including – The title track, Kya Dekhte Ho and Hum Tumhain Chahte Hain got noticed. Kanchan's voice was earlier used the composers to record the duet, Tum Ho Mere Dil Mein of Rafoo Chakkar. Also read: Top 20 less-heard female voices of 1970s and 1980s.
27. Kalicharan
– The film was a huge blockbuster, and music also played a significant role in film's success. "Ja Re Ja O Harjai" sung by Lata Mangeshkar was later remixed and became extremely popular among youngsters.

Ek Bata Do Do Bate Char is a popular children song.
28. Jaanbaaz – The musical hit featured many popular tracks such as Har Kisi Ko Nahi Milta, Jaane Jaana and Tera Saath Hai Kitna. Manhar Udhas frequently associated with Kalyanji-Anandji and songs of Rafoo Chakkar, Jaanbaaz and Tridev are top hits. Har Kisi Ko Nahi Milta had male version in Pankaj Udhas' voice and female version in Sadhana Sargam's voice. The song featured Sri Devi. The album also included a duet version of both singers.
29. Tridev – The movie was a huge musical hit. The peppy track – Tirchi Topiwale was one of the biggest hits of the year 1989. The song had different versions. Gali Gali Main Phirta Hai and Mein Teri Mohabbat Mein are other top songs. Kalyanji-Anandji received a Filmfare nomination for its composition.
30. Immandar – Aur Iss Dil Mein Kya featuring Sanjay Dutt and Farah is one of the finest romantic songs of 1980s. The song had a romantic version sung by Asha Bhosle and sad version by Suresh Wadker, and both the versions became instant hits.
31. Dulha Dulhan – I really forgot to add one of the best works of Kalyanji-Anandji ever, the movie with extremely romantic solo 'Hum Ne Tumko Pyar Kiya Hai' in two versions (Lata and Mukesh) and Mujhe Kahte Hai Kallu Qawal – a duet song of both these singers. After their association with Raj Kapoor in the early 1960s, it's one of their major and most successful works in the first half of 1960s.
I would like to mention a few more popular film albums of Kalyanji-Anandji – Baazi (which includes Aa Mere Gale Lag Jaa), Rafoo Chakkar (which includes Tum Ko Mere Dil Ne Pukara), Maryada (which includes Chupke Se Dil), Dil Ne Pukara (which includes Waqt Karta Jo Wafa, Humko Hone Laga Hai Pyar Tumse and Khayi Thi Kasam), Upasaana (which includes Aao Tumhe Main Pyar Sikha Doon), Ek Shrimaan Ek Shrimati (which includes Pyaar To Ek Din Hona Tha), Do Anjane (which includes Luk Chhip Luk Chhip Jao Na), Phool Bane Angare (which includes Chand Aahein Bharega & Wadan Pe Jo Fida Hoga), Bluffmaster (which includes Govinda Aala Ra), Vidhaata, Gopi, Bairaag, Yudh, Chameli Ki Shaadi etc.
Top 10 Kalyanji-Anandji songs of my choice
1. O Saati Re – Muqaddar Ka Sikandar
2. Pal Pal Dil Ke Paas – Blackmail
3. Dil To Hai Dil – Muqaddar Ka Sikandar
4. Yeh Duniyawale Poochenge – Mahal
5. O Babul Pyare – Johny Mera Naam
6. Pal Bhar Ke Liye – Johny Mera Naam
7. Mujhko Is Raat Ki Tanhai Mein – Dil Bhi Tere Hum Bhi Tere
8. Sama Hai Suhana Suhana – Ghar Ghar Ki Kahani
9. Chandan Sa Badan – Saraswatichandra
10. Yeh Sama – Jab Jab Phool Khile
Also go through the gallery of Kalyanji-Anandji Topics. Here is the page link. Click on the images to read. Hope you will like it.
(Visited 3,353 times, 1 visits today)