A few interesting facts of Artsakh – The country not marked in World Map
Stepanakert is the capital of a particular country – Artsakh, an unrecognised republic situated in the South Caucasus. In world map, there is no country with name Artsakh. Yet the country owns an army and also a president named Bako Sahakyan. He is the third president of the self-proclaimed Republic of Artsakh, and lives in the grand Presidential palace. The nation owns its own administrative system, ministers, officials and government buildings. Though still in conflicts and disputes, the country owns its own boundaries with an army which protects the borders. Yet such a nation is not marked in world map.
UN has recognized 193 states as republic nations. It's believed than more than 200 countries exist in this world, which are yet to earn recognition. One among them is the self-proclaimed nation, Artsakh – which is located between Armenia in the South Caucasus region of Eurasia and Azerbaijan. When you plan for a trip to Armenia and Georgia of Eurasia, there are only less chances that you ever heard about Artsakh.
Artsakh is commonly known by the name, Nagorno-Karabakh Republic
Artsakh is a small area located between Armenia and Azerbaijan. In geographical features, though this small portion appears to be a part of Azerbaijan, the inhabitants of Artsakh have ancestral links connected with Armenia. Most of them are descendants of Armenians. This small portion is still under disputes, dated to many centuries old. In 2016, the disputes between Artsakh and Azerbaijan lasted for 4 days and ended in a war.
In AD 301 Christianity was accepted as the official religion of Armenia, and hence the first Christian nation of the world. During the reign of Ottoman, the country was under the control of Turks. Towards the end of that reign, infamous Young Turks seized power, and Armenian race was killed in folk. Of 20 lakhs Armenians lived then, 15 lakhs were killed. It was only towards the end of World War 1st, Ottoman reign came to an end, and Armenia became an independent nation. When a common enemy was destroyed, disputes over a small region Nagorno-Karabakh were initiated by Armenia with the neighbouring country Azerbaijan. Yet the disputes were not so severe then, because the neighbouring nations – Armenia and Azerbaijan lost their freedom very soon.
Disputes between the nations centuries old
In 1923, these small nations below Caucasus Mountains became a part of Russian Federation. Though Stalin was aware of the disputes, he didn't interfere or showed interest in local issues. Yet he retained Karabakh as an independent region under the governance of Moscow. With the fall and split of Soviet Union in 1991, many small nations of Federation earned independence, which include Armenia and Azerbaijan. Very soon the disputes over Karabakh regions started once again. To increase the population of Azerbaijanians in Karabakh regions, free homes were given and new settlements were also constructed in less-dense and isolated regions which paved way to big disputes and wars.
In 1992, Nagorno-Karabakh was declared Republic, and parliament also came into being. A central bank of its own, government agencies including foreign ministry, independent army and a small airport – the newly declared republic nation owned all these most essential facilities.
Journey from Yerevan to Artsakh
To reach Karabakh, one needs to travel 5 hours by car from Yerevan, the capital of Armenia. On either sides of the road, it's the pleasant beauty of agricultural fields. Ararat mountain ranges are seen at distance. Once Ararat which was a part of Armenia is now associated with Turkey, and the loss of Ararat mountain to Turkish is still a great pain to Armenians. They still dream to restore their power in Ararat mountains.
As you travel forward, you reach the misty Caucasus mountain ranges and isolated areas. The path is a little more difficult. The boundaries are guarded by soldiers and an Emigration office is also located in there. You can request for passport and visa here. The visa will be granted from the state capital, Stepanakert and it can take one day. After that you can travel through Artsakh – the unknown nation to the outer world.
According to the official documents of Azerbaijan, Karbakh regions are still owned by them. Yet there are no roads leading to the place. All the paths have been closed and guarded by militants. Only two main roads are present in the region, including the one connecting Yerevan, the capital of Armenia. But to enter Karbakh through the same road, it's an unauthorized entry as per Azerbaijan's rules. The visiting visa provided by Karbakh government is not accepted in Azerbaijan, and if you travel in Azerbaijan with the same passport, you can get imprisoned up to 10 years.
After you receive visa from Stepanakert, you can travel across Artsakh. The buildings of Stepanakert are quite similar to European towns in construction and the city also own broad roads. The residence of president and the head office of the central bank of Artsakh are located in the central square of the city.
Indians are received due respect in the locality
Indian television shows and soaps are translated to local languages of Artsakh and Armenia and telecasted here daily. For the same reason, locals are well-acquainted of Indian culture, and hence they use to welcome Indians in 'Namaste' style. If you reach the outskirts of Stepanakert city, you reach a mountain region filled with agricultural fields. "We are our mountains" monument depicting an old man and an old woman, also known as "tatik-papik" is seen at distant on mountain top. The term "tatik-papik" in Armenian can be translated to English language as "Grandma and Grandpa".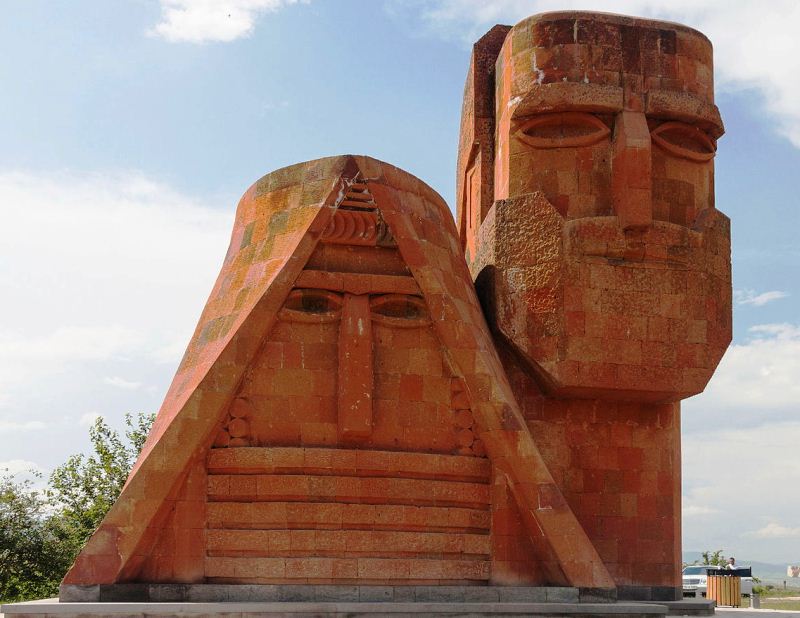 The feeling of nationality and racism is high among Artsakh people. Though they appear to be peacemakers, they are willing to shed their blood for their birth nation. They start using weapons since young; a group of innocent people who got tangled within state boundaries, and still fighting for their recognition and identity.
The boundaries built are just for militants, administrative powers and officials. But human love can never be restricted in boundaries or compulsions by any other means. Peace and independence – the basic desires of a human. Inhabitants of the unrecognized nation of the world have nothing more to dream of.
Image source: Wikipedia
(Visited 388 times, 1 visits today)