Mahogany Cake
Mahogany owns the distinction of America's First Chocolate Cake. It was first tasted long before the famous Red velvet cake. It dates back to the late 1800s in America, and has appeared in many cookery books that time too. Here is the recipe of very famous Mahogany Cake.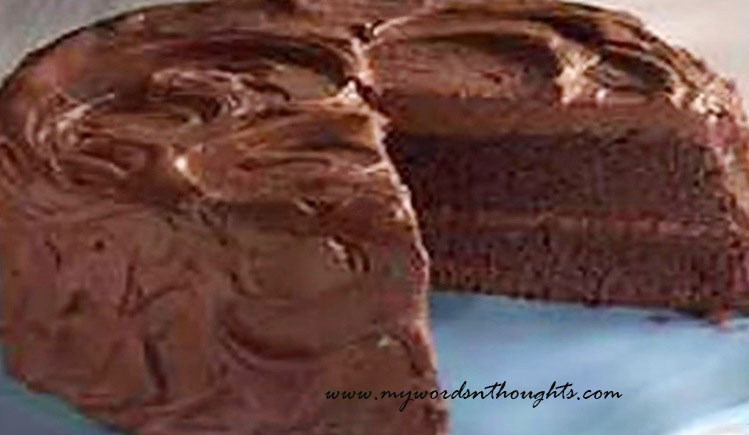 Ingredients for Mahogany Cake:
1. Nescafe – 2.5 small spoons
2. Hot water – ¾ cup
3. Coco powder – 4.5 small spoons
4. Butter – 220 gm
Sugar – 1.5 cups
5. Eggs – 2
Yellow yolk – 2
6. Vinegar – 1 small spoon
Vanilla essence – 1 small spoon
7. Maida – 2 cups
Baking soda – 1 small spoon
For icing:
8. Icing sugar – 1 cup
Coco powder – 2 big spoons
Coffee powder – 1 small spoon
9. Butter – 4 big spoons
10. Hot milk – As required
How to prepare Mahogany Cake?
1. Pre-heat oven in 180 degree celsious.
2. Mix Nescafe with warm water.
3. Beat butter and sugar together till it turns soft.
4. Add egg and yellow yolk to it and beat again.
5. Blend maida with baking soda and add to egg mixture alternatively with coco powder.
6. Grease a bake tray and put a butter paper.
7. Pour the batter into the tray and bake in pre-heated oven for 40 minutes.
8. To prepare icing mix ingredients no: 8 together in a bowl.
9. Add melted butter and mix well.
10. Finally add warm milk. Its consistency should be enough to pour on cake.
11. Pour this icing on the top of the cake and spread uniformly.
Courtesy: Vanitha Magazine, December 1 – 14, 2019
You can read a few more delicious cake and bake recipes. Here is the page link. Click on the images in the gallery to read.
(Visited 110 times, 1 visits today)