Kurinjikaavu – The temple where men carry Aarti
Men carrying thaalam and lamps for a Hindi festival of Kerala! How is it possible? While carrying lamps as a part of Hindu celebrations is called Aarti in north India, this ceremony is called 'Thalapoli' in Kerala, where lamps and other pooja accessories are carried in a plate called Thaalam in Malayalam. Anyway it's addressed this ceremony is exclusively reserved for women across Hindi temples. But for Kurinjikaavu temple of Kottayam district it is exclusion. Thalapoli festival, known as Thalam Thullal is conducted by men, belonging to different age groups.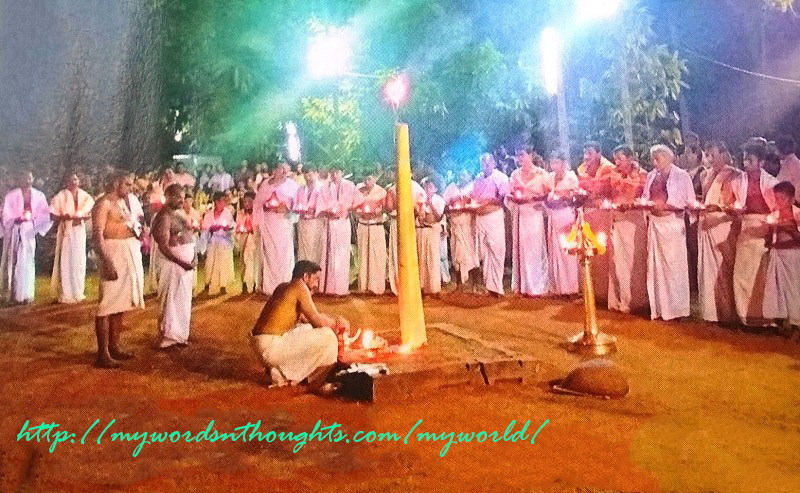 Kurinjikaavu – One amongst 108 durga temples in Kerala
Kurinjikaavu temple is located in Ramapuram village of Meenachal Taluk, Kottayam on Thodupuzha-Pala bus route. Kurinji is the exact place name, situated on north-east region of Ramapuram Panchayat. Kurinji is a very beautiful village, which lies in the valleys of the hills – Kurinjikoomban, Kottamala and Kuravankunnu at Kottayam-Idukki border.
The temple and its premises are spread across 4 acres of land, and the place is filled with different types of plants. The place is filled with sacred groves which offer a rich source of many medicinal plants. This Kavu (temple) comes under the direct control of Kuzhikandathil ancestral family, who follows the customs and conduct worship for many centuries. Presiding diet is Vanadurga, who resides in the form of Aiylakshmi. During Kalamezhuthu festival, conducted on Meenam month, goddess Durga in the form of Aiylakshmi is drawn for Kalam. People who have troubled marriages visit the Kavu during this eve to seek goddess' blessing.
Legend behind Thaalam Thullal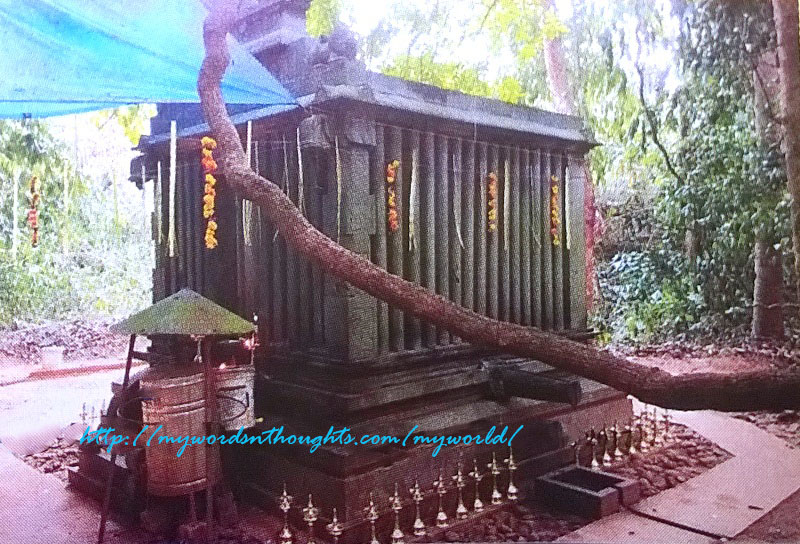 Goddess Parvathy got angry seeing Asuras abusing women on earth, and she killed everyone with her sword. Yet she couldn't cool herself and decided to kill all men of earth. Foreseeing the destruction, Lord Siva tried to defend but lost one of his legs to her. Goddess cooled herself only after she cut one of the legs of her husband, and that fierce avatar which didn't spare even her own husband is drawn for Kalamezhuthu.
To seek the blessing of goddess, with permission of senior ladies of the family, men carry aarti (thalam) in their arms during the temple festival. It is assumed that Aiylakshmi protects the devotees from all their life troubles. This tradition is centuries old and still followed by natives. The men wear traditional mundu and melmundu while lifting thaalam (thalameduppu) to please the goddess.
Remains of old civilization
Another highlight of Kurinjikaavu is about 9 pazhuthara (dolmen), made by ancient man during the Iron Age when he resided here. Locally called Pazhuthara and Muniyara, they are the living remains of primitive man – our ancestors who lived here centuries ago. In a level place on rock, using rock pieces and mud, a rock structure is formed. Two big rock pieces are fixed in ground horizontally, and a single layer of rock is placed above it vertically, as if to form a shelter. This structure is locally called Kalmesha, which literally means stone table. Half of Kalmesha is beneath ground (around 1 meter), the rest half visible outside. Sometimes a stone bench is placed inside it. Such structures are dated around BC 1000.
The temple also has one special tree named, Kalmanikyam. Its peculiarity is – the tree has no branches.
How to reach Kurinjikaavu?
You can take the route Kottayam – Pala – Kollappally – Pizhaku – Kurinji Junction. The temple is 400 meters away from the junction. If you take Moovattupuzha route, travel through Thodupuzha –Karimkunnam – Nellappara and reach Kurinji Junction. You can also take the route, Koothattukulam –Amanakara – Ramapuram – Kurinji Junction.
You can read a few more articles on Kerala temples, with detailed description of legends and celebrations associated with them. Click on the images in the gallery to read
(Visited 561 times, 1 visits today)