K. K. Shailaja – The most popular health minister from the southern state of Kerala
Kerala's Shailaja teacher is a very popular political leader of the southern state who served as the health minister of Kerala during 2016-2021, under Pinarayi Vijayan Ministry. Fourth-term MLA since 1996, it was her first term as cabinet minister. Her efforts for effectively controlling Nipah Virus in the state in 2018 and also Corona outbreak in 2020 were lauded by all, including the national and many foreign media. As a political leader she rose to a super powerful lady power from the state of Kerala in 2020.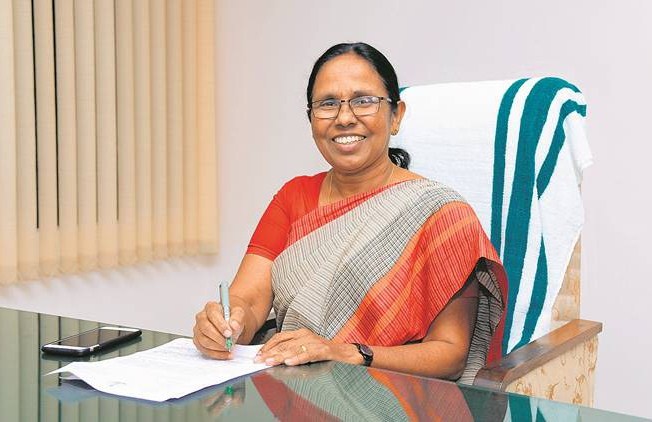 She entered politics through SFI
K. K. Shailaja was born in Koothuparamba of Kannur district in 1956. She is married to K. Bhaskaran since 1981, and has two sons. She entered politics through SFI, as a student leader during her academics. She graduated in science from Pazhassi Raja N. S. S. College, Mattanur and later completed B.Ed. from Visvesvarayya College. Later she worked as a science teacher at Sivapuram High School in Kannur, before turning active in politics. Though she is not active in teaching profession, "Teacher" tag got permanently added to her name.
She became CPI (M) Central Committee Member of Janadhipathya Mahila Association State Secretary, after which she got elected to state assembly for the first time from Koothuparambu in 1996. She got re-elected from Peravoor constituency in 2006, and once again from her hometown in 2016 defeating K. P. Mohanan from JD(U), after which she joined cabinet for the first time. She was chosen as Minister of Health and Social Welfare. She lost 2011 assembly elections to Congress candidate Advocate Sunny Joseph. It's her single defeat in state assembly elections.
She is best known for controlling Nipah Virus outbreak in 2018 and Corona Virus epidemic in 2020
When Nipah virus outbreak hit Kozhikode and Malappuram districts of Kerala in 2018, the deadly virus claimed 17 lives. Later under the leadership of health minister, the health department managed to control the virus. Kerala state effectively controlled Nipah during its second visit in 2019 as well. With experience in controlling Nipah virus outbreak, her team managed to effectively control Corona Virus epidemic in 2020, within the state during early months. She led the health team from the front, with the support of LDF government, winning praises from every corner.
K. K. Shailaja – Some interesting and less-known facts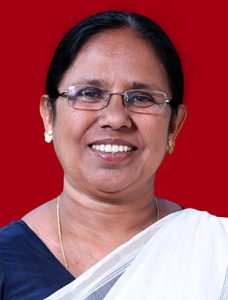 1. She served as State Secretary of All India Democratic Women's Association and Joint Secretary of its Central Committee.
2. She authored two books – "Indian Varthamanavum Sthreesamoohavum" and "China – Rashtram, Rashtreeyam, Kazhchakal".
3. She has served as Chief Editor of "Sthree Sabdam".
4. When Nipah outbreak of Kerala was made into a movie titled Virus in 2019, Revathy essayed Shailaja's real-life character on screen.
5. She is nicknamed "Teacher Amma" and "Shailaja teacher".
6. Her late grandmother M. K. Kalyani, though was not well-educated, she would attend the abandoned smallpox patients, clean them and feed them. Before she reached home, she used to take bath from a pond so that none of her family members are infected. Shailaja took a lot of inspirations from her grandmother, a brave woman, who was a local leader too.
7. In 2001 Pinarayi Vijayan contested from Koothuparambu instead of Shailaja, and retained the seat.
(Visited 294 times, 1 visits today)