Jangarh Singh Shyam – The first known modern Gond tribal artist from Madhya Pradesh
Jangarh Singh Shyam (1962–2001) was an artist from the state of Madhya Pradesh. This great contemporary artist propelled Gond art into international recognition, and is credited with being the creator of a new school of Indian art called Jangarh Kalam. A mix of tribal and contemporary art, his paintings which were brilliantly textured included gods and goddesses, birds, animals and trees.
His work has been exhibited widely the world over including Bhopal, Delhi, Tokyo and New York. He painted the interiors of Legislative Assembly of Madhya Pradesh, the Vidhan Bhavan, and the dome of Bhopal's Bharat Bhavan. One of the pioneer artists of Gond tribal community, he hanged himself at Mithila Museum in 2001, aged only 38. His wife Nankusia Shyam is also a leading artist of Jangarh Kalam.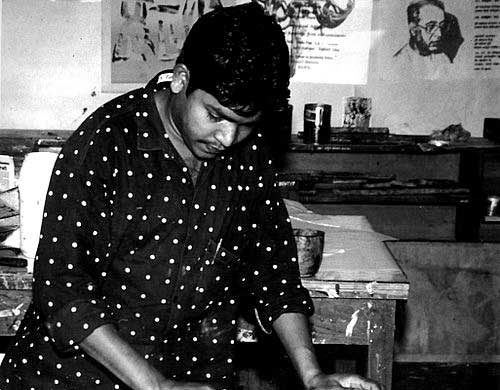 Jangarh Singh Shyam lived in extreme poverty during his younger days
Jangarh Singh Shyam belonged to a tribal community, Gond. He was born in 1962 in Patangarh, Madhya Pradesh. He grew up in extreme poverty. He quit his studies and tried farming, sold milk and grazed buffaloes to earn a living. He married Nankusia Shyam at the age of 16. In October 1981 some people from arts museum Bharat Bhavan approached him.
He also met its first director, the artist Jagdish Swaminathan, who served as his mentor and both collaborated for many projects later. It was Jagdish who discovered the real talent of this artist who was still in his teens and promoted him the best way he could. He noticed young Gond artist Jangarh Singh Shyam paintings on the mud walls of his house, and was impressed by the forms and choice of colours chosen.
The way he decorated the walls of huts in Patangarh with motifs was a traditional one, a routine part of Gond culture. Swaminathan convinced Jangarh to come and work as a professional artist in Bharat Bhavan, a renowned multi-arts complex and museum. Bhopal. Jangarh's first sample paintings were exhibited at Bharat Bhavan's inaugural exhibition in February 1982, and was employed in Bharat Bhavan's graphic arts department very soon. He along with his family lived near to Swaminathan's residence. Jangarh learnt and grew as an artist under the guidance of Swaminathan.
He achieved fame in a short time
In 1986, merely 5 years after Swaminathan spotted him, the 26-year old was conferred the Shikhar Samman, the highest civilian award bestowed by the Government of Madhya Pradesh. He got many state government projects in a row and turned a busy painter. He did the exterior murals for the newly built Vidhan Bhavan. In 1986, his works were exhibited at Pompidou Centre, Paris, followed by Mithila Museum in Tokamachi, Japan.
He took his life at the Mithila Museum, Japan
In 2001, he was found hang under mysterious circumstances at Mithila Museum. Reasons were not clearly known. He was just 39 years old. Indian artistic community and the artist's family put blames on Museum authority and they even hesitated to send his remains to India. Later the body was eventually transported to Bhopal. Most of events and mediations associated with Jangarh's life and practice have since remained a mystery.
Shyam earned huge acclamation of his work with vibrant colours during his life time and his untimely passing left a gaping void in the world of Indian art. They didn't get enough buyers for his artworks, and he lived with his family in a tin-roofed outhouse in Professors Colony, Bhopal. As per reports, the artist was persuaded to take up the residency for a low monthly fee, and his stay at the museum was extended by three weeks without consent, which made him upset. The way artists were exploited & talents not recognized properly could be the main reasons behind the extreme step taken by him.
Jangarh Singh Shyam is now celebrated as the first Adivasi artist to gain widespread acclaim. Shyam inspired and encouraged many of his immediate and extended family members to take up painting as their profession. His wife Nankusia Bai and two children Mayank Shyam and Japani Shyam are acclaimed practitioners of Jangarh Kalam. Nankusia has been working in Bharat Bhavan, Bhopal where Jangarh Singh Shyam used to work.
Jangarh Singh Shyam – Some interesting and less-known facts
1. He belonged to Pardhan Gond clan. Pardhan music takes form in rhythmic vibrations and this reflected in Jangarh's radiant artworks.
2. He was born on a day when officials of the Census Authority visited his village. As Hindi word for 'census' being 'jana-gana', he was named 'Jan-gan' and vernacularized as 'Jangarh'.
3. He was among the first Gond artists to use paper and canvas for his paintings, and later created his own style called Jangarh Kalam, a mix of tribal and contemporary art.
4. His wife and his children follow his legacy and is practising his art form Jangarh Kalam. In fact his wife has conducted many art exhibitions across different states of India and also a few foreign countries like Japan, France, Sri Lanka and UAE. She also authored Bulli and the Tiger – a book for children.
5. Jangarh's 1988 work 'Landscape with Spider' was sold for $31,250 at Sotheby's, New York, in 2010. His painting, 'Ghui Jhaad Par Van Manus' (1992) was sold for Rs 20 lakh ($25,148, hammer price), more than thrice its estimated range, thus breaking his own previous record set by 'Landscape with Spider'.
6. Art historian Aurogeeta Das compiled Shyam's artworks and published a book titled 'Jangarh Singh Shyam: The Enchanted Forest'.
7. His work has been appreciated by stalwarts of Indian modern art like M.F. Husain, Gulam Mohammed Sheikh and Manjit Bawa.
8. Once an art gallery in Delhi asked him to shun his 'Western' clothes in favour of a tribal image of him for their publicity brochure. Territories were neatly divided and Shyam got trapped in crossing.
(Visited 7 times, 1 visits today)