Indulekha Warrier – Malayalam Playback singer
Indulekha Warrier is a Malayalam Playback singer who hails from Thrissur. She is the daughter of famous Malayalam actor, anchor and caricaturist Jayaraj Warrier, a popular figure in Malayalam art field. She made her singing debut with 2014 film, Apothecary where she sang the song Eeran Kannilo written by Vayalar Sarath Chandra Varma. In 2018 her song 'Puthu Chemba' for the movie Autorsha became an instant hit. She rose to fame after this song sung in folk style. She has also sung for Tamil and Telugu films.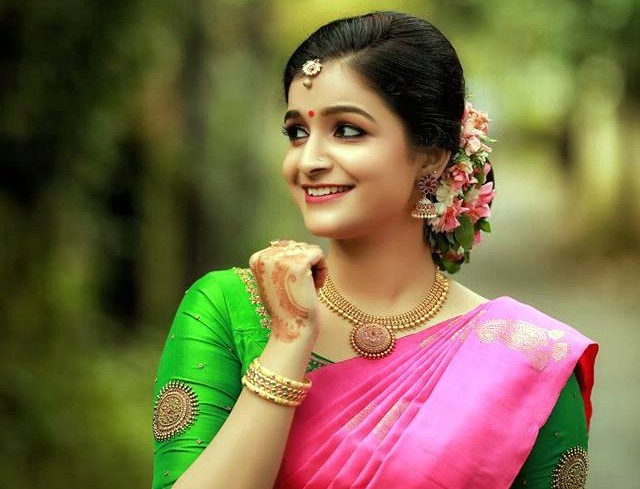 Indulekha Warrier hails from Thrissur, and was born into a family with artistic background. Born as the daughter of well-known artist Jayaraj Warrier, her singing career was well supported by her father. Her father believes that everyone should choose a profession they love. For the same reason, though Indulekha completed Engineering and MBA, she chose music. Music is her real passion, which she started learning in year 2000 under the guidance of Hariprakash Master. She became a popular singer during the cultural events of her schools, where she studied. She made her first public performance at Thiruvambadi Sri Krishna Temple in 2011.
Indulekha Warrier – Some interesting and less-known facts
1. She started learning music at the age of 7, and her singing talents were first noticed by her mother. Her father used to sing old Malayalam songs, and that's how she got interested in music.
2. She has contested in a reality show on television in 2015, one year after her debut as a playback singer through Apothecary. Before that she has sung for a devotional album, Hare.
3. Her school studies in Malayalam medium school helped her better in pronunciation. She schooled from Nedupuzha Kasthoorba School and Thrissur Holy Family School.
4. Her father used to teach her poetry taking time from his busy schedules.
5. She holds a BTech degree in Electrical Engineering and completed her MBA from CUSAT. She learnt Kathakali music a little bit during her years at CUSAT.
6. She is the voice behind the promo song of Kerala Kalolsavam 2018 held at Thrissur.
7. She has also appeared in one album.
8. In 2018 she tied knot with Anand Achuthankutty, a civil servant in Indian Defence Account Service. He hails from Mannuthy, Thrissur. They knew each other for past four years.
(Visited 844 times, 1 visits today)