Healthy Ragi Paniyaram
Paniyaram, also known by the names – Appe, Padlu etc is mostly served as a breakfast main menu item in Tamil Nadu/Konkani cuisine. We can serve it as an evening snack too. This Healthy Paniyaram made using rice, ragi and vegetables can be served as 4 o' clock snack. You can use cast iron unniyappam maker for making this delicious dish.
If you prepare paniyaram without sweet and less oil, it's a healthy dish. It contains sever micro nutrients and fiber. You can also prepare paniyaram from appam batter and idli batter. Add different vegetables to bring distinct flavour to your paniyaram.
When you add more vegetables, add water at the last stage only. First mix salt with vegetables, followed by flour, and then only add water. If you add excess water for batter, it drinks excess oil while frying. It reduces crispness to your paniyaram too.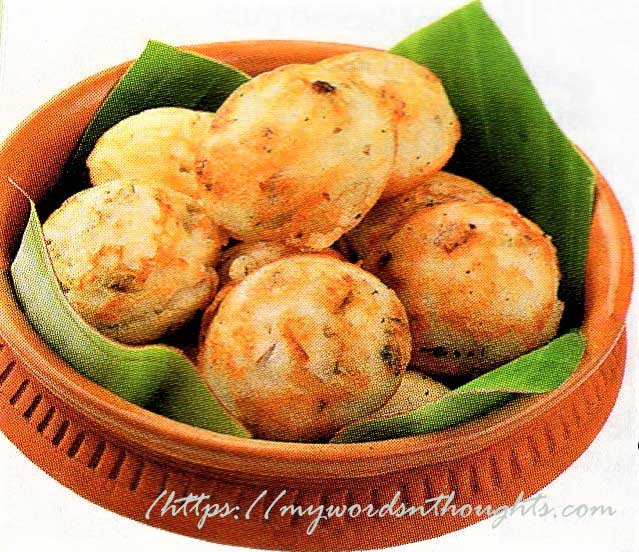 Ingredients for Healthy Ragi Paniyaram:
1. Capsicum, carrot, cabbage and tomato chopped fine – 2 big spoon each
Salt – For taste
2. Cumin powder – ½ small spoon
Green chillies – 2, chopped fine
Ginger chopped fine – 1 small spoon
Curry leaves and coriander leaves chopped – 2 big spoons
3. Ragi powder – 3 big spoons
Rice flour – 1 big spoon
Corn flour – 1 big spoon
4. Oil – As required
How to prepare Healthy Ragi Paniyaram?
1. Take all vegetables in a bowl along with salt, and mix well.
2. Add ingredients no: 2 and mix again.
3. Add flours a spoon each, and mix with vegetables.
4. Sprinkle water if only needed and prepare batter of thick consistency.
5. Heat unniyappam maker and pour a little oil.
6. Using a spoon, drop batter little by little into the moulds and cook in low flame.
7. When one side is fried, flip and fry the other side too. Paniyaram should turn crispy.
Courtesy: Vanitha Magazine, June 11-24, 2022
Read a few more ragi dishes. Visit my page.