Egg Salad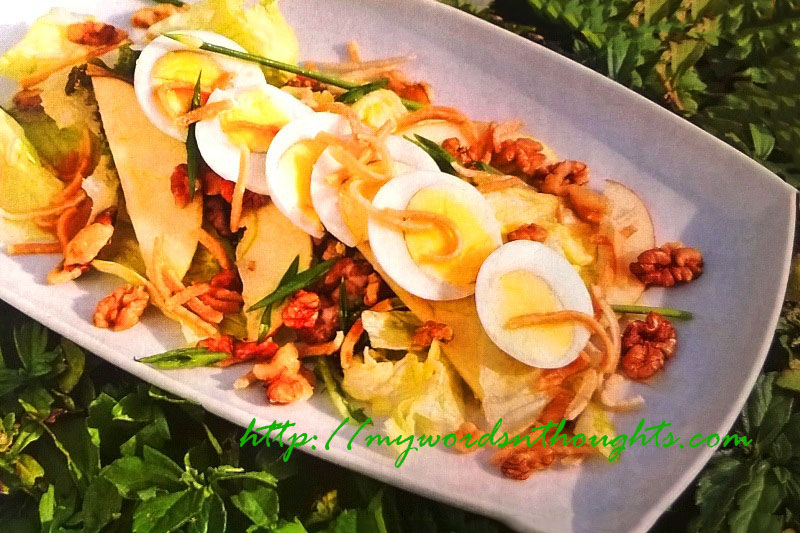 Ingredients for Egg Salad:
1. Lettuce leaved tore – 2 cups
2. Apple – 2
Lemon juice – A little
3. Spring onion chopped – 2 big spoons
Walnut chopped – 3 big spoons
4. Olive oil – ½ cup
Honey – 1-2 small spoons
Apple cider vinegar – 1.5 big spoons
Salt, pepper powder and mustard powder – As required
5. Eggs – 2, boiled
6. Noodles fried in oil – To decorate
How to prepare Egg Salad?
1. Add a little ice and water to lettuce and keep aside.
2. Remove seeds from apple and cut into thin lengthy pieces.
3. Marinate with lemon juice and keep aside.
4. Just before you serve, arrange lettuce leaves in the serving plate.
5. Spread apple pieces on its top and ingredients no: 3 alternatively.
6. Prepare salad dressing using ingredients no: 4, and add to the salad.
7. Toss the contents well.
8. Slice boiled eggs to thin round pieces and place in a row on its top.
9. Sprinkle fried noodles and serve soon.
Vanitha Magazine February 1-14, 2018
A few more egg side dish recipes for you. Here is the page link. Click on the images in the gallery to read.
(Visited 95 times, 1 visits today)