Easy Egg Rice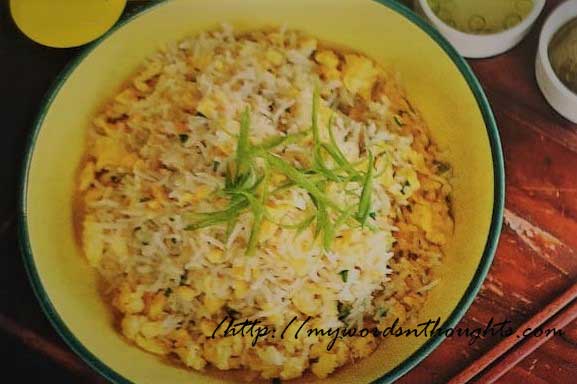 Ingredients for Easy Egg Rice:
1. Spring onion – 1-2 stems
2. Eggs – 4
3. Basmati rice cooked (Or left-over rice) – 3 or 4 cups
4. Oil – 2-3 big spoons
5. Salt – As required
How to prepare Easy Egg Rice?
1. Wash and rinse spring onions, and chop the green part only, into tiny pieces.
2. Beat eggs in a bowl.
3. Grease a thick-bottomed pan and heat it.
4. Add rice and stir slowly till water content is fully absorbed.
5. Move rice to one portion of the pan, and pour oil.
6. When it heats, add beaten eggs.
7. Now add rice to eggs and mix the contents well.
8. Add salt and mix again.
9. Add half of chopped spring onion and mix well.
10. Put off the flame.
11. Decorate your egg rice with remain spring onions and serve hot.
Courtesy: Vanitha Magazine May 1-14, 2020
Easy Egg Rice (Recipe 2)
Ingredients for Easy Egg Rice (Recipe 2):
1. Ghee – 2 big spoons
2. Big sized onion sliced – 1
Green chillies – 3
3. Cooked rice – 2 cups
4. Egg – 1, beaten
Salt – For taste
How to prepare Easy Egg Rice (Recipe 2)?
1. Heat ghee in a pan and sauté onions and green chillies till they become tender. Colour should not change.
2. Add cooked rice, mix contents well and continue cooking till rice heats up.
3. Add salt and beaten egg, and keep stirring.
4. When egg is cooked, put off the flame and serve hot with Mulak Pottichath.
How to prepare Mulak Pottichath?
Blend 7 shallots and 1 green chilli in a mixer. Add gooseberry-sized tamarind to it, and mix manually. Add salt and 2 small spoons of coconut oil, followed by a little water and adjust consistency.
Courtesy: Vanitha Magazine February 1-14, 2010
Read different types of main course rice recipes here:
(Visited 26 times, 1 visits today)