Dhokla
To start a day with a healthy note, you can choose Dhokla as your breakfast. It's a steam cooked food, traditionally prepared in Gujarat and parts of adjacent states. It can also be served as a quick snack, and serves best with coriander leaf/mint leaf chutney. It's normally prepared using Bengal gram/gram flour, though other derivatives are also popular. Traditionally prepared from ground chickpeas, it's substituted with gram flour also.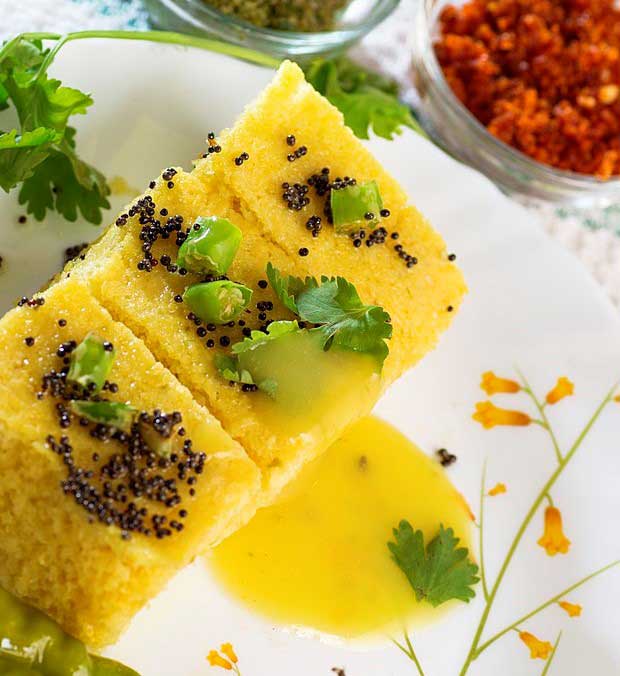 Ingredients for Dhokla:
1. Gram flour (Besan) – 1 cup
Turmeric powder – ¼ small spoon
Semolina – 1 big spoon
2. Ginger paste – ½ tsp
Green chilli paste – ½ tsp
Salt – ½ tsp
Sugar – 1 tsp
Lemon juice – 1 big spoon
3. Water – ½ cup
4. Fruit salt – ¾ small spoon
5. Oil – 1 big spoon
Curry leaves – A little
Mustard – ½ tsp
Asafoetida powder – A pinch
6. Sugar – 1 big spoon
Salt – A little
Water – ¾ cup
How to prepare Dhokla?
1. Take half cup water in a bowl, and add ginger-green chilli paste, sugar, salt and lemon juice.
2. Mix the contents till sugar dissolves completely.
3. Add turmeric powder, gram flour and semolina to it, and prepare the batter. While mixing, stir in one direction only, and the batter should have the consistency of Idli batter.
4. If needed, you can add 4 or 5 big spoons of water. Check the consistency while adding water.
5. Add fruit salt to a big spoon of water, and add to batter. Prepare Dhokla soon after adding fruit salt.
6. Steam cook the batter and prepare Dhokla.
7. Heat oil in a pan, and sputter mustard seeds.
8. Add curry leaves and a pinch of asafoetida powder too.
9. Add ingredients no: 6 to it, and mix the contents well.
10. Allow Dhokla to cool off completely, and then pour this solution on top.
11. You can cut Dhokla into square pieces.
12. Serve Dhokla with chutney of your choice.
Courtesy: Vanitha Magazine October 1-14, 2022
Note: Fruit salt is composed of basically 60% baking soda and 40% citric acid, widely used in the preparation of Dhokla. You can substitute 1 tsp fruit salt with 1/2 tsp baking soda and 1/2 tsp citric acid for your preparation. You can also substitute Fruit salt with baking soda alone.
Also read a few gram flour sweet recipes. Visit my page.
(Visited 21 times, 1 visits today)