Avocado Cutlet
Foliate and phytonutrients present in avocado can fight diseases. Foliate also helps in the formation of red blood cells, and Vitamin E present in avocado helps in defence mechanism of body. So you can include avocado in your kid's diet, and prepare some interesting dishes too. Here I present avocado cutlet, specially posted for kids.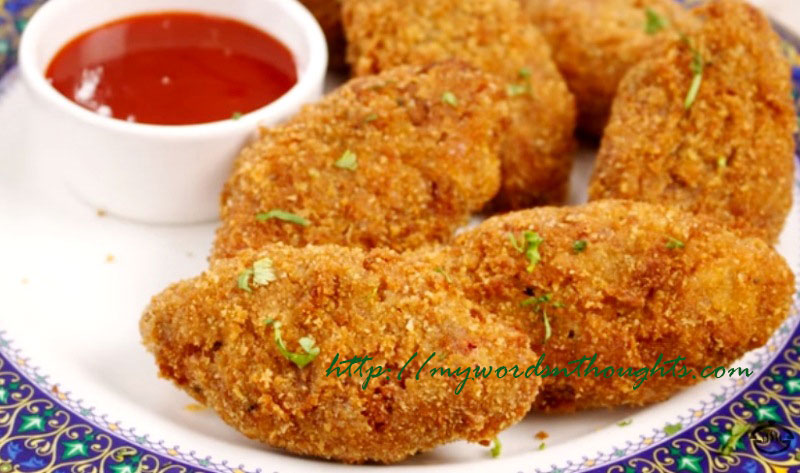 Ingredients for Avocado Cutlet:
1. Potato boiled and smashed – 1
2. Avacado (butter fruit) – 1
3. Chicken cooked – 200 gm
4. Garam masala – 1 tsp
5. Egg white beaten – 1
6. Onion – ½
7. Green chillies chopped – 4
8. Ginger-garlic paste – As required
9. Curry leaves, salt, bread crumbs – As needed
10. Oil – For sauting and frying
How to prepare Avocado Cutlet?
1. Heat a little oil in a pan.
2. Sauté chopped onions and green chillies along with ginger-garlic paste.
3. Finally add curry leaves and garam masala powder.
4. Add chicken, potato and avocado and mix it well.
5. Put off the flame and allow it to cool.
6. Make small balls from this mixture and press them to get cutlet shapes.
7. Dip cutlets in beaten egg white followed by bread crumbs.
8. Deep fry them in hot oil till they turn golden brown.
Courtesy: Grihalakshmi Magazine, June 1 – 15, 2019
Read a few more cutlet, tikki and patties recipes. Here is the page link. Click on the images in the gallery to read.
(Visited 341 times, 1 visits today)