Coconut Cake with Coconut Frosting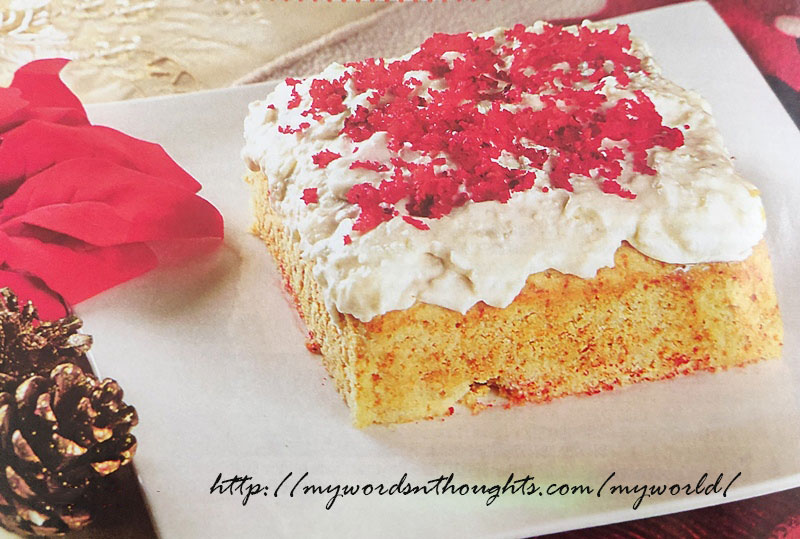 Ingredients for Coconut Cake with Coconut Frosting:
1. Butter – 125 gm
Coconut essence – ½ small spoon
Sugar powdered – 1 cup
2. Eggs – 2
3. Coconut scrapped – ½ cup
4. Self-rising flour – 1.5 cups, blended
5. Sour cream – 300 gm
6. Milk – ½ cup
For Coconut ice frosting:
7. Icing sugar – 2 cups, blended
Coconut scrapped – 1.5 cups
White yolk – 2, beaten
8. Pink food colour – A little
How to prepare Coconut Cake with Coconut Frosting?
1. Pre-heat oven in 180 degree celsious.
2. Take a cake pan of 23 cm size, grease it and put a butter paper.
3. Take ingredients no: 1 in a bowl and using a beater mix the contents well.
4. Add eggs one after another and beat the contents well.
5. Transfer the contents to a big bowl.
6. Add half amount of scrapped coconut, self-rising flour, milk and half quantity of sour cream.
7. Mix all the contents together and add remaining contents as well. Mix again.
8. Pour this batter to cake pan and bake in pre-heated oven for 1 hour.
9. Place in oven for 5 more minutes and transfer the cake to wire rack.
10. Allow the cake to cool completely.
11. To prepare coconut ice frosting, blend ingredients no: 7 together.
12. Spread this frosting on the top of cake.
13. Add pink colour to a little scrapped coconut and spread on the top of the cake as final decoration.
Note: To prepare self-rising flour, take maida and baking powder in the proportion 1 cup: 1.5 small spoons: 1/2 small spoon salt. Mix all these contents to prepare the flour.
Courtesy: Vanitha Magazine, December 1 – 14, 2019
You can read a few more delicious cake and bake recipes. Here is the page link. Click on the images in the gallery to read.
(Visited 91 times, 1 visits today)