Choose Kitchen Style according to your Life Style
If fried rice & chicken curry is today's menu, pudding and ghulab jamun for tomorrow's special dinner. If you are a smart house wife who loves in experiments with food menu, how would be the experience like, if you are forced to use a kitchen similar to a small storeroom? Is it essential for bachelors to have a vast kitchen like an auditorium? They may enter the kitchen once in a while, and they may hate it most to clean a big kitchen regularly. That's why it's told we need to choose a kitchen quite matching with our cooking tastes.
If a lazy wife is shown way to a big kitchen like a showroom she will hate it most, same is the case of working woman. Cooking is an art, but for a few it's just a mess to deal daily with. According to our lifestyle and interests it's always better to choose it wise. Through this column let me give you a brief note on how to choose a kitchen style which suits you most.
Single Line Kitchen
–> One-wall kitchen, also known as Pulman kitchen is best suited for bachelors. A pressure cooker, a few vessels for cooking, one mixer, a gas/induction stove and a few serving plates, spoons and glasses – that's more than enough for working bachelors who stay single or as a group. Sink and hob will be placed in a single row.
–> One should make a wise choice while arranging accessories in a small kitchen. Unused things should be disposed. They should never take your storage spaces. If you are well aware of the limitations, you can turn your kitchen to a best work space.
–> In small houses and less spacious apartments, single wall kitchen is preferred most. So use each and every corner of the kitchen effectively. Find a fixed place for every single piece used in kitchen, from sugar container to gas cylinder. After use, make a habit to place them exactly at the same position.
–> If it's set as open kitchen attached with dining area, your kitchen looks spacious and it gets more air circulation and light. You can fix pull-out drawers below kitchen counter and shelves above. You can place your utensils in safe drawers, and less space will be utilized effectively.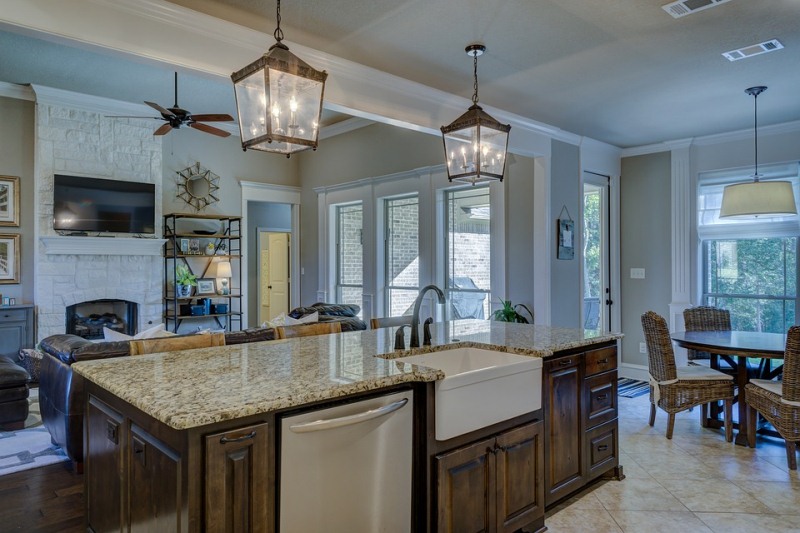 –> In the pullout shelf above sink, you can hang vessels and frying pans. You need to accommodate a setting where water drops from vessels fall to sink.
Two-line kitchen
–> The construction in which counter tops are fixed on either side of walls is called two-line kitchen. There is an area similar to a corridor in between these two counter tops. It's often seen as a passage from dining area to work area.
–> Also known by the names gally kitchen and parallel kitchen, the space between the two cabinets should have at least 4 feet length.
–> One counter can be used as dry area where oven can be placed. The opposite side can be used as wet area. You can also change a part of wet area as a work top to cut vegetables or prepare flours/batters.
–> You can also set your kitchen as modern kitchen area and traditional kitchen area. Make sure, the area easily visible to guests should be set in modern style. Special and expensive kitchen gadgets like juicer, coffee maker and bread toaster can be placed in dry area. You can place a traditional grinding stone or grinder in the area near to sink in the wet area.
L-Shaped Kitchen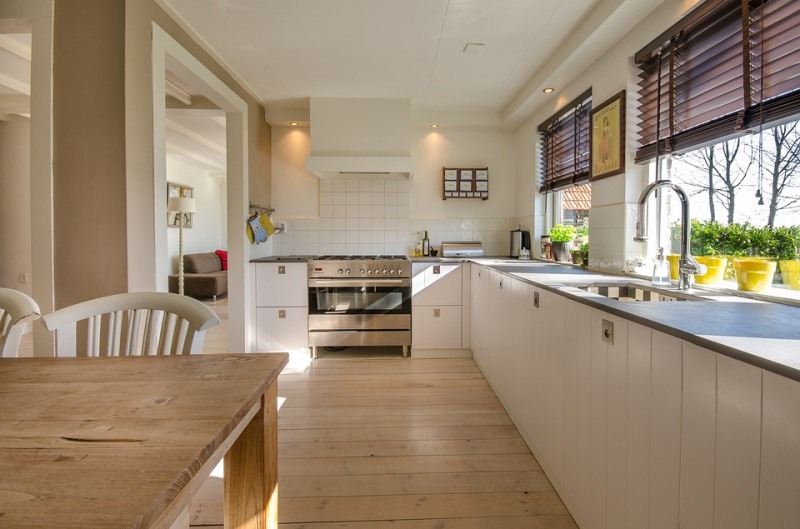 –> L-shaped kitchen is the best option for a working woman than a single-line kitchen. It resembles capital 'L' shape of English alphabet and hence known by this name. Kitchen cabinet is fixed in two adjacent walls of kitchen, and hence the most effective design to use corner space.
–> If an imaginary triangle is drawn connecting sink, refrigerator and hob, 'L' shaped kitchen is the best design to make this work-effective arrangement. If you give more preference to work effectiveness than beauty, L-shape is the best choice for you. You can complete your kitchen work easily and reach your office in time, and hence best suited for office-going ladies.
–> You can arrange your utensils (used for cooking) in one side of the counter and make separate space for work top. When you get time, you can clean those utensils and storage space will be sufficient.
–> This kitchen is easy for home maids too. But they need to walk to both corners to complete their tasks. But if the space between cabinets is less, there is no issue.
Island kitchen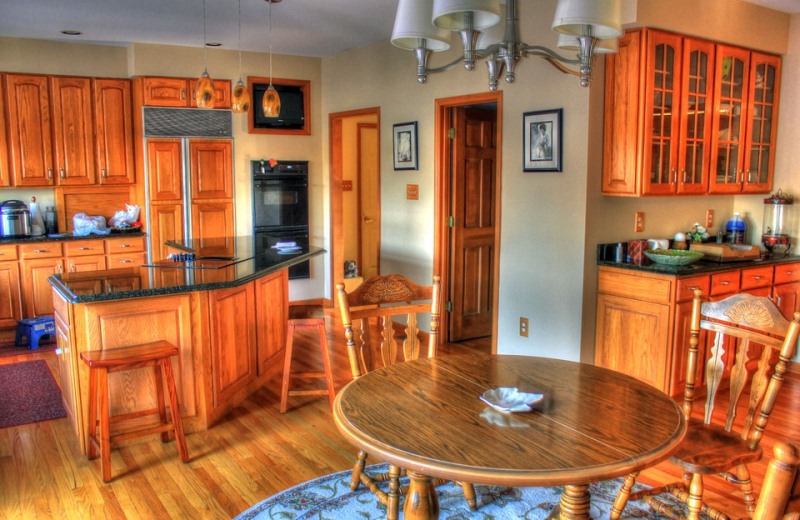 –> Kitchens like a vast showroom with cabinets in two or three sides; a working unit at the centre – this design is called island kitchen. If cooking is your passion, and you have more time to spend in kitchen, Island kitchen is specially designed for you people.
–> If you enjoy cooking you may need more space to place gadgets. If it's an island kitchen, island cabinet can also be used as storage space. That's a plus-point.
–> Island can be made in L-shaped kitchen and U-shaped kitchen. Island formed at the centre can be used as work space or breakfast counter. It can also be used as cook-top.
–> Mothers can also make use use of this area for teaching children. It can also be used as your working unit to place laptop or books. This space is also best for chatting with your family members or guests while busy with kitchen chores. Chairs can also be provided.
–> Never choose island kitchen for just curiosity or for a luxurious interior. It's never a best choice for a working mother comparing with L-shape or Two-line kitchen. It's only for those ladies who love to spend more time in kitchen, and most of their daily activities revolve around it.
–> The kitchen should be enough spacious to arrange an island at centre. There should be at least 4 feet distance from kitchen cabinets or walls to make it a perfect and convenient design.
U-shaped kitchen
–> This design resembles U-letter of English alphabets. It's convenient for cooking and has enough storage space too. So they can be called as 'Efficient Kitchen' too.
–> It's suited for the homes with 2500-3000 square feet. In short, this idea is practicable in spacious kitchens only. If you are interested to change your passion of cooking to business, and want to do it at home, this kitchen best suits you people.
–> Set 3/4th of your kitchen space with gadgets and use the rest space to set pandry. Pandry is a mini kitchen where cooked food items can be stored and re-heated as well. Oven and soda maker can be placed here. This space can also be used as storage.
–> U-shaped kitchen is best suited for NRIs who visit home only during vacation. As they love to use many kitchen gadgets, this design is best suited for them to place kitchen accessories. While they are busy with visiting relatives, one area can be specially reserved to heat food items and use easily. If so you need so clean this space only, saving a lot of time.
Peninsula kitchen
–> It can be designed in any type of kitchen. An extension to any type of kitchen design explained above is called peninsula kitchen.
–> The extension is mostly done at the central position and it purely depends on our convenience and taste. There is no special strategy or design for peninsula kitchen. You can construct an extention for work top or breakfast counter.
–> If you feel that your old kitchen could not afford your requirements, you can renovate it by adding an extension counter where you need. Designing this way, you can also increase your storage space.
–> If it's an atomic family of three members or couples only, they may prefer to have food at kitchen itself. If so you can create an extension at kitchen itself for dining space. This place can also be used to feed young children. You can change the design whenever you feel so.
A few simple tips to keep your kitchen beautiful and tidy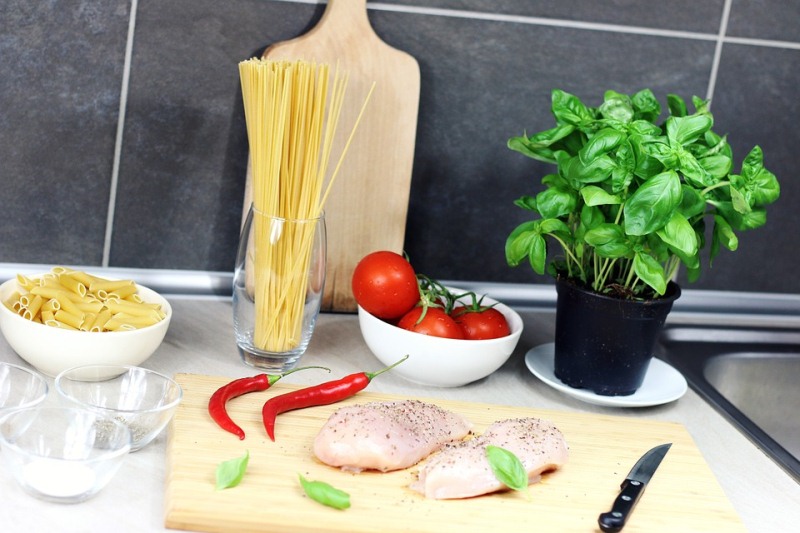 –> Categorize your kitchen to three spaces – Storage, preparation and cooking. Storage space can be used to store vegetables and provisions. You can place refrigerator in this area. Take provisions from this storage space and place it at preparation area set at wet space. You can clean and cut your vegetables here, and transfer the contents to cooking pots here. Take pots from here and move to preparation area. How you organize things in kitchen can determine your efficiency and cooking time too.
–> Kitchen area is not directly proportional to the total area of house. It should be designed based on number of family members, their tastes and how the housewife loves to spend time in kitchen.
–> You should take into account how many people will work/spend time at the same time in kitchen. Also take into account the number of servants who use the kitchen too.
–> Always keep counter top clean. Always find fixed space for each object in your kitchen. Construct the cabinet in accordance to the gadgets used and suitably arrange their spaces, plug points etc.
–> As soon as food is prepared, transfer the contents to serving dishes. Then wash those cooking utensils and place in store. To keep your kitchen neat and beautiful, take this point into account.
–> You can create an open shelf on one wall and display colourful plates or bowls of same type. It's nice to see same type of pots in 2-3 stands on an open shelf. You can also arrange colourful teacups here.
Image source: Pixabay
Also read a few more articles related to interior design style and architecture. Click on the images in the gallery to read
(Visited 295 times, 1 visits today)