Chocolate Dessert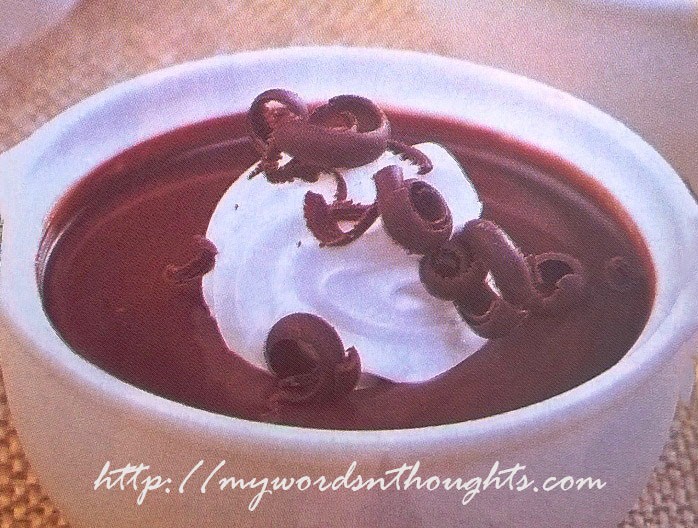 Ingredients for Chocolate Dessert:
1. Chocolate – 115 gm (dark and milk chocolate half each)
Salt – A pinch
2. Thick cream – 1 cup
3. Sugar – 1 big spoon
4. Vanilla essence – 1 small spoon
Instant coffee – 1 small spoon
Orange skin peeled – 1 small spoon
How to prepare Chocolate Dessert?
1. Cut chocolate to small pieces and transfer it to a heat proof bowl.
2. Add a pinch of salt also.
3. Heat cream in medium flame and add sugar.
4. Allow the contents to boil. Stir it well.
5. Add ingredients no: 4, stir well and take off from flame.
6. Pour this mixture on the top of chocolate mixture.
7. Wait for 1 minute and then mix the contents well.
8. Transfer this chocolate mixture to small cups.
9. If bubbles come out, gently knock the cups on the surface.
10. Set your chocolate dessert for 4 or 5 hours by placing in refrigerator.
11. You can decorate this dessert using grated chocolate or a combination of 1 small spoon thick cream and grated chocolate.
Courtesy: Vanitha Magazine, January 1-15, 2018
Also read a few more desserts with milk/condensed milk as one of the ingredients. Here is the page link. Click on the images in the gallery to read.
(Visited 94 times, 1 visits today)