Chiraykal Kalidasan achieved star status through Baahubali-2
When posters of Baahubali-2 were out, viewers got astonished with one of the stunning posters where Prabhas walks over the trunk and head of an elephant. Everyone loved Prabhas' standing posture and a few noticed the beautiful elephant as well. He is none other than Chiraykal Kalidasan, one of the star elephants of Kerala's biggest elephant festival – Thrissur Pooram. When Baahubali hits theatres this week and Thrissur Pooram just at the doorsteps, the star of the season is definitely Chiraykal Kalidasan.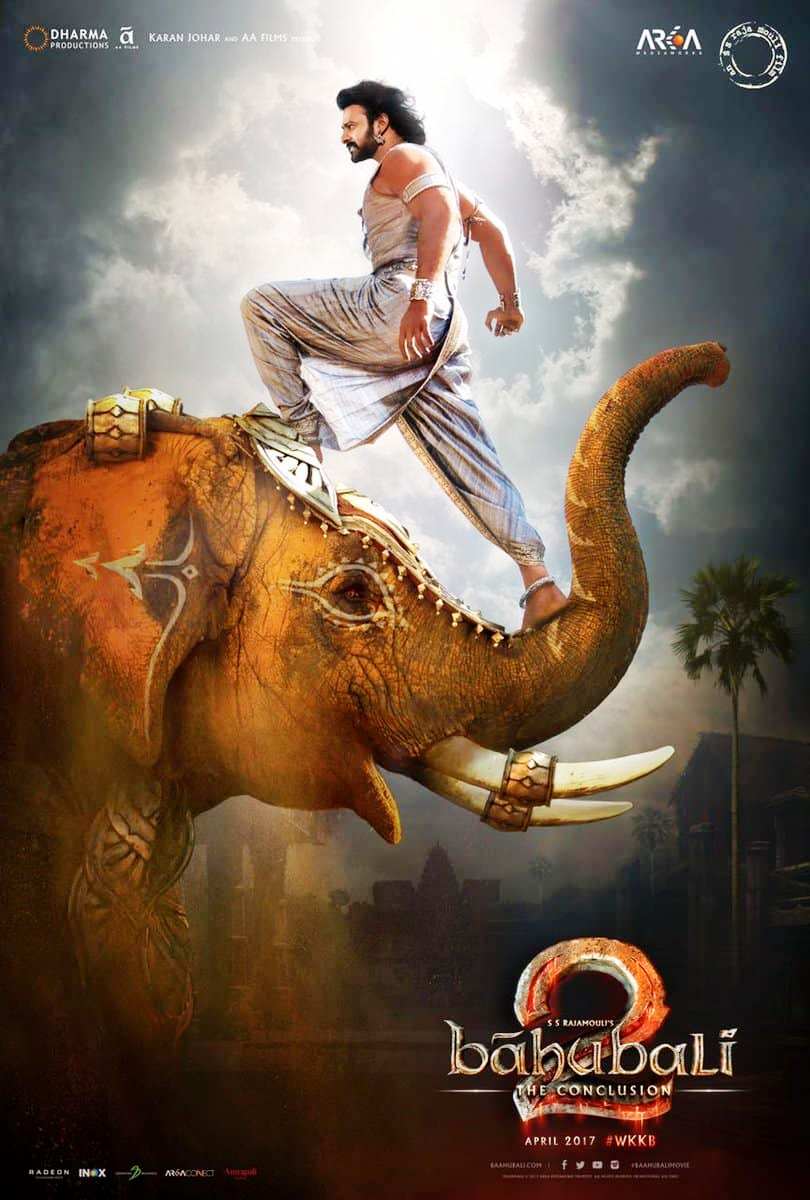 As the movie, Baahubali 2 – The Conclusion hits theatres in the celebration eve of Thrissur Pooram, Chiraykal Kalidasan has already received much publicity. The film shooting was done at Chittilapilly, and it took one complete day for the movie, Baahubali. The poster in which film's hero stands on the trunk of Chiraykal Kalidasan became an instant hit. Kalidasan is one of the hot favourites of the season and he has a fan following crowd too. Thrissur people are well known for their love and passion to temple elephants.
Chiraykal Kalidasan belongs to Paramekavu section of Thrissur Pooram, and one of the front row elephants as well. He stands next to the elephant which carries Thidamb during the famous Kudamattam of Thrissur Pooram. He is 38 years old and 313 cms height. Though he is of Karnataka origin, he is a gifted elephant in terms of natural beauty. His excess height often creates a few problems, yet he remains one of the hot favourites.
He was born somewhere in forest area of Kerala-Karnataka border, and reached the hands of forest department when he was quite young. Later he was shifted to Thrissur. He is currently owned by Chiraykkal Madhu since last 15 years. Since then he is a part of elite festival of the season, Thrissur Pooram. This year it's very special for Chiraykal Kalidasan as his fans are eagerly waiting for his onscreen role, as well as off screen.
Also read about Thechikott Ramachandran, another star elephant of Thrissur.
You might also be interested in a few articles related to Baahubali 2: The Conclusion.
Dubai critic gave 5/5 for Baahubali 2.
Baahubali 2 collects 222 crores in 2 days.
Baahubali 2: The first Indian film to gross 1000 crores
Prabhas' next signed project after a break of 3 years – Saaho, its trailer release.
Read a few more articles on elephants and elephant festivals, deeply linked with the daily life, culture and customs of Keralites. Here is the page link. Click on the images in the gallery to read