Introducing you to a few traditional dance forms of Kerala
Art forms play an integral role in curving the culture of a particular region and among all art forms traditional dance forms play a distinct role too. Kerala is gifted with a distinct culture and tradition dated to many centuries, which has fascinated many foreigners too. Kathakali, Mohiniyattam, Oppana etc are a few traditional art forms which played a significant role to place Kerala in the cultural and tourism map of the world. Many of these art forms have been included in academic art competitions, though meant for entertainment purposes. Today April 29 is International Dance Day, and I would like to give a brief description of a few of common dance forms of Kerala.
There are many dance forms which were once performed by tribal people and hence deeply rooted in tribal culture, mostly of Wayanad and Malabar areas of present day Kerala. Pallukali, Parayan thira, Ammanottam, Thidambu nritham, Thiyaattu, Padayani, Poorakali, Velakali, Ezhamathukali, Kol kali, Dappu kali, Pen tharumo nritham, Cherumar kali, Kolam Thullal and Bhootham thullal are among them. Most of them have already vanished from scene.
Though many of such art forms closely belonged to particular religious sector or folk in the ancient days, now they are performed by people belonging to other sectors and religious beliefs as well. Through this column I would like to brief some dance forms which became trademark symbols of Kerala culture and heritage.
Kerala Nadanam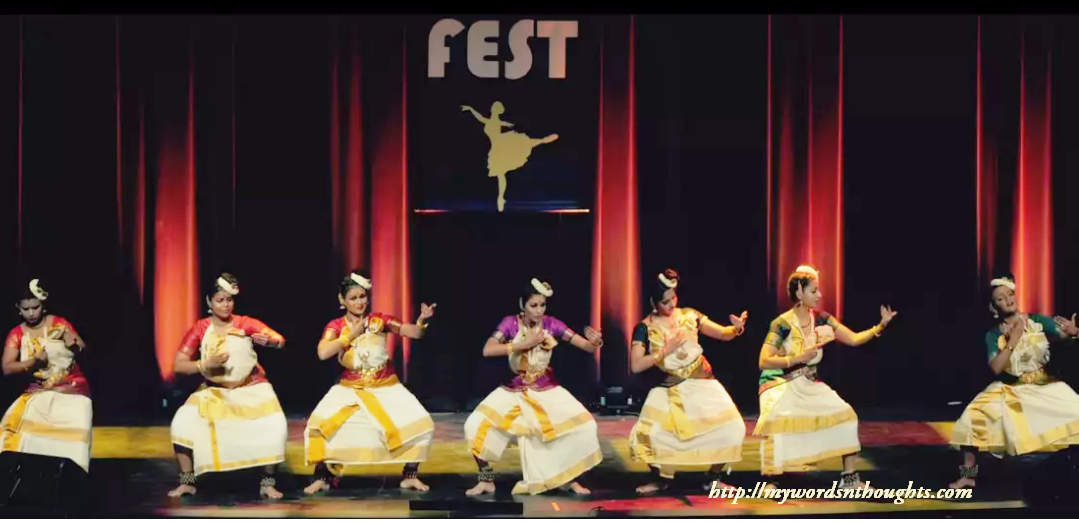 It's the most recent art form originated in Kerala. Its rules were laid down by world famous dancer Guru Gopinath, and it's a fusion of a few of traditional art forms such as Kathakali, Bharathanatyam and a few more Kerala art forms. It can be presented by a single artist or as a group, and both males and females can present it on stage. One of the creative art forms, Kerala Nadanam emphasizes on presentation of different classical dance forms in a fusion way. Similar to Kathakali, it gives preference to 'Natya' (dance moves) and it doesn't own any strict costumes or makeup. Kerala Nadanam can be enjoyed by anyone who loves art forms, and it's not specifically those who know rules of different dance forms.
Kathakali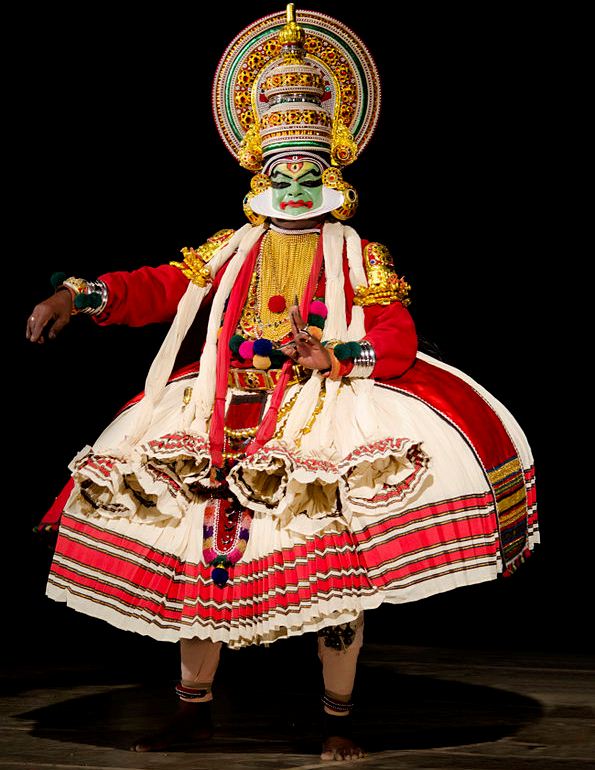 Among Kerala dance forms Kathakali enjoys the prime position. Originated in the 17th century, Vallathol Narayana Menon played a significant role in the 20th century to revive this art form. Kathakali took elements from Ramanattam, an art form coded by Kottarakara Thampuran based on Ramayana. Distinguished as a classical art form, Kathakali earned fame to its motherland, Kerala. Foreigners have been attracted to the beauty of this art form. To read more about the stories of Kathakali and its origin, click this link.
Mohiniyattam
Yet another traditional art form of Kerala, Mohiniyattam is also known as Devadasi Nritham. It shares some shades with traditional art of Tamil Nadu, Bharathnatyam. Lasyam and Sringaaram of Navarasa have been finely mixed to choreograph this traditional art form. Kerala's traditional off-white colour costume is used for Mohiniyattam. It's also taught at Kerala Kalamandalam, where Kathakali is taught as main subject.
Thullal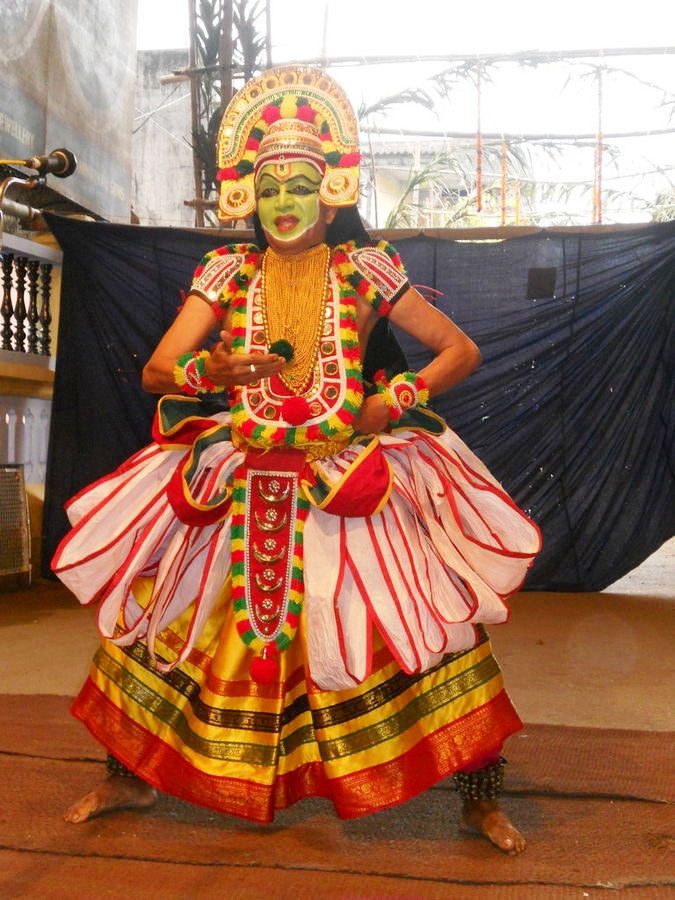 Mahakavi Kunchan Nambyar introduced this art form in the 18th century. Though there are three forms of Thullal – Parayan, Sheetangan and Ottan, Ottam Thullal with rigorous dance moves became most popular among the masses. Parayan Thullal is to be performed in the morning, Sheetangan at noon and Ottan Thullal in the evening. Ottan Thullal parodies landlords and elite people of society, which made it indeed popular.
Nadodi Nritham
Each region of India has its own variant of folk dance, and so Kerala is. Folk dance, known as Nadodi Nritham in Malayalam is a tribal dance form of Kerala. Nadodi means Tribe and Nritham means dance in Malayalam language, which literally means dance of tribes. But it doesn't imply that it's performed by tribes. Instead costumes and themes are mostly chosen from tribal life; traditional Kerala stories and Hindu mythology stories are also given equal importance.
Colourful costumes wore by tribal people, tribal hairstyles, glass bangles, fancy chains, big bindi and heavy makeup gives a spectacular sight for audience to watch. But they most preferably not wear golden accessories. They may carry instruments and other equipment needed to enact the story on stage. Both boys and girls perform this art form on stage, either single or as group. Boys mostly wear dhotis. Very often traditional Kerala costume of dhoti, white towel (thorthu) and blouse may be used to represent a Kerala village girl.
Facial expressions, steps and movements are given more emphasis, and mostly fast steps are used. Male solo playback voice is used to tell the story and it will be completed in 5-10 minutes. Chorus or female voices are never added in most cases. A mix up of several emotions, the artist may enter the scene in a happy mood, later he tells a sad sorry, and may leave the stage in a happy knot. But this principle is not applicable in all cases.
Oppana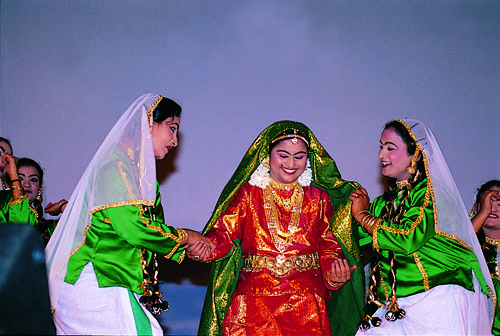 A traditional art form performed by Muslims of Malabar during marriage occasions, it's a part of religious custom as well. Yet nowadays it's performed in competitions as an item by students belonging to any religious group. In a traditional Oppana, lady dancers circumvallate the bride, sing and dance in merry. Though it was a monopoly of women in the ancient days, it's performed by men also nowadays.
Margam Kali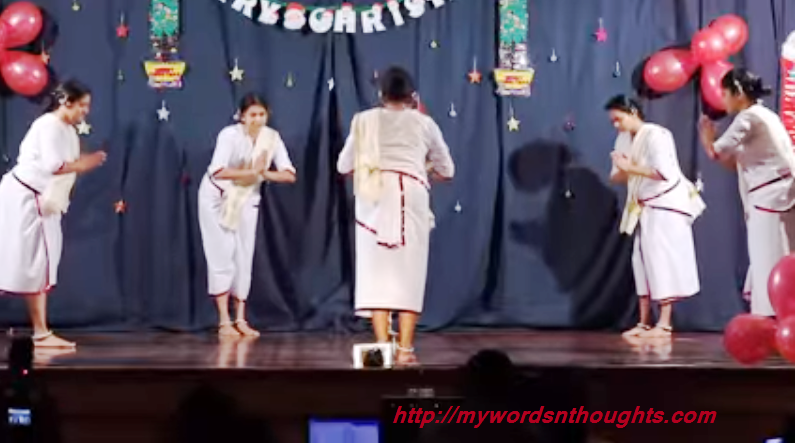 A traditional dance form performed by Suriyani Christians of Kerala, they use the story of St. Thomas as theme. 12 people representing 12 disciples of Jesus Christ together perform Margam kali. They use traditional Christian white costumes and jewelry too. Similar to Oppana of Muslims, Margam kali is widely performed during Syro-Malabar Nasrani wedding functions.
Read a few articles related to Kerala art, traditional music and dance forms followed since many decades and centuries. Here is the page link. Click on the images in the gallery to read
(Visited 2,170 times, 1 visits today)