Chinese Patties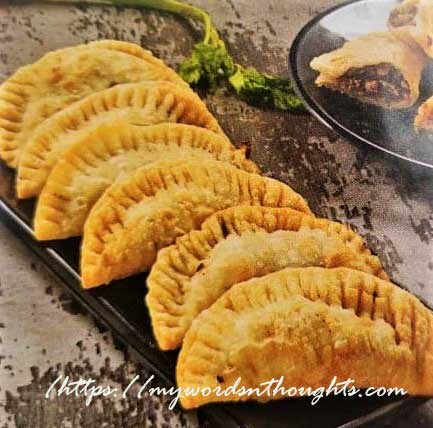 Ingredients for Chinese Patties:
1. Oil – As needed
2. Onion, celery, cabbage chopped fine – 250 gms
3. Minced meat – 500 gm
4. Soya sauce – 1 big spoon
Oyster sauce/Fish sauce – 1 big spoon
5. Salt and pepper powder – As needed
6. Maida – ½ kg
Egg – 1, beaten
Salt – For taste
7. Water – As required
How to prepare Chinese Patties?
1. Heat oil and sauté ingredients no: 2.
2. Add minced meat and sauté again.
3. Add sauces and take off the flame.
4. Allow it to cool, and add salt and pepper. This is the filling for patties.
5. Mix ingredients no: 6 and prepare the dough.
6. Make small balls and spread them to small chapatis, of radius 3-inch each.
7. Place a little filling at the mid portion and fold once to get semicircle shape.
8. Using a little water, stick the edges.
9. Using a fork, gently press the edges.
10. Heat oil and deep fry your patties, till they turn golden brown.
11. Serve hot with chilli sauce.
Courtesy: Vanitha Magazine July 9-22, 2022
(Visited 22 times, 1 visits today)