Chicken Momos and Momos Chutney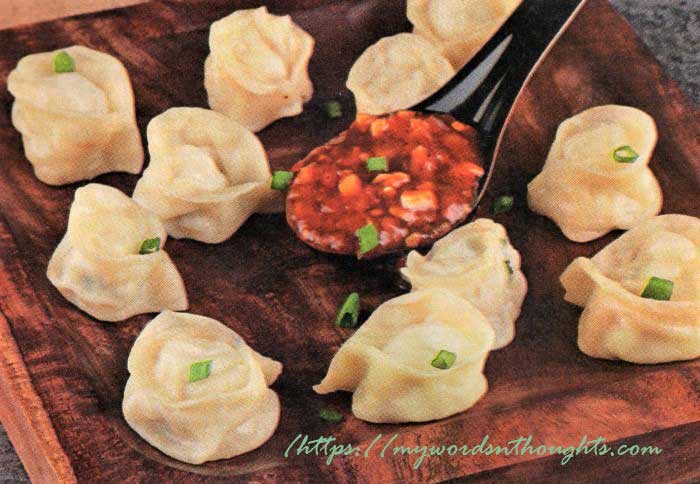 Ingredients for Chicken Momos and Momos Chutney:
1. Maida – 2 cups
Salt and water – As needed
2. Chicken – 200 gm
3. Spring onion (only green portion) chopped – ¼ cup
Coriander leaves chopped – 2 big spoons
Ginger-garlic paste – 1 small spoon
Pepper crushed – ½ small spoon
Onion – 1, medium sized chopped
Soya sauce – 1 small spoon
4. Oil – 1 small spoon
How to prepare Chicken Momos?
1. Mix ingredients no: 1 together, add water little by little and knead the dough.
2. Allow it to rest for 20 minutes, and then make small balls from it.
3. Spread them into thin poori-sized round shapes.
4. To prepare filling, mince chicken first.
5. Add ingredients no: 3 to chicken and mix well.
6. Place a little stuffing on one side of the poori and fold it.
7. Seal the edges and shape it like pleats.
8. Steam cook momos for 20 minutes.
Preparation for Momos Chutney:
Boil 2 tomatoes and 4 kashmiri chillies in a little water and allow to cool. Make a fine paste of it. Heat a small spoon of oil and sauté 1 teaspoon of crushed garlic. Add 1 finely chopped onion and sauté again. Add the tomato paste along with 1 big spoon of tomato ketchup, 1 small spoon corn flour mixed in half cup water and a small spoon of honey. Stir the contents and continue cooking till the chutney thickens.
Courtesy: Vanitha Magazine, June 25 – July 8, 2022
Read a few more chicken snack recipes. Visit my page.
(Visited 18 times, 1 visits today)